The 14th Street corridor gained three new pizza spots in the past two weeks. First
came Ghibellina,
the Tuscan-inspired restaurant by the Acqua Al 2
crew, followed closely by Etto,
a Neapolitan-leaning eatery by the owners of 2 Amys
and the Standard.
Now the international chain Piola opens its doors with the most extensive list of
pies yet, plus a daily happy hour featuring gratis bar snacks.
Founded in Treviso, Italy, 30-plus Piolas (Pioli?) now dot the globe, including one
in Arlington, the chain's first Washington-area effort. Owner
Nabil Ashi says menus at the new local restaurants are largely the same, though the two spaces
look significantly different. Fitting for a neighborhood undergoing constant construction
and expansion, the version in lower Columbia Heights boasts an industrial look with
exposed pipes and wood floors, though high ceilings, large windows, and skylights
give it a lofty feel. A second-story back deck is also in the works for the summer.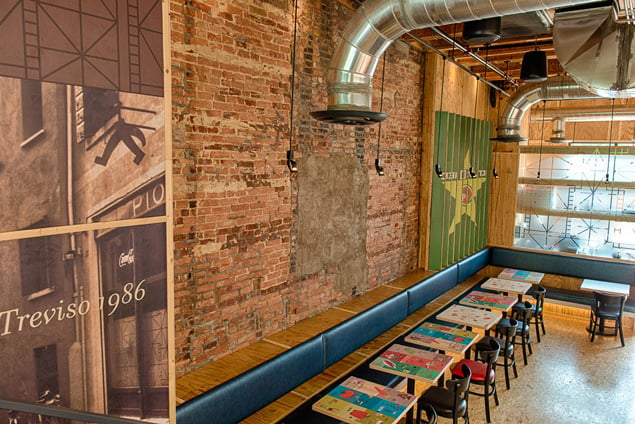 The menu of more than 40 pizza options is divided between red and white pies, all
thin-crusted and fired in a wood-burning oven. In addition to classic Italian combinations
such as a margherita or
capricciosa, with ham, mushrooms, and artichokes, you'll find influences from Piola's other international
locations. The Rio de Janeiro pie, for example, arrives with creamy Brazilian Catupiry
cheese and pulled chicken; a starter salad of arugula, pistachios, and pomegranate
dressing is a nod to Turkish cuisine. Antipasti and a variety of pastas run more traditional,
with dishes like beef carpaccio and Bolognese with pappardelle.
Happy hour runs from 5 to 8 every day—a nod to the Italian tradition of snacking while
you drink. Bar-goers receive waves of free bites—think bruschetta, small pizzas, olives,
cheeses, and tastes of risotto—and discount drinks include $3 Peroni drafts, $4 glasses
of house wine, and $5 specialty drinks such as sangria, bellinis, and Negronis. The
generous vibe extends to opening week—all food (sorry, no alcohol) is offered at a
50 percent discount through May 26. After that, look for "gnocchi day" on the 29th
of each month, where you can get all-you-can-eat house-made potato dumplings with
a range of sauces.
Piola. 2208
14th St., NW; 202-986-8729. Open Monday through Thursday 5 to 11, Friday 5 to 1, Saturday
11 to 1, and Sunday 11 to 11.