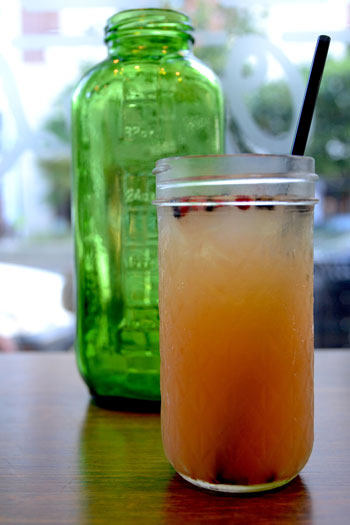 Sunday brunch isn't just for Mother's Day: Fathers need some pampering, too. If you're
planning on whipping up a home-cooked meal for Dad come Father's Day (June 16), this
cocktail is perfect. In fact, since tasting the refreshing drink at GBD's
newly launched brunch,
we're planning on making it one of our go-to drinks of summer.
GBD manager
Alex Taylor created this brunch punch, which gets its kick from two sources: a solid amount of
gin, and an easy-to-make pink peppercorn syrup. For a spicier sip, you can go a little
heavier on the amount of peppercorn you use in the syrup, or make the punch up to
three days in advance for more potent flavor. Just remember to keep it in the fridge.
Alex Taylor's Summer Brunch Punch
Makes about 16 portions
Pink peppercorn syrup:
1 cup sugar
1 cup water
3 tablespoons cracked pink peppercorns
Put water and peppercorns in a medium saucepan and bring to a boil. Slowly add sugar
and stir until all sugar is dissolved.
Allow 30 minutes for the syrup to cool, then refrigerate. (The longer this sits, the
stronger the peppercorn flavor.)
Punch:
½ liter gin, such as Tanqueray
250 milliliters (about a cup) Bols Triple Sec
½ gallon fresh-squeezed grapefruit juice, available at Whole Foods
2 cups fresh-squeezed lemon juice (if using store-bought, make sure it's real juice,
not concentrate)
2 cups pink peppercorn syrup
Mix all of the punch ingredients in a large bowl and stir well. Garnish with lemon
wheels. Best served in Mason jars over ice.
See also:
An Easy Gin Drink for a Crowd
Ben Franklin's Milk Punch
The Cocktail That Washington and "The Great Gatsby" Have in Common, and How to Make
It