Update: The restaurant sends word that the new space will not open until Friday, June 14 at dinner.
When the marg-and-guac craving strikes, the bar at Oyamel
is the no-brainer spot to soothe the itch. But there've never been enough stools to
go around. Six years ago,
José Andrés moved his Crystal City Mexican spot
to Penn Quarter, luring Verizon Center and Shakespeare Theatre Company patrons who
have packed into its all-too-small bar area ever since.
To accommodate the masses, Andrés has added a new 900-square-foot lounge. Earlier
this year, the restaurateur purchased the shuttered ticket office next door and gutted
it—Oyamel now flows into this adjacent space. The new lounge offers brightly colored
banquettes, black leather settee-style sofa booths, and a private dining "enclave"
with Louis XV ghost chairs by Philippe Starck. All told, it accommodates 42 more margarita
drinkers, and should help slash wait times for tables. Certainly it will cut down
on the awkwardness of waiting for a spot in the dining room—the newly elongated white
acrylic bar now wraps into this lounge-esque space with double the walnut-wood bar
stools.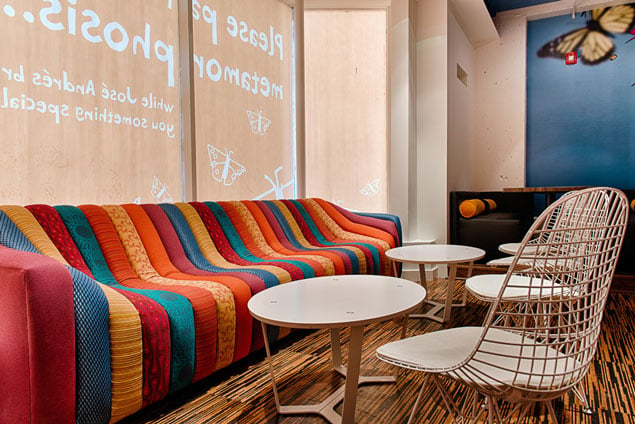 This new environment—a creative collaboration between Andrés and Georgetown-based
architects
Peter Hapstak and
Olvia Demetriou—evolves Oyamel's signature butterfly motif with holographic video projections shining
through sheer partitions between each booth and a mural of butterflies fluttering
around a woman's hair that encompasses the dining enclave.
Go see the new space starting Thursday at lunch.