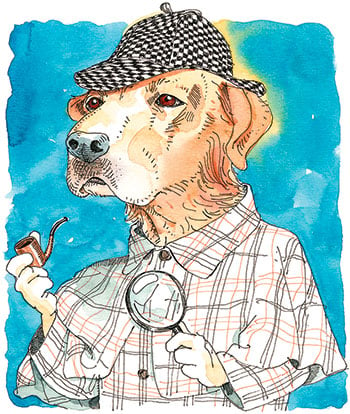 Desiree Bland will never forget the day Beefy went missing.
The 3½-month-old English bulldog had been playing outside with Bland's son and his friends while she was at work. When Bland returned home to Germantown, she found that the kids had left Beefy unattended—and the puppy had vanished.
Lots of other pet owners know just how she felt. An ASPCA study from last year found that 15 percent of owners reported losing a dog or cat in the previous five years. Not so long ago, their only option would have been to put up posters and hope for the best. But thanks to social media and a niche industry of pet detectives, searching is now more sophisticated than ever.
For five months, Bland looked for Beefy, checking door to door and with vets and posting photos online. Then she got a phone call that changed her luck. Debbie Diatz, who runs a Facebook page dedicated to lost pets, was on the other end.
"She said, 'I have a website for missing pets,' and my heart started to beat faster," Bland recalls. "She said, 'I have a picture that I think looks a lot like the picture you posted.' "
A West Virginia innkeeper had grown suspicious of a teenage coworker who mentioned a bulldog he'd found, so she posted the boy's photo of the dog on Craigslist. Someone forwarded the picture to Diatz, who remembered Bland's lost-dog flyers.
After the police got involved, the teenager turned over the now full-grown dog. Beefy's microchip confirmed it was him.
Diatz, who lives in Damascus, started the lost-pets page in 2011. More than 400 Facebook fans use it to post lost and found notices and follow along with sagas like Beefy's. Diatz doesn't make money from the site; she says she does it because helping distressed pet owners is so rewarding.
Not all pet detectives are volunteers—the Missing Pet Partnership, a national organization, lists 27 certified professionals in the field. Last year, Sam Connelly, owner of Pure Gold Pet Trackers, made 113 "finds"; the year before, she had 139. The Berryville, Virginia, pet detective and her search-and-rescue-trained golden retrievers, Abby and Brie, use scent to find lost animals. Connelly's fees vary because she charges based on how far she and her dogs have to track each pet.
Connelly has seen the search process change during the eight years she's been in business. In addition to the rise of social media, microchipping—injecting a tiny tracking device into dogs and cats in case they get lost—has become popular. Connelly also uses a GPS device while tracking pets. She downloads coordinates to Google Earth to mark where her dogs smell evidence of a missing pet, so the owner can place posters, cameras, food, and even traps.
Says Connelly:"I get very emotionally involved in my searches."
One benefit of today's ultra-connected world is that searching often becomes a community effort. Nancy Despeaux, a volunteer pet detective in Reston, remembers one successful effort in particular. After helping a woman find her dog in 2010, she was invited to a jam-packed party at the owner's home to celebrate the animal's return.
"My first thought was 'Wow, she has a lot of great friends who came out to support her,' " Despeaux says. "I found out that not a single person was somebody she had known previously. These were people who had called in sightings, people who had stumbled onto the blog [about the missing dog], people who had seen the posters. They were strangers, and they all came out to celebrate this wonderful thing."
This article appears in the June 2013 issue of The Washingtonian.