For a celebrity-chef-run restaurant, MXDC, the new Mexican concept from partners
Todd English and
Aziz Safi (owner of Panache), has remained relatively hush-hush. Word came that English—a television
personality, cookbook author, and restaurateur—was involved only about a month before
MXDC's
Wednesday opening, and even then, details remained hazy. We stopped by a preview party
to uncover the details.
Frequent visitors to former tenant Galileo III will hardly recognize the space—Washington-based
design firm Chad Alan transformed the190-seat, bilevel dining room with a wall of
wine bottles flanking the spacious bar area. That's where you can quaff around 100
different types of tequilas, mezcals, and margaritas concocted by barman
J.P. Caceres. (You may have recently tasted his creations at fellow Latin American newcomer Del
Campo.)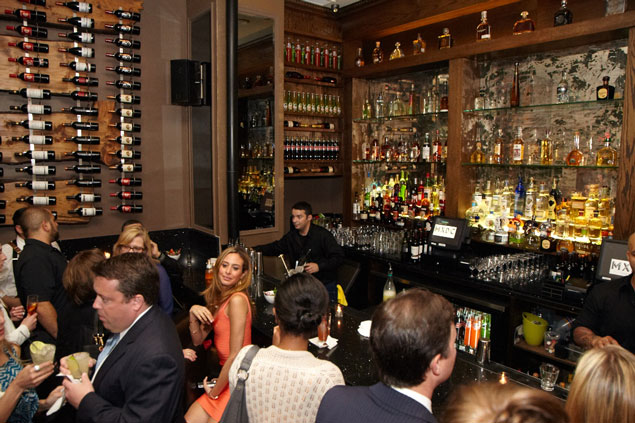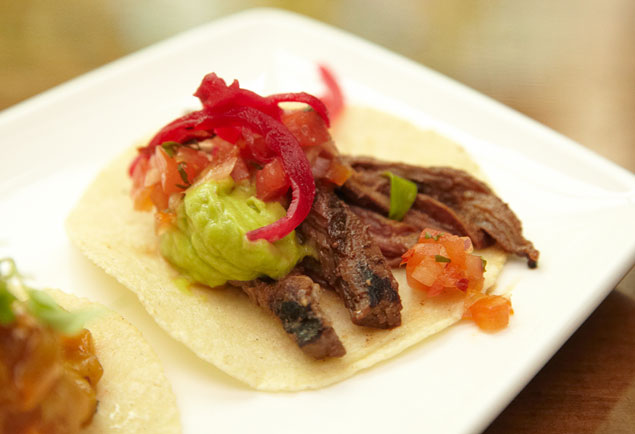 Guests climb a warm wood staircase lit by copper chandeliers to a more private dining
area with a view of the action below. English tapped former Bobby Flay chef
J.C. Pavlovich to team up on the menu of modern twists on dishes from Pavlovich's native Mexico.
Small plates dominate. You might start out picking between ceviches such as scallop
with smoked peppers or lemongrass-spiked tuna and crab, or guacamoles that range from
traditional to a version tossed with lobster, corn, and queso fresco. Tacos—a few
bites each and three to an order—also run the gamut. There's everything from beer-battered
mahi mahi and grilled pineapple salsa to duck confit carnitas and slow-roasted pork
belly topped with roasted tomatoes and pickled onions.
Bocaditos, queso fundido, and chipotle-bacon mussels round out the bites. If you're hungry
and with a few friends, the
especialidades section could be tempting. Family-style dishes such as whole roast fish with chili
de arbol, aïoli, and arugula or grilled
terres major (shoulder) steak arrive alongside warm tortillas, lemongrass rice, red chili beans,
and salsa for fashioning your own tacos or plate.
Opening hours are somewhat abbreviated, but eventually you'll be able to linger after
the meal for drinks and loungey tunes from the upstairs deejay booth. Lunch and a
bar menu are set to launch in mid-July, while late-night drinkers will get their kicks
sooner with a happy hour menu that runs from 11 to 1 on weekdays and midnight until
2 come the weekend.
MXDC. 600 14th St., NW; 202-393-1900. Opening hours
(subject to change): Monday through Thursday 5 to 11, and Friday and Saturday 5 to
midnight.