A couple walk into a restaurant and order a flatbread and a $1,400 bottle of Château
Haut-Brion. That's not the start of a joke—those guests were among the first at Decanter,
the newly opened restaurant in the St. Regis Hotel.
"Fine dining as we knew it is dead," says restaurant director
Kerem Kendigelen. "People want to be more casual."
When celebrity chef
Alain Ducasse announced in May that he was pulling out of Adour—Decanter's
high-end predecessor that occupied the space for five years—the remaining team rethought
the concept. Like Elisir,
which morphed into the more relaxed (and subsequently busier)
Osteria Elisir earlier this year, Decanter is more of a facelift operation than a full-on makeover.
Changes aren't absolute: you'll find the exact same elegant-chic dining room, a focus
on wine (the list boasts 2,700 bottles), and executive chef
Sébastien Rondier, who worked with Ducasse for more than a decade. Besides the name, the shift is most
evident in gentler pricing and à-la-carte dishes that draw from the Mediterranean instead of pricey prix-fixe menus and heavier
French influences.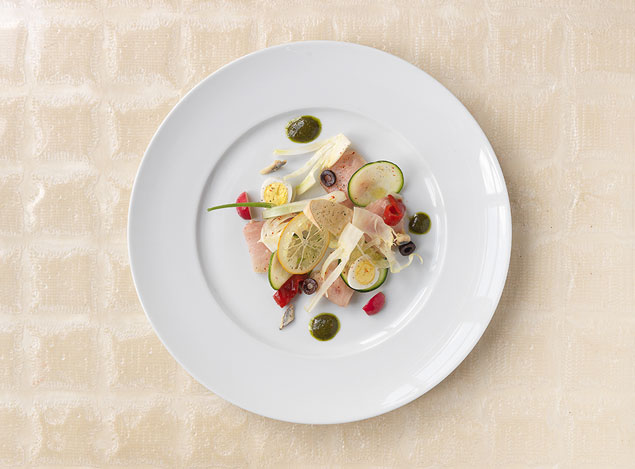 Rondier, a native of Saint-Jean-de-Luz in the Basque region of France, isn't turning
away from his Francophile roots, but is instead expanding the restaurant's reach to
nearby Mediterranean countries, namely Italy and Turkey. Instead of cheesy
gougères, guests are greeted with rosemary focaccia and pools of extra-virgin olive oil, while
Adour's
macaron finale has been switched for complimentary mini cupcakes—equally dainty but perhaps
more personal—in flavors such as dark chocolate spiced with espelette pepper. Splurges
($30-plus entrées) are still an option; dishes like the New York strip with shishito
peppers and a sustainable catch of the day for two that arrives with braised fennel
and a
jus enriched with lobster. It's equally easy to go casual, especially at lunch, with
dishes such as the aforementioned flatbread layered with hummus, Humboldt Fog goat
cheese, tagine jam, and hunks of braised lamb shank. There's also a burger, albeit
one we've never seen before: a calamari patty fashioned from fresh-ground squid, capers,
and herbs, served with piquillo peppers on olive oil brioche; traditionalists can
opt for the cheeseburger on the lunch menu.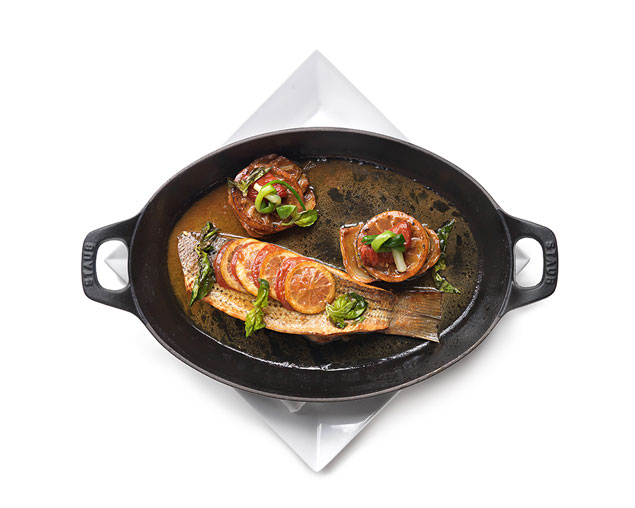 A separate family-style menu has been a growing trend in trendy New York City restaurants—think
special-order fried chicken at Momofuku Noodle Bar or the "whole hog" at Daniel Boulud's
DBGB—and you can opt for a similar option here. Grab eight or more friends for the
"family table,"
where for $55 a person you'll gather in a private room adjacent to the kitchen and
feast on a spread of shared appetizers, entrées such as roast chicken with summer
vegetable gratin, sides, cheeses, and desserts. Just don't forget to split the tab
for that $1,400 bottle of wine.
Decanter. 923 16th St., NW. Breakfast daily 7 to 11, lunch
Monday through Friday 11:30 to 2, closed Saturday and Sunday. Dinner Tuesday through
Thursday 5:30 to 10, Friday and Saturday 5:30 to 10:30, closed Sunday and Monday.