The woman hadn't been seated more than a few seconds when she craned her head around the room, gaping as she drank in the details: the yellow-stained walls, the dark, weathered floorboards, the baguettes poking up from their basket like a spray of flowers in a vase, the red-leather banquettes. By this time I'd dined twice at Le Diplomate and knew what was coming.
"Oh, my God—I feel like I'm in Paris!" she gasped to her companions.
"I mean, right?" one friend replied, taking in the pressed-tin ceiling as if beholding the cathedral at Notre Dame.
I knew what was coming next, too.
"Would you mind?" the gasper asked. She handed me her cell phone, and the three of them pressed their glossy-haired heads together for a photo that, seconds later, would go up on Facebook, Flickr, and Twitter, telling all the world (or at least their circle of friends) that they had made it inside, they were dining at Le Diplomate.
"Christ, it's like Disney World," my friend (older, male) muttered across the table.
Was he referring to their giddiness at merely being in the great, glittering room? Or the fact that Le Diplomate's command of the details is so dazzling it exudes that beyond-real quality of a Magic Kingdom exhibit?
"Yes," he said.
My friend might be the only soul in DC right now who isn't in thrall to the place. The reason people are happy to endure sometimes hour-and-a-half waits while they nurse a drink at an establishment down the block has nothing to do with the good food and the crisp service. It has everything to do with the happy chatter of my young neighbors.
To be in Paris. To be in the pulsing center of that irresistibly romantic city. To live, at least for two hours, as a Parisian might.
Never mind that no actual French bistro looks like this anymore. Never mind that even when they did, they didn't look like this. With light this flattering. With floors this perfectly imperfect. Restaurateur Stephen Starr spent more than $6 million to bring this fanatically rendered stage to life. He could rent out Le Diplomate for a Hollywood movie and no one would ever guess he hadn't spent weeks priming a brasserie in the Sixth Arrondissement for its close-up.
Starr owns 30 restaurants, most of them in Philadelphia, including Morimoto (with Iron Chef Masaharu Morimoto) and Buddakan. He has recently expanded to New York, Miami, and now Washington—he's already planning a second restaurant here. All of his places are high-end, but their defining characteristic is that they have as firm a grip on their target audience as a Madison Avenue ad agency.
You might expect, for instance, that having lavished a fortune on making a great-looking place for young, great-looking people, he would have cut corners in the kitchen. This is what empty, trendy places do. But Starr has never had much use for the buzzy restaurant that blazes bright, then fades. Nor does he go in for the kind of spot that foodies are clamoring for, a place to come and perform wonky dissections of delicately wrought dishes.
The reason Starr presides over one of the biggest restaurant empires in the country is that he knows how to balance sense and sensibility, how to woo his customers with an intimation of the life of the idle, glamorous rich, and how to keep them coming back with assurances of solidity and consistency.
The chef, Adam Schop, oversees a menu that is, accordingly, long on good and short on great. Among the latter, I count an insanely eggy crème brûlée, a magnificent bread basket, a tête de cochon so elegantly handled you can hardly believe you're eating pig's head, and a supernally creamy foie gras terrine that could feed three and that resembles a perfect quenelle of gelato.
But if there's not much that's as dazzling as the design, there's also not much that will make you look down at your dish in disappointment. The hanger steak is properly crusty and rosy in the center. The roast chicken isn't the understated showpiece that the dish can be, but it was cooked with care and its well-developed juices provided a good, light gravy for a crock of vigorously whipped potatoes. The list of wines by the glass isn't long—given Starr's pedigree, it really ought to be longer, with a wider range of countries, styles, and prices—but it contains a number of earthy, medium-bodied reds that go down well with these simple meats.
The best of the fish courses is the loup de mer, served whole, with a vibrant piperade that doesn't just accent the moist flesh—it animates it, transforming a rather unremarkable fish into something exciting.
Is it too much to have hoped that every dish would be as exacting as the scenery? Steak tartare is best when it's conceived as a delivery system for cornichon, onion, and mustard, the hand-chopped meat providing texture and chew but otherwise slipping into the background. The meat is hand-ground instead of hand-chopped, resulting in a regrettable consistency for a dish served raw. You feel as if you're eating a burger that's yet to hit the grill. The night I opted for the tagliatelle with lamb Bolognese, it amounted to undercooked ribbons of pasta under a ragu that was far from the lusty ideal and shot through with enough clove to fill a spice box.
The kitchen, tasked with cranking out a long slate of dishes for a large operation, works with the speed of a short-order diner and sometimes slips up on the little things. A tray of six oysters contained two that were off; one turned up bits of grit. A dish of sautéed sweetbreads was sumptuous on first and second bite; by the sixth, it had cooled and was almost inedibly salty.
Forgiving such glitches might be easier if the prices were closer to those of a traditional bistro, but dinner for two hovers around $140. And that's without wine. Not what I'd call a casual night out. Still, I wouldn't bet that the crowds are going to dissipate any time soon.
One night my wife and I, awaiting dessert, found ourselves digging back into the bread basket, tearing off hunks of the baguette and lathering them with butter. Even better was the cranberry-walnut boule, which, besides being perfect, satisfied our sweet tooth.
"You know," my wife said, sinking back into our banquette and taking in the room for perhaps the 27th time that night, just as I was doing, just as everyone else was doing, "I'd be happy just coming here and eating the bread. The bread and a glass of wine. Perfect."
That's the power of a space like this—to erase the memory of missteps, to pave over moments that didn't deliver pure pleasure.
The secret of Starr's success isn't that he provides better food, drink, or service than anyone else. It's that, as my wife said and as the young women had demonstrated earlier, he can make you feel a giddy sense of privilege to be sitting on his stunning sound stage, munching on bread.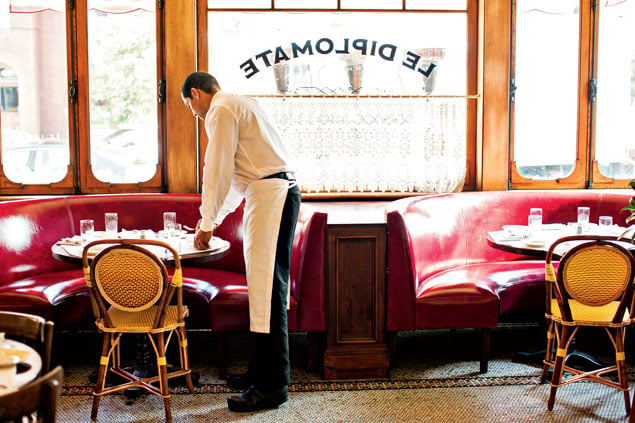 ---