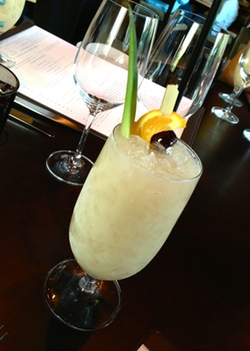 Bourbon Steak's
lounge feels like more of a go-to Manhattan spot than the place to quaff piña coladas,
but wait until you try barkeep
Duane Sylvestre's version. The Trinidadian knows his island drinks, and knows they are often stereotyped
as overly fruity, saccharine, and awash in artificial ingredients. Sylvestre's take
on the Puerto Rican cocktail is free of all of the above, and crafted with quality
rum, fresh lemon juice, and house-made coconut crème.
The key is the crème—a simple syrup made with puréed coconut—which stands in for commercial
coconut creams such as the ubiquitous Coco López. If you're mixing up the cocktail
for National Piña Colada Day (which is today), you may opt for the first method, which
is slightly more involved and uses a whole coconut. You can also order high-quality
frozen coconut purée on Amazon.com for future shortcuts. The recipe serves one, but
you may as well whip up enough for a party while you're at it—just keep the ratios
intact. Sylvestre makes one large batch a day and pours each serving over crushed
ice.
A word of warning from Sylvestre: "It's a lot of booze that goes down easily, so be
careful. This is not what they served you on your beach vacation."
Duane Sylvestre's Piña Colada
Makes one cocktail
For the cocktail
2 ounces Ron Abuelo 12-year rum, available in most liquor stores
1½ ounces Dole pineapple juice
1 ounce house-made coconut crème
¼ ounce fresh-squeezed lemon juice
Optional garnish: pineapple slice, orange slice, and a cocktail cherry
For the coconut crème (method one)
1 whole coconut, available in the produce section of markets such as Whole Foods
1 cup water, or enough to blend with the coconut until puréed
For the coconut crème (method two)
1 package Boiron frozen coconut purée (available on Amazon.com)
1 quart sugar
Make the coconut crème
Method one: Remove the meat from the coconut. Mix the peeled coconut and water in
blender and purée, adding more water as needed, until it reaches the consistency of
condensed milk. Strain out solids and measure the liquid. In a separate measuring
cup, measure out an equal amount of sugar by volume. Combine the coconut liquid and
sugar in a small saucepan over medium heat. Heat, stirring frequently, until the sugar
dissolves. Store the coconut syrup in a container in the refrigerator for up to three
weeks.
Method 2: Thaw the frozen coconut purée, and combine with equal parts sugar over medium
heat, stirring frequently until the sugar is dissolved. Keep sealed in the refrigerator
until ready to use, or up to three weeks (refrigerated).
Make the cocktail
Stir the ingredients together in a mixing glass, then pour over a glass filled with
crushed ice. When using cubed ice, shake the ingredients in the mixing glass with
ice, then strain over fresh ice. Add garnish if using.