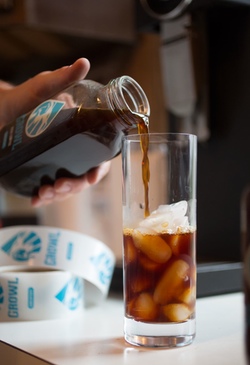 I love iced coffee, but lately I've been drinking it for all the wrong reasons—namely that the ice helps dilute the acrid-tasting brews poured by mega-chains. A trip to local shops like Filter or Peregrine Espresso makes the afternoon, but sating a caffeine craving is like going to the dry cleaner—it's about proximity, and unfortunately venti iced Americanos are more accessible than Ethiopian microbrews. Fortunately I found a better solution on a recent trip to Smucker Farms, which sells locally produced Growl cold-brew coffee (see more sources below).
Describing Growl as an "awakening" is an understatement: Not only is the chilled brew delicious, but a single bottle packs enough caffeine to make those 100-degree slogs to the Metro feel like a breeze. In fact, should you drink a whole 16-ounce bottle in one sitting, you may sprint past the stop. Growl brewer Matthew Snyder currently sells his cold-brew concoction as a concentrate, with an average bottle yielding four to five servings when diluted with water and/or milk. (A mixture of equal parts still yields a robust cup.) Sealed properly, the coffee should keep well for a few weeks.
"Local" isn't a wholly accurate description when it comes to coffee production, but Snyder sticks as close to home as possible. The beans are a South and Central American blend from Ceremony Coffee Roasters out of Annapolis, and the small-batch production is set up in Dupont's Marrakech restaurant*. The coffee steeps for 16 hours and is filtered as little as possible to avoid removing natural flavors and oils, resulting in a nutty, chocolatey brew that's reminiscent of a mocha when mixed with quality milk. Trickling Springs tastes deliciously rich even in nonfat form, and is sold at Smucker Farms and Union Market, where Growl is also available. (At Union, pick it up in Salt & Sundry.)
The usual coffee additives aren't the only options. Snyder recommends stirring in vanilla soy milk for a sweeter drink, or pouring the coffee over ice cream for a riff on the Italian treat affogato. You could add sparkling water for a soda-like sip, reduce the concentrate to make coffee syrup, or add booze such as whiskey or Kahlua. You also don't have to drink it cold. Sticking a cup in the microwave will still perk you up, but doesn't quite have the bracing effect of the potent, chilled brew.
A full list of shops where Growl is sold is online.
*This post has been updated from a previous version.