When someone comes across a Pilates reformer machine for the first time, Michele Landry says the reaction is always the same: "What is this, a medieval torture device?"
With all the handles, loops, ropes, and metal springs hanging everywhere, it's easy to see why first-timers are intimidated. But at the nine-week-old Athlete Studio in Dupont Circle, Landry is on a mission to prove that reformer Pilates is not only easy to learn, it's also a great workout for athletes like her.
"As soon as I started incorporating reformer Pilates three times a week, my running times changed," says Landry, who eventually shaved an hour off her best marathon time. "I felt like everything just came together."
Landry, a former barre instructor turned endurance athlete turned Pilates fanatic, stocked her 950-square-foot studio with four reformer Pilates machines equipped with athletic gear such as TRX suspension trainers. Classes are a step up from your average mat Pilates class, from the circuit-training class that makes use of a reformer, a stability chair, and the TRX trainer to the Jump and Tone class, which involves a trampoline.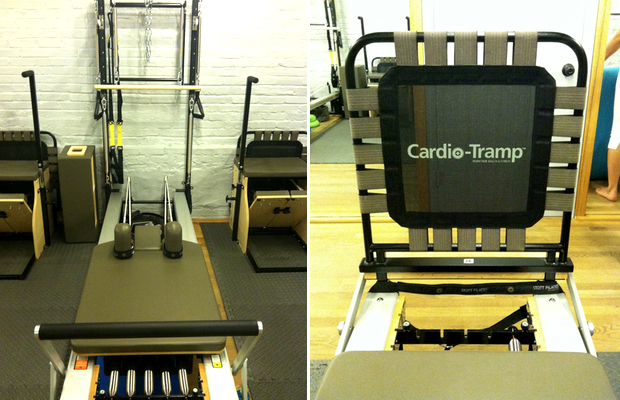 Before attending Jump and Tone Monday night, my inner 5-year-old had imagined hopping from the reformer to a child's trampoline over and over. On the contrary, the entire workout took place on the machine, with a square trampoline attached to the end. The four of us began on the floor with a short foam-roll session before instructor Sarah Gourley began her 50-minute class of glute-burning, core-engaging exercise intervals on the machine.
With the trampoline at our feet and our heads held securely between two pads, we began horizontal "jumping" while lying on our backs. Jumping intervals required us to continuously push off the trampoline, ensuring our feet landed in the same place each time. Immediately, I could feel it in my core; even the slightest movement of bringing my heels together activated my inner glutes and thighs.
On we went, performing similar jumping exercises on our left and right sides, which immediately left my hip flexors feeling tender. The class even worked in some arm exercises, which involved pulling our bodies back and forth across the machine using an attached band.
Although my muscles were sufficiently worked by the end of the class, my inner child secretly wished for more time on the trampoline. But waking up the next day with a nice burn in my inner quads proved the 50 minutes was just enough.
Athlete Studio. 1730 Connecticut Ave., NW; 202-506-5780. $40 per group class or $85 per private session.
Watch a video of Athlete Studio owner Michele Landry using the reformer machine and trampoline.

More Reviews: