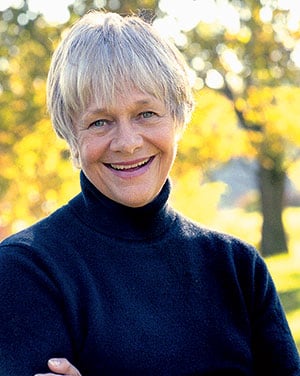 Betrayal is at the core of
The Velocity of Autumn, a new play by
Eric Coble that's having a pre-Broadway run at Arena Stage—specifically how betrayal can provoke
desperate people into committing unconscionable acts. The main character is a potential
suicide bomber, but one who defies profiling: She's a septuagenarian, played by Oscar
winner
Estelle Parsons, who's reeling from the news that her children want to put her into a home. We caught
up with Parsons, 85, to discuss how she prepared for the role, and how she manages
to stay more physically fit than actors a quarter of her age.
Alexandra is quite a character. How did you go about preparing for the role?
Awful, isn't it? I'm quite healthy, you know, and in good shape, so I've been giving
an awful lot of thought to how I can really look fragile, as if I couldn't stand up,
and how I'm going to present myself as someone who should be taken care of by her
children, which is sort of the opposite of me. It's a challenge in the sense of looking
fragile and acting fragile but also maintaining a robust theatrical presence. It isn't
easy.
How would you describe her state of mind?
I was really drawn to the play because I think she's enraged with the way she's been
treated by her kids and enraged by the fact that she's gotten old. So often in these
plays I read about old ladies they seem very timid and accepting and victimized, so
I was thrilled to find somebody who's ready to blow herself up, and who has that vigor
in her spirit if not her body.
It seems like there's a lot of potential for humor despite the bleakness of the premise.
I know. I don't know how it's going to come out, but I'm a comedienne—I'm funny, and
I've been funny all my life.
Stephen [Spinella, her costar] and I both have a robust sense of humor. For me, it's not all that funny,
of course, being sent to a home, but I've done a lot of Brecht, and I think often
people can laugh at me because they sense that I'm a survivor, and they can feel secure.
But there's nothing better in the world than getting laughs, and I know how to do
that.
How do you play someone who's so different from yourself?
If the character's strongly, truthfully written, then I just let it happen. That's
the way I've developed myself all my life, and I can trust the life experience and
the things I've been storing inside myself all these years to come out when I need
it.
What would you say has been your most challenging role over the years?
I think
Miss Margarida's Way was the most difficult because that one's direct to the audience, and a one-woman
show. I found Mrs. Peachum in
The Threepenny Opera to be a challenge, because that was when I was 30 and attractive and I was playing
this blowzy old person in a fat suit and a fright wig. But I like to pick characters
that are challenging. Playing an addict [in
August: Osage County] was challenging because you have to tread a very fine line, and you never want to
be too addicted or under-addicted. So it's difficult, but I try to always have a big
challenge: the closer to impossible, the better.
People who've worked with you consistently praise your energy. What's your secret?
(Laughs.) I don't think it's true anymore! You know, I don't have any idea why I have
all the energy I have, but I've always been that way. I think there are two kinds
of people in the world—people who do things and people who talk about things—and I've
always been a person who did things. I'm terribly curious about absolutely everything,
so I just keep going. And I do love to perform and hate it as well—it's terribly difficult
to be exposing yourself constantly, and I'm in real life rather a private person.
I would say I live right and all that, but I've drunk and smoked as much as the next
person. I don't know where it comes from. Genes, probably.
But you also have a dedicated health and fitness regime.
Oh yes. I've always been active, physically, and have played tennis and golf and swum.
I go to the gym every day, because what else am I going to do in the morning? I swim
a couple of times a week, and I do weights every third day, and I ride a bike just
about every day either in the gym or in the park. My husband is the same way, so it's
nice when you have the same interests and do the same sorts of things. It's just part
of our life routine. You come to the point where if you want to continue to have an
active life, you've got to keep your body going all the time.
What do you look for in a role these days?
I'm looking for something different all the time—something I haven't played. When
I got attention for that part in
Bonnie and Clyde I got stereotyped as a hysteric, and got offers of many jobs that were the same part,
playing the same woman over and over again. I think what I'm looking for now is comedy—I
have a very interesting play about some nuns I'm hoping to do when I'm finished with
this one. I started out in cabaret, and it's just so much fun. Plays that aren't funny
are really hard to do, emotionally, and that gets to me a little bit as I get older.
But that's the price you pay, and I'm happy to pay it.
The Velocity of Autumn
is at Arena Stage September 6 through October 20. For more information, visit
arenastage.org.