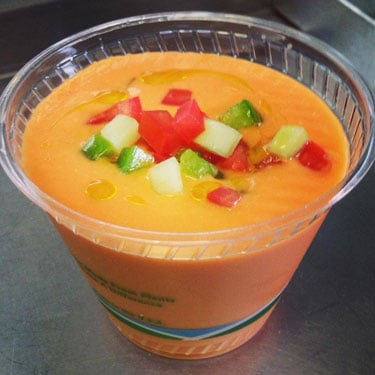 Todd Kliman
Prawns with white beans and tomatoes at Montmartre
The cooking at the Eastern Market bistro Montmartre, for many years a testament to the simple charms of hearty French country cooking, has become lighter, brighter, and more seasonal thanks to the arrival of chef Brian Wilson, with more fish and seafood on the menu and an expanded roster of starters and salads. You can see, smell, and taste his approach in an appetizer that appears on his current menu, a dish of prawns with white beans and cherry tomatoes.
Pooled at the bottom of the bowl-like plate is what tastes to this trained tongue like a variation of pistou, a sauce of basil, garlic, and olive oil from Provence that demonstrates what a foundationally good cook Wilson is. There's a depth here that can't be rushed or faked. The sauce doesn't simply coat the tongue—it makes you ache to spend a week in the colorful, sun-baked French countryside. I would pay good money for a simple dish of sauce, beans, and sweet tomatoes.
That's not to say the prawns are an afterthought. A very good dish becomes a very great dish when you begin to incorporate them into the beans and sauce and tomatoes. Wilson keeps the heads on—a heads up (ha) to the diner that he's using fresh and not frozen product—and one of the many pleasures of the plate is prizing out the almost unctuous meat closest to the eyes and trailing it through the pistou before popping it in your mouth.
Ann Limpert
Wagyu New York strip at Zentan
It started out with a hiccup. I was checking out the small plates menu at Zentan—which now has zero trace of original chef Susur Lee (RIP Singapore Slaw)—and I ordered the Wagyu New York strip medium rare. At $25, it was the most expensive thing on the menu, and the few slices of beef came out sad and gray. I sent it back, and after about ten minutes or so, I was rewarded with slabs of meat that were rich, tender, and beautifully red. The steak was the star of the plate, but chef Jennifer Nguyen added a few smart accessories that played up, rather than overwhelmed, the meat: an aromatic shiso chimichurri, tiny, sweet purple yams, and a melty, slightly tangy butter. It was almost enough to distract from the annoying untz-untz-untz soundtrack of the sparsely populated dining room.
Jessica Voelker
Iced coffee at Grassroots Gourmet
I was destined to be insufferable on the subject of coffee even before I spent those five highly caffeinated years in the Pacific Northwest. In high school, I slung drinks at a little java shop in my hometown that frankly should be famous. The owner, a slight Steely Dan fan with a palate you wouldn't believe, is one of the most punctilious and parsimonious people I've ever met. You know those twisty wires that enclose sandwich-bread bags? I got a serious chiding once for throwing one of those out. Sponges—when cleaned properly—could last months, I learned. Woe be it to the barista who left grounds stuck to the grinder after pulverizing a pound of beans for her customer. This man could rattle off eyebrow-raising sums about the potential profit lost to a few stray granules of French roast.
This obsessive tendency had a major upside: He made perfect coffee. It began inside a back-room fridge where he concocted a syrupy concentrate using a toddy machine and a process that took 12 hours. That's all I knew, really, because the fridge room was verboten lest we bumbling baristas upset the delicate balance of whatever the hell was going on back there. But each morning fresh jugs of his potions awaited us behind the bar, and instead of using a drip machine, we'd pour hot water over a precise measurement of the syrupy brew; for iced coffee we added cubes (made from filtered water, of course) and cold H20. The coffee was clean, bright, spectacular. I didn't know the word terroir back then, but I could certainly tell the difference between Colombian and Ethiopian blends—it was impossible to miss with his method. Plus it never soured your stomach or left you feeling murky-headed. And, speaking of obsessive, I've thought about it at least every other day during the many intervening years since I worked there.
Then last week, I popped into a Bloomingdale bakery called Grassroots Gourmet for some breakfast. Lo and behold, the owner is making iced coffee there with a 12-hour toddy! After breathlessly blathering on about the magic of the method to the poor woman behind the counter, I left with my cup of frigid rocket fuel—it cost $4.25, but I didn't even think about needing another. I'm told (ahem) that bad drugs and good drugs produce different highs. The same is certainly true for coffee, and this one will keep you going all day without a hint of the jitters. Think of it as the Bubba Kush of morning beverages. Or something.
Anna Spiegel
Gazpacho at the Pepe truck
As common as gazpacho is this time of year, few kitchens do it well. Often there's a tendency to dress it up, adding ingredients like watermelon or peaches that make the chilled soup taste more like a melted popsicle. The version from José Andrés's Pepe food truck is the one I crave. The gazpacho estilo Algeciras is a classic recipe that you might find in southern Spain, perked up with nothing more than good ingredients: peak-of-summer tomatoes, robust Spanish olive oil, and a bright dash of sherry vinegar. The soup is studded with a smattering of chopped cucumbers and peppers for crunch, and so rich you might think Andres snuck in cream (bread is the real thickener). Order a large bowl and you won't need anything else, though it's tough to pass up a "side sandwich" layered with jamón and Manchego cheese. Don't worry if you're not on Pepe's route; the gazpacho also makes an appearance on Jaleo's menu, though you might ask if it's available for a carryout picnic in the park.