The Dish: The Hot Mess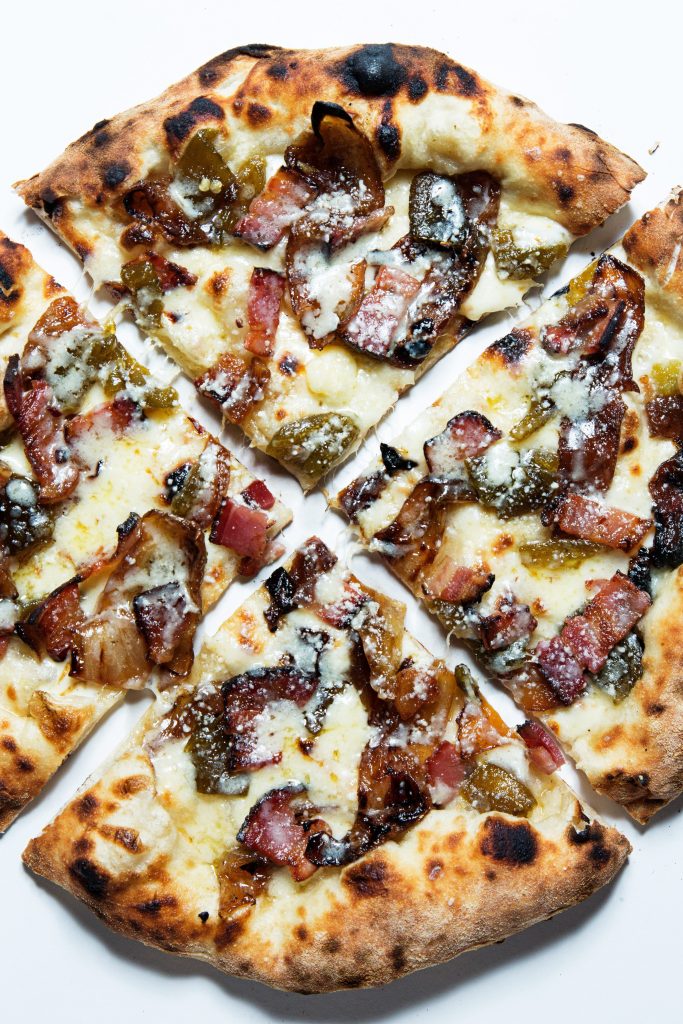 The Restaurant: Frankly . . . Pizza! 
Frank Linn's chewy, lightly charred crusts are so good we could eat them on their own. But they're even better sprinkled with a trio of cheeses—nutty Gruyère, mozzarella, Romano—and accents that balance salty and sweet: Linn's own cured bacon, pickled jalapeños, and caramelized onions. 10417 Armory Ave., Kensington; 301-832-1065. 
The Dish: Lobster French Toast
The Restaurant: Kinship
We're never opposed to breakfast for dinner, especially if it's this slice of house-made brioche piled with butter-poached lobster, Asian pear, and sesame mousse, then finished with a caramely-rich reduction of lobster stock and butter. "There are two schools of people when it comes to French toast—butter-and-syrup and whipped-cream-and-fruit," Kinship chef/owner Eric Ziebold says. "This is the best of both worlds." 1015 Seventh St., NW; 202-737-7700.
The Dish: Lobster Gratin
The Restaurant: Plume
The seafood gratin is a throwback dish that's happily coming back into favor. Prime example: lobster meat bound by decadent vanilla-scented lobster bisque, gilded under the broiler, and accented with lobster roe, lobster chips, and diced root vegetables. 1200 16th St., NW; 202-448-2300. 
The Dish: The Messy Sandwich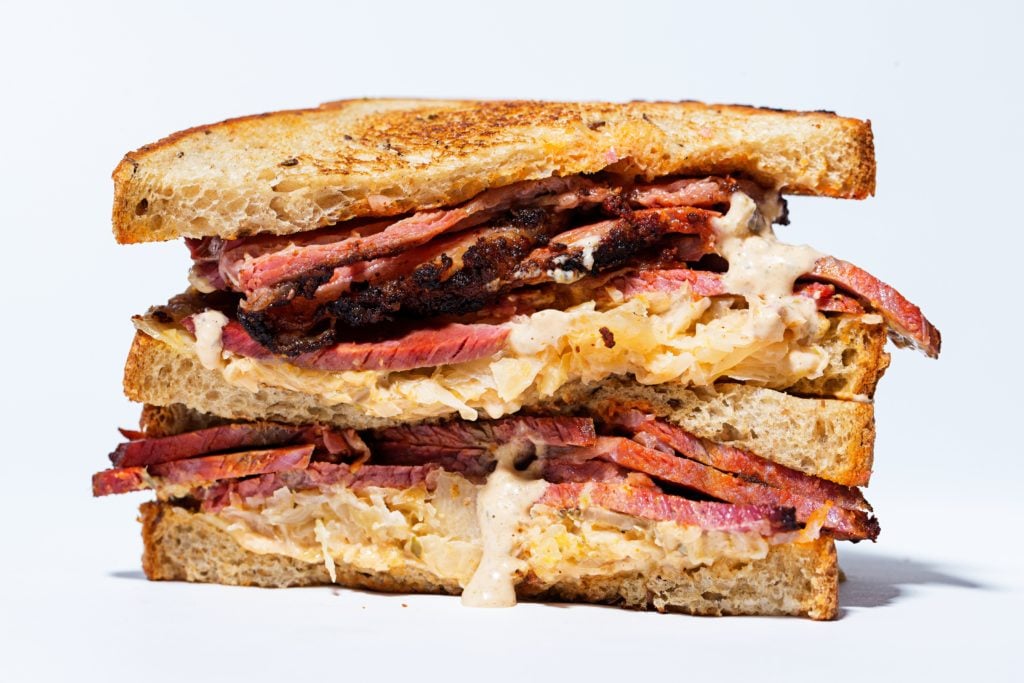 The Restaurant: Smoked and Stacked
Marjorie Meek-Bradley doesn't fool around with corned beef at her Shaw shop—it's all about delicious smoked-and-spiced pastrami. The hyper-focus pays off. In this winning combination, a heap of tender brisket is cloaked in melty Comté cheese, Thousand Island dressing, and crunchy slaw. Deli rye is the obvious vehicle, but you'll change your mind—if not worldview—after trying the kitchen's cloud-like milk buns flecked with caraway seeds. 1239 Ninth St., NW; 202-465-4822.
The Dish: Lamb Ribs
The Restaurant: Tail Up Goat
The best ribs these days aren't coming from a barbecue shack or from a pig. Instead, you'll find them heaped on a plate for two at this Mediterranean-accented Adams Morgan bistro. Chef Jon Sybert rubs a fatty lamb cut in shawarma-inspired spices, cooks them in the oven, then finishes them on the grill for a hit of smokiness. The accompaniments change with the seasons. Now playing: a kicky salsa verde, shaved red onions, and a mix of root vegetables both roasted and fried into chips. 1827 Adams Mill Rd., NW; 202-986-9600. 
The Dish: Corn Uttapam
The Restaurant: Bindaas
In the States, the crepe-like dosa has become more popular than the uttapam, its pancake-thick cousin. Vikram Sunderam is seeking to change that at the Indian street-food spot Bindaas. He starts with a slightly sour fermented rice-and-lentil batter, pours it onto the griddle, and adds a zesty mix of toppings—including sweet corn, green chilies, mustard seeds, and onions—that sinks right into the cake. Tear off a piece and swipe it through the bracingly cool coconut-and-cilantro chutney served on top. 3309 Connecticut Ave., NW; 202-244-6550. 
The Dish: Hot-and-Sour Noodles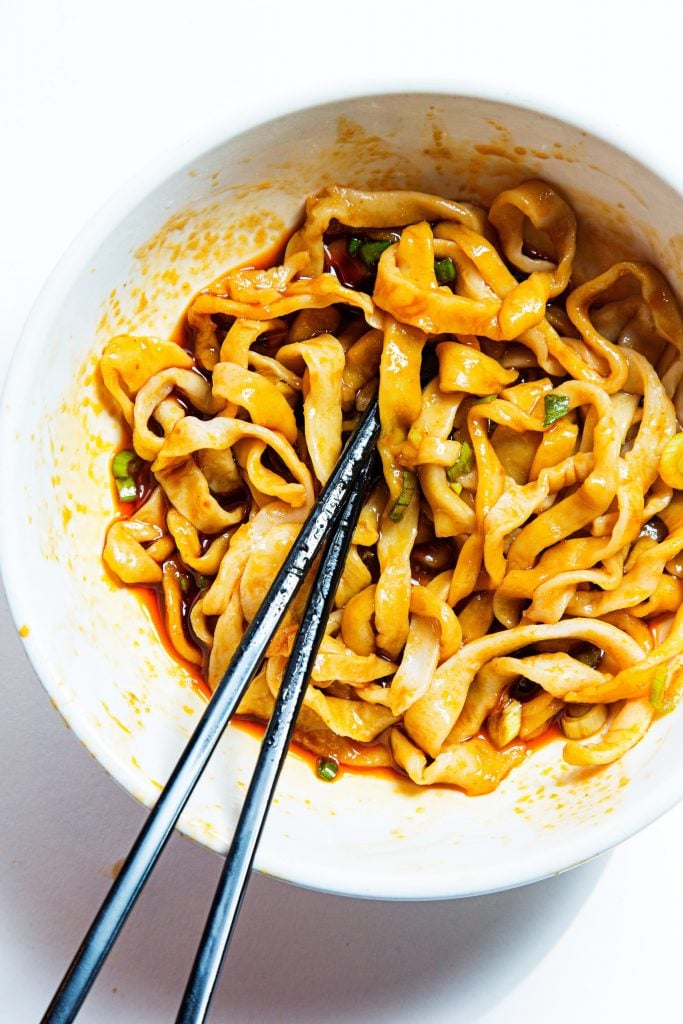 The Restaurant: A&J Restaurant
House-made noodles set this strip-mall Chinese dim sum spot apart from many competitors. The chewy, imperfect strands come thin or wide (the thicker option is better) and in a variety of preparations—from a cure-all beef-tendon soup to a sesame dressing with crushed peanuts. Our favorite: A&J's "special" hot-and-sour sauce with chopped scallions. Use your chopsticks to mix up the bowl so that every inch catches the spicy, tangy coating. 1319 Rockville Pike, Rockville; 301-251-7878.
The Dish: Rice Pudding
The Restaurant: La Limeña
Rice pudding isn't the sexiest dessert—no gooey molten center or fancy coulis—and it can look as appetizing as a bowl of porridge. But leave it to Peruvians, already masters of the grain, to create a version that can compete with any chocolate indulgence. Studded with raisins, cooked with sweetened condensed milk, and spiced with cinnamon, the rice pudding at La Limeña is delightfully creamy—and even manages to look appealing in a sundae glass, garnished with a cinnamon stick and mint. 765 Rockville Pike, Rockville; 301-424-8066.
The Dish: Kulcha With Paneer
The Restaurant: Punjabi Junction
If any bread is worth a special trip to a Dulles strip mall, it's this one (though you'd better save room for a full Indian feast). Punjabi kulcha—a stuffed flatbread that's similar to naan—is filled with garlic, caramelized onion, and morsels of paneer cheese. The pillowy, warm round is finished with a sprinkling of chaat masala spice once it emerges from the tandoor oven, plus a generous swipe of butter. 23520 Overland Dr., Suite 122, Sterling; 703-996-8810.
The Dish: Cucumbers With Cilantro
The Restaurant: Nanjing Bistro
Anyone who's familiar with Chinese cuisine will recognize this common cucumber salad—a cooling reprieve from fiery fare, often dressed simply in vinegar, soy, and sesame oil. This Jiangsu-style eatery offers a superlative version: crunchy vegetable batons brightened with garlic, fresh cilantro, and enough dried chilies to keep the fireworks going. 11213-C Lee Hwy., Fairfax; 703-385-8686.
The Dish: Aushak Dumplings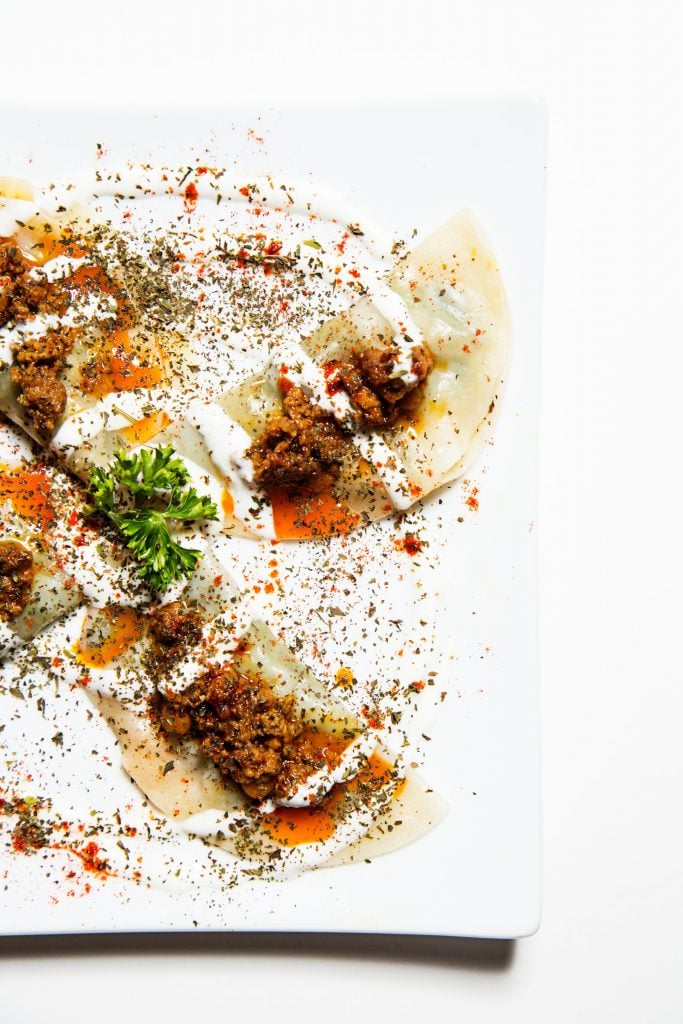 The Restaurant: Afghan Bistro
Aushak—steamed, leek-and-scallion-filled dumplings—are on the menu at pretty much every Afghan restaurant in the area. None, however, pulls them off as deftly as this snug family-run place—they're perfectly chewy and spooned with a ruddy beef sauce and minted yogurt. 8081-D Alban Rd., Springfield; 703-337-4722. 
The Dish: S'mores
The Restaurant: Convivial 
S'mores-inspired treats are everywhere, but chef Cedric Maupillier's version takes the campfire. Like many dishes at his Franco-American brasserie, the dessert perfectly melds classic French technique with New World whimsy and a touch of nostalgia: a ramekin filled with dark-chocolate cake, perfectly salted caramel sauce, graham-cracker crumbs, and marshmallow topping kissed with a blowtorch. 801 O St., NW; 202-525-2870.
The Dish: Clams With Chinese Sausage
The Restaurant: Bad Saint
There's a reason that hours-long lines form outside this gem each night: It's tiny (24 seats), and no one is doing Filipino food like chef Tom Cunanan. This dish—a rare staple on the menu since day one—is exemplary of the highly complex but deeply satisfying fare. The littleneck clams and sweet morsels of Chinese sausage are steamed in an umami-rich broth of vegetarian stock and spicy XO sauce, fragrant with dried shrimp, ginger, and chilies. 3226 11th St., NW; no phone.
The Dish: Risotto with uni and Crab
The Restaurant: Conosci
Raw fish is the star at restaurateur Michael Schlow's intimate, candlelit crudo bar, but it's well worth pausing in the small section of fire-touched fare for this satisfying dish. Sea urchin and crab are a frequent match—the bracing brininess of the uni perfectly pairs with the crustacean's sweetness. Here, the duo gets a silky bed of risotto simmered in shellfish broth, miso, and chilies for a touch of heat. 465 K St., NW; 202-629-4662.
The Dish: Fried-Chicken Sandwich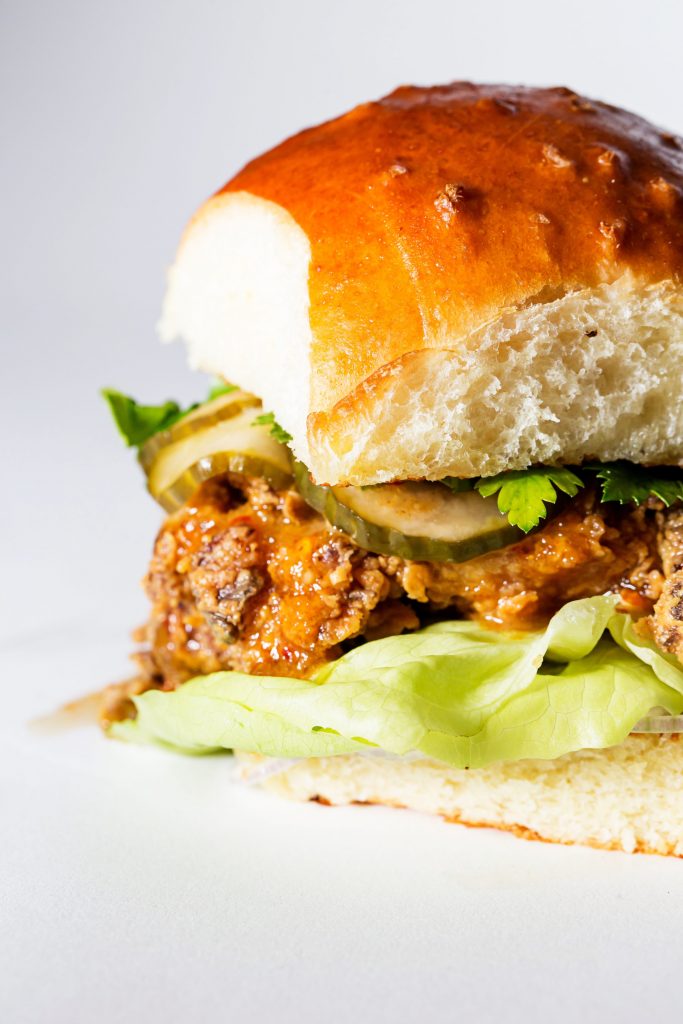 The Restaurant: Pineapple and Pearls
By night, Pineapple and Pearls serves $250 tasting menus. By day, you can get a delicious taste for just $9 in the restaurant's coffee shop. Chicken thighs are brined and fried, then stacked on fluffy brioche buns with butter lettuce, shallots, pickled cucumbers, and a sweet-and-spicy "secret sauce." The sandwich is wrapped in gold foil—a fitting reminder of the restaurant's fine-dining pedigree—but it's not so fancy that you won't need the accompanying wet wipes. 715 Eighth St., SE; 202-595-7375.
The Dish: Cheesesteak
The Restaurant: Chase the Submarine
There's no such thing as a simple sandwich for a chef. Case in point: Tim Ma's cheesesteak, which involves breaking down a large hunk of local beef so that the fat content and thickness of the meat are just so (juicy but not flabby, with a satisfying chew). The rest takes less thought—what cooks call "stupid delicious": a melty mess of provolone, caramelized onions and mushrooms, and garlic aïoli. 132 Church St., Vienna; 703-865-7829.
The Dish: Fried Chicken
The Restaurant: Sally's Middle Name
When it comes to juicy fried chicken, chefs hotly debate a brine-versus-buttermilk soak. "Neither," argues Sam Adkins, who's behind this ultra-crisp and moist bird. Instead, a half D'Artagnan hen gets a simple dredging in seasoned flour and a turn in a cast-iron skillet with plenty of Crisco. The Wednesday-only specialty comes with a classic American potato salad rich with egg and house-made mayo, plus a buttery biscuit. 1320 H St., NE; 202-750-6529.
The Dish: Crispy Kale
The Restaurant: Preserve
Preserve chef Jeremy Hoffman was in-spired by Rasika's flash-fried spinach appetizer, palak chaat, for his crispy-kale salad. In the process, he may have one-upped the beloved dish. Hoffman's version combines lightly battered, crunchy kale with sweet and tangy flavors from the American South and India. Star-anise-spiced red-pepper jelly, dollops of cumin yogurt, and diced red onion decorate the artful plate. 164 Main St., Annapolis; 443-598-6920.
The Dish: Frozen Salad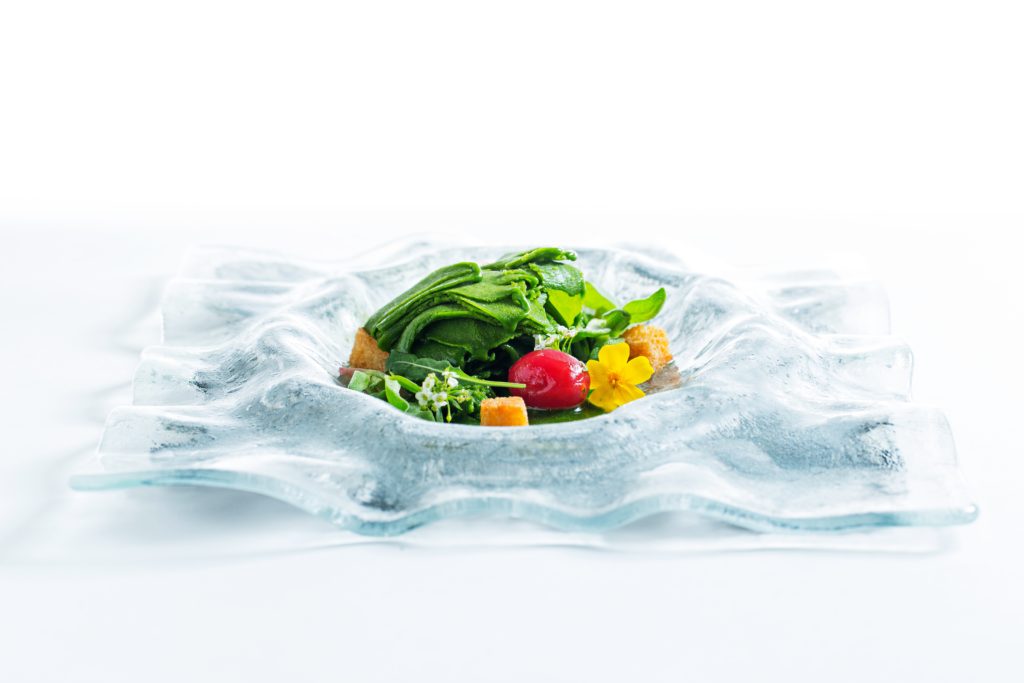 The Restaurant: Minibar
A tasting menu's salad course can be a ho-hum affair. Not so in the hands of Minibar head chef Josh Hermias. The palate-cleansing stop in the 30-odd-course journey takes inspiration from kakigori (Japanese shaved ice) and uses a traditional machine to crank out icy sheets of frozen lettuce water. The verdant snow is mixed with a bracing pickled-pepper vinaigrette and local sunburst tomatoes warmed in their juices—a contrasting combination as tricky to put into words as abstract art, but beautiful to taste. 855 E St., NW; 202-393-0812.
The Dish: Eggplant Parm
The Restaurant: All-Purpose Pizzeria
Growing up in New Jersey, chef Mike Friedman loved his mom's giant, casserole-size eggplant Parmesan. His take on the Italian-American classic is similarly unfussy and generous. Per family tradition, he doesn't bread or fry the eggplant but adds a chef's finesse: salting slices overnight to avoid sogginess, rubbing them with high-quality olive oil, and baking them in the pizza oven with house-made tomato sauce, mozzarella, and basil. It's messy and comforting, like Mom might make—just don't tell her this one's better. 1250 Ninth St., NW; 202-849-6174.
The Dish: Olive-Oil Ice Cream With Grapefruit
The Restaurant: Jaleo
Too many rich restaurant desserts can be nap-inducing, but Jaleo's olive-oil-infused ice cream in a nest of grapefruit ice is one of the most refreshing ways to end a meal. Bits of mint and fresh grapefruit add a bright pop to every bite, while a honey drizzle gives the granita a wonderfully toffee-like texture. The best part? A sprinkling of fragrant Spanish Arbequina olive oil brings out the ice cream's subtle fruit and spice. 480 Seventh St., NW; 202-628-7949.
The Dish: Thai Vermicelli With Chili-Peanut Sauce
The Restaurant: Baan Thai
This Baan Thai signature will get you hooked on the funkier side of Thai flavors. Chef Jeeraporn Poksupthong, better known as P'Boom, combines chili-curry paste with coconut milk, fish sauce, and tamarind to create a sweet-spicy sauce. Vermicelli-like kanom jeen noodles are tossed with ground chicken, shrimp, peanuts, and a zip of lime juice, then topped with a hard-boiled egg, crispy onions, and a tangle of tempura-fried watercress. The punch of flavors makes pad Thai seem as bland as Wonder Bread. 1326 14th St., NW; 202-588-5889.
The Dish: Lamb Chops
The Restaurant: Ananda
As kids, Ananda owners Keir and Binda Singh accompanied their grandfather on biannual pilgrimages from northern India to the Himalayas. During those journeys, they always stopped at a roadside inn for lamb chops. Marinated at least 12 hours in a spiced yogurt, their own version of those chops is coated in shaved almonds and grilled in a tandoor oven. It's served over a red-pepper masala sauce, accompanied by a mint-mango-avocado chutney, and worthy of a pilgrimage to this Howard County spot. 7421 Maple Lawn Blvd., Fulton; 301-725-4800.
The Dish: Seafood Tower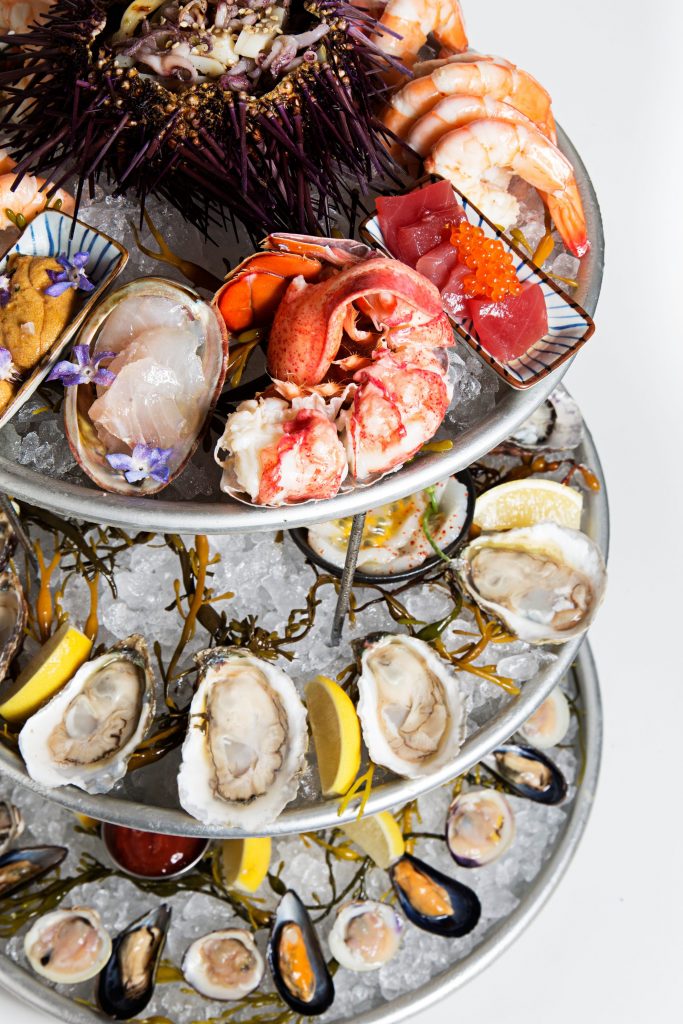 The Restaurant: Whaley's
Extravagant seafood towers are the trend du jour, but Whaley's version stands out for its cheffy touches. Three sizes of platters include the usual raw-bar fare (poached shrimp, oysters), but chef Daniel Perron ups the game with smoked blue-catfish rillettes, grilled-calamari salad, lightly dressed uni, and a daily-rotating crudo such as fluke with sea grapes. Accompaniments including Champagne mignonette and house-made cocktail sauce are extra-nice touches, but you'll barely need them, given the seafood's freshness and fine seasoning. 301 Water St., SE, Suite 115; 202-484-8800.
The Dish: Crispy Pork Pata
The Restaurant: The Partisan
Carnivorous pleasures abound at this butcher/restaurant, thanks to meat master Nathan Anda. Our favorite indulgence: a pork leg braised overnight, then crisped to order in beef fat. A group of five (or a ravenous two) can tear at the haunch and fashion tacos from the tender-crunchy meat, lard tortillas, salted Thai chilies, cilantro, scallions, and braising jus. It's a big-ticket item—$75 for a platter—but worth it for big appetites. 709 D St., NW; 202-524-5322.