One of the most anticipated restaurant openings of the summer, if not the year, is
upon us: Doi Moi,
a contemporary Southeast Asian restaurant from the team behind Proof and Estadio,
is set to open its doors on Tuesday. We got one of the first looks inside the 135-seat
eatery.
While neighboring Estadio boasts dark wood surfaces for the moody feel of a Barcelona
bar,
Griz Dwight of GrizForm Design took an airier approach to Doi Moi with ample windows, a mosaic
marble tile floor, and pure white surfaces. Fitting for the name's English translation,
literally "new change," the 14th Street space inhabits both a recently built structure
and the adjoining old Whitman-Walker clinic. Dwight hoped the aesthetic would match
the bright cuisine of Southeast Asia, and went for a more modern look than the ubiquitous
exposed brick and pipes—as he says, "no historic this or nostalgic that." You might
grab a table in the main dining room ringed by smoked white oak benches or, if you're
lucky, snag two seats at the L-shaped counter looking into the kitchen.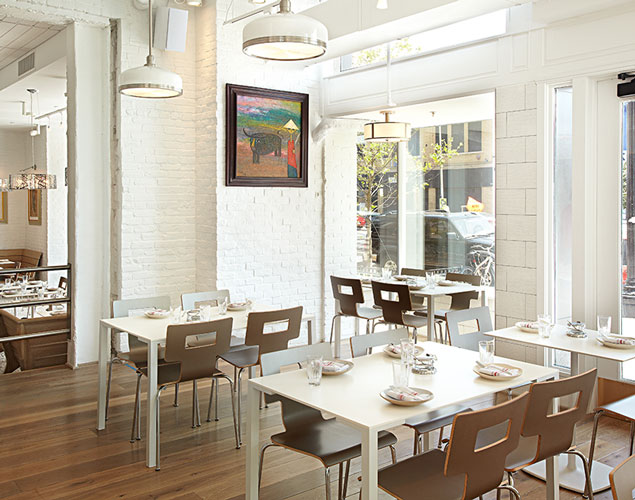 Chef
Haidar Karoum traveled extensively in Southeast Asia with owner
Mark Kuller prior to the opening, though this isn't the toque's first experience with Asian cuisine.
Karoum helmed the kitchen at the now-closed
Asia Nora for seven years, and Oriental influences have popped up on his menus since (we have
a hard time passing up Proof's
bàhn mí-esque shrimp burger). Doi Moi's menu won't be finalized until the opening, but look
for Thai and Vietnamese dishes that aspire to hew to their authentic roots. You'll
find the usual mix of salads, soups, noodles, and curries, as well as grilled skewers
and plates prepared using two high-powered woks. Familiar offerings such as
som tam, Thai green papaya salad with long beans and tamarind, are joined by lesser-known
specialties, including chicken
khao soi gai, a rich, brothy curry noodle dish popular in the Chiang Mai region of Northern Thailand.
Vietnamese dishes will include
ga roti, a spice-roasted chicken with lemongrass, and spicy
bun bo hue, pork and beef noodle soup.
As with the beverage program at Estadio, bar manager
Adam Bernbach assembled a themed cocktail program to pair with spicy, herbaceous dishes. Instead
of tonics you'll find a lineup of house-made sodas and soda-based cocktails; think
salt-cured lime soda spiked with gin, a galangal version with Manzanilla sherry, and
rum mixed with bitters and fresh ginger beer. A cachaça-based punch is also in the
works, flavored with lemongrass, ginger, and tea. The drinks menu is rounded out with
spice-friendly wines and, of course, Asian beers.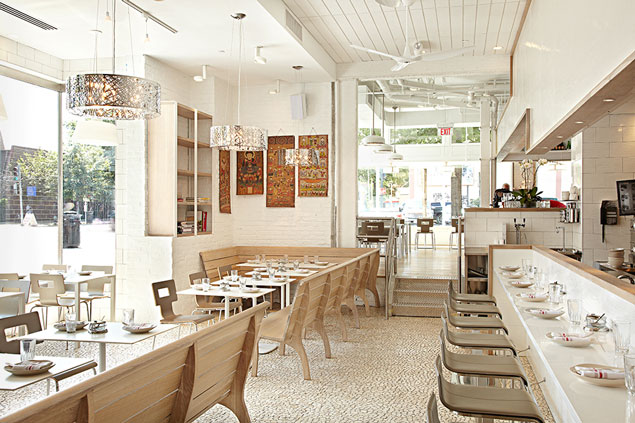 Opening a few days after the main restaurant is bar manager Adam Bernbach's affiliated
project, 2 Birds 1 Stone, a subterranean 60-seat cocktail den accessed by a separate
entrance below the restaurant. While the drinks upstairs play with Southeast Asian
flavors, Bernbach says his cocktail lineup below will be more "genre-bending," and
the handwritten menu will change frequently. A small menu of snacks and finger foods
from Doi Moi will also be available. Fun fact to share with your drinking partner:
The name refers to the one line an Estadio bartender/actor spoke in a horror movie.
Doi Moi plans to open Tuesday evening for dinner, and will take reservations only
for 5, 5:30, and 6 PM seatings over the phone. You can snag tables for the same time frame
on OpenTable starting September 2. Stay tuned for menus.
Doi Moi. 1800 14th St., NW; 202-733-5131.