In Britain, it's increasingly common for the landed gentry to recast ancestral homes
as grand hotels, not only to preserve the estate but—ideally—to kick-start the local
economy with tourism, agribusiness, and the arts.
Sheila Johnson hopes just that for Middleburg, where this month she opens the 168-room Salamander
Resort & Spa, 50 miles west of DC. Capitalizing on serene landscapes and the area's
rich sporting history, features include carriage rides, falconry, and weekend mornings
replete with fox hunters breakfasting on the terrace, their mounts tethered nearby.
In other words, a country lifestyle, which some think is not Johnson's to sell. After
a five-year slugfest over permits and zoning with locals who feared that the $100-million-plus
luxury resort on 340 acres might overwhelm the 0.6-square-mile, 673-person town, Johnson
won. Then, with construction 70 percent complete, the 2009 recession halted progress,
causing tongues to wag again about whether it would ever open.
For Johnson, 64, the past 15 years have been a series of personal and professional
crises and triumphs. The salamander isn't just a stylish moniker to her: As a creature
famed for regenerating lost limbs, it symbolizes perseverance.
A frank, unapologetic businesswoman, artist, and philanthropist, she might seem an
unlikely booster for a little town known for horses and field sports. But since moving
here in 1996, Johnson—number nine on
Forbes magazine's list of the richest African-Americans—has been generous: more than $7.5
million to the Hill School, a private kindergarten-through-eighth-grade academy that
her children attended; a grand fundraiser for the Piedmont Environmental Council,
which promotes responsible land use; and a $100,000 gift to the Windy Hill Foundation,
which builds tasteful low-cost housing in a town where rent is pricey.
There are other tokens as well: One Halloween she handed out candy and stuffed pandas
in Mystics jerseys (she co-owns the WNBA team) in front of her newly opened cafe,
Market Salamander. She walked in the fabulously quaint Middleburg Christmas parade—a
tradition dating to the 1950s and famous for its Corgi Corps—dressed in a sweeping
gown fit for a Broadway stage as Glinda the Good Witch, alongside her husband, William
T. Newman, who was dressed as the Wizard of Oz. (The year before, Johnson says, she
anonymously donned a gingerbread-man suit and was mauled by children.)
Johnson—who's never been shy about giving to this staid, charming town—considers Salamander
Resort & Spa her biggest gift yet. "What I am doing to the town is I am making it
a lot better. What the naysayers don't understand is that $1 million is going to the
town to keep this town alive," says Johnson, speaking of tax dollars estimated to
flow from the resort to town coffers. "You see storefronts closing—there's no reason
to come here unless it's a destination. I think over the years it will bear itself
out.
"I'm trying to breathe some life into this area, and I think it is going to work."
Whether Middleburg wants her help, though, is debatable.
Anyone in Washington who hasn't heard of Sheila Johnson isn't listening very closely.
A classically trained violinist, she taught at Sidwell Friends School in the '70s,
eventually founding her own youth orchestra, which was handpicked by Queen Noor to
perform in Jordan, where Johnson later consulted on a national music conservatory.
In the evenings, she and then-husband Robert Johnson, a lobbyist for the National
Cable Television Association, were cooking up plans for a cable network they would
call Black Entertainment Television, or BET.
"It was the opportunity of a lifetime," says Johnson, a striking woman with glowing
skin who looks stylish even in sensible shoes. By now it's legend: Bob Johnson took
a proposal for a senior citizens' cable network, substituted "African-American" throughout,
and showed it to John Malone, CEO of Tele-Communications Inc. With Malone's $500,000
seed, BET debuted in 1980. The schedule eventually featured, among other things, sports
from predominantly black colleges and gospel and soul music shows.
"I had a front-row seat on that ride—it started out as a channel and ended up as a
brand," says Jefferi Lee, who in 1982 was BET's sixth employee and is now general
manager at WHUT-TV, the Howard University station. (Bob Johnson didn't respond to
interview requests.) BET spawned restaurants, magazines, and an online presence. At
the dawn of music videos, African-American artists found airtime on BET.
In its nascent days, urban rap made its mark with gritty, graphic depictions of ghetto
life, drugs, and sex. "What disturbed me was the language and the way young girls
were portrayed," Johnson says. "If you turn the volume down, it looks like pornography.
I rebelled against it, and I think it might have caused a little bit of a rift."
Johnson pioneered programming like
Teen Summit, featuring young African-Americans discussing such issues as bullying, respect, and
teen pregnancy. Debuting in 1989, it had an 11-year run that garnered Emmy and CableACE
awards.
"Bob was at the helm of the company, but Sheila was the conscience," says Lee, who
left BET in 1998. "There were several times I would get calls from both of them—they
had opposing views, and I was in the middle. Bob was more focused on business."
BET was the first African-American-owned company to go public, in a 1991 New York
Stock Exchange initial public offering. But instead of stability, the heady combination
of power and money that accompanied success caused the couple to splinter. In 1999,
Bob Johnson fired his wife. Amid allegations of his infidelity, their marriage was
also at risk. They divorced in 2002.
• • •
In 1996, as Johnson's world was unraveling, she came to Middleburg, pulled by her
daughter's passion for horses. Paige Johnson, born in 1986, has been riding since
childhood. Her mother is more than just supportive—she chaired the Washington International
Horse Show for three years.
Salamander Farm's 169 acres, lined with stone walls and board fencing with vistas
of the Blue Ridge, offered plenty of room for 27 horses, stables, and an indoor riding
ring nearly the size of a regulation hockey arena. Johnson gutted the little house,
expanding it to the tune of $7 million, with a pool, outdoor kitchen, and plenty of
entertaining space. In 1996, Johnson uprooted Paige and her brother, Brett, three
years younger, from Sidwell Friends and put them in the Hill School.
"They didn't understand why at the time," says Johnson, who also brought her now 89-year-old
mother to live on the farm. "But I loved the intimacy of the [Hill] school and I needed
the support. I had to cut the umbilical cord."
Johnson joined the board of the elite 200-student academy and immediately gave $300,000
to construct a music room for the strings program—which had already been using a textbook
she'd edited while an undergraduate at the University of Illinois. She still receives
royalties from it, a trickle in her revenue: In 2001 Viacom bought BET, and the Johnsons
received $1.3 billion. Assets and real estate were equitably split in the divorce.
"I could have taken my money, sat back, partied, become a social climber; instead,
with lots of prayer and lots of therapy—and I have no problem saying that—I was able
to move forward," says Johnson, who gave the Hill School the $5.2-million Sheila C.
Johnson Performing Arts Center, then endowed it for $2 million more.
Johnson retained Salamander Farm—named by a previous owner, Bruce Sundlun, a former
governor of Rhode Island and a pilot in the US Army Air Corps during World War II.
His code name was Salamander.Johnson also owns Salamander South, a training facility in Wellington, Florida, a
town where the horse set goes for the winter show season.
"Salamanders can walk through fire and come through alive—if you chop off their legs,
they regenerate," says Johnson, sitting in her office amid piles of her own photography,
framed and ready to hang in guest rooms at her resort, as well as modal scarves imprinted
with her photos.
Empowerment and creativity thread through Johnson's post-BET endeavors: She says she's
creating a lifestyle brand that she feels will make the world more just and enjoyable.
Along with Salamander Hotels & Resorts, which owns and/or manages four resorts, she
has a line of luxury linens and is co-owner of ProJet Aviation, an aircraft-management
company. As a partner in Monumental Sports & Entertainment, she is the only female
African-American co-owner of three sports teams: the Mystics, the Capitals, and the
Wizards. She has produced several social-justice documentaries and is executive producer
of
Lee Daniels' The Butler, a feature film based on the life of Eugene Allen, an African-American White House
butler who served eight Presidents. She sits on numerous boards and is magnanimous
with money and ideas in both very public venues and very private gestures.
Johnson's ventures—from aviation and hospitality to films and basketball—may seem
to have no logical business connection. Detractors call this scattershot approach
a "flavor of the week" investment strategy, and her instincts haven't always been
foolproof, especially just after her divorce, when she ponied up cash for failures
in areas from publishing to real estate.
"I never have a plan—I know what I want to do but as doors open you have to know when
to walk through them and that is how I live my life," says Johnson. "I believe in
my instincts."
"She's a driven person," says Newman, Johnson's second husband. "She sees the beauty
in things, and if she thinks she can make a difference, she makes it happen."
Sandy Ain of Ain & Bank, who is general counsel to Johnson, agrees: "The challenge
is restraining her. She gets impatient with anything that interferes with her goals."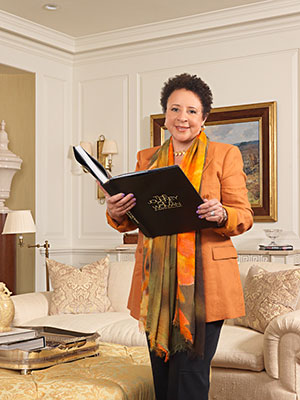 In 2002, as Johnson's divorce was being finalized, she saw a 340-acre parcel of land
bordering Middleburg, its brambled woods and pastures of tall grass crisscrossed by
horse trails, a crumbling springhouse the only sign of previous habitation. It was
once the estate of W. Averell Harriman—a former governor of New York and a protégé
of Franklin D. Roosevelt's—and his wife, Pamela, a Democratic powerbroker in her own
right.
"I was trying to find some way to become the author again of my own destiny. I can't
explain it, but I walked up there and a light bulb went off. And that is what got
me into the hospitality business," she says.
Some local residents, worried that developers would buy the tract, were initially
excited when Johnson paid $7 million for the parcel.
In the boom market, Loudoun County led the country in churning out building permits.
Route 50, Middleburg's main drag, was once a stagecoach route connecting Winchester
to Alexandria; the town is so named because it was the middle of the journey, and
its oldest hotel, the Red Fox Inn, is said to be among the nation's oldest. Now the
two-lane road is clogged by traffic created by new shopping centers and housing developments
east of Route 15.
People love Middleburg because it's a personal, seemingly uncomplicated place in an
increasingly complex world. But holding onto that quality has become yeoman's work:
The town council continually battles unwanted growth. Surrounding the town are many
large estates on hundreds of acres. As wealthy landowners die, their families—who
may not have the luxury to farm, raise cattle, and fox-hunt as "gentlemen farmers"—must
sell.
Johnson's yen for farmland runs deep. She was born in 1949 in McKeesport, Pennsylvania,
where her physician dad, George Crump, stitched up coal miners after bar brawls on
payday. It wasn't easy for a black neurosurgeon to work, so the family moved often:
In Louisville, she watched horses run behind the old Churchill Downs. When her father
served in the Korean War, the family lived in Charleston, West Virginia; in stark
contrast to life in segregated cities, that time of picking cherries, playing under
silos, and working in the garden was idyllic for her.
"I think that is why I am here now," Johnson says. Her 14th move was to Maywood, Illinois,
in fifth grade. Her father became chief of staff at Edward Hines Jr. VA Hospital,
her mother, Marie, its accountant. Johnson's brother, George, four years younger,
lives in Maywood today. She began studying violin—sparked by a father who played piano
for hours after work to blow off steam—and music began to shape her world.
"It's calming, and more than anything it really developed a foundation," she says.
"Focus, organization, communication, listening, and discipline—these five things music
taught me I've applied to everything I've done."
She received a scholarship to study music education at the University of Illinois
in 1966. Before the introduction of Title IX, she was kept from competitive sports
in high school, she began cheerleading; at Illinois she became the university's first
black cheerleader.
"Because of my skin color, I was not accepted with African-American students because
they thought my skin was too white, and not accepted by white students because I was
African-American," Johnson says. She remembers when, at the height of the black-power
movement, the university's 400 African-American students took over the student union.
"I was the only one who didn't go. I didn't understand why we had to be in this camp
or in that camp. I lived in this vacuum with my violin."
• • •
Johnson also didn't understand why people in Middleburg resisted her proposed resort,
which she considered a boon to the town.
"I did consistently vote against Salamander Inn because I thought it would take away
the small town feeling and change Middleburg; there were many people who were not
in favor of it because of those reasons," says Catherine "Bundles" Murdock, a member
of the Middleburg Town Council since 2004.
"The Harriman tract had acreage in town, so a small inn in town sounded rather nice,
but it got way off track," says Doug Larson, vice president of the Piedmont Environmental
Council, whose galas Johnson once hosted. One of the first letters to the town council
about the Salamander development called it a "battle," and so it became. Johnson felt
the opposition deeply.
"It's not like I kept it to myself," Johnson says. "I realized the town needed help.
I also recognized that the racial issues were still here. I had a groundbreaking,
and the 'Don't BET Middleburg' signs came out. My daughter was getting her nails done,
and a woman attacked her: 'What is your mother trying to do? She's trying to change
us.' It scared me."
After an uneasy start, she made changes in the management team and hired Prem Devadas,
now president of Salamander Hotels & Resorts, from the Sanctuary at Kiawah Island,
South Carolina, a development that also stirred local opposition. Devadas grew up
in the Washington area, and as a young man had brought his date to Middleburg in his
convertible to impress her. He immediately understood the project's lure. Protest
reignited when Johnson and Devadas came back to the council requesting 40 percent
more guest rooms. "At that time, hospitality was hot and costs were high—we needed
more rooms to make it financially feasible," Devadas says.
The project grew from a 58-room inn to a 168-room resort with a 23,500-square-foot
spa. "It's important—and so many people have said this—this was not against Sheila
Johnson, it was against a resort of this size," says Murdock, who retired from the
US State Department in 1989 as deputy chief of protocol. "When she was first looking
at the property, she was looking at 50 rooms, and if it had stayed that way there
wouldn't have been the backlash."
Of the 340 total acres, 88 have been annexed to the town, and Salamander has development
rights for commercial space and more than 49 luxury homes, cottages, and condo units.
Some 200 acres are in conservation easement and can't be developed. Salamander shored
up the town's failing wastewater system with a $10-million wastewater facility and
a $3-million water-treatment plant.
But by the time the negotiations were complete and the shell of the building up, the
recession loomed and projections for luxury-hotel occupancy tanked. Opponents rejoiced
when Johnson, heeding advisers, halted construction.
"It was the hardest pill to swallow—I must have drunk a whole bottle of wine that
night," Johnson says, her head in her hands just remembering. "I remember at the Mystics
game, President Obama said, 'How are you doing?' I said, 'I'm not doing well—this
recession is killing me.' He said, 'I thought you would do well,' and I said, 'You
don't understand—this is hitting everyone. I have to protect my wealth, and if I move
forward I will fail.' "
• • •
With her showpiece a shell looming on the outskirts of Middleburg, visible from town,
Johnson was far from idle. One activity that had become particularly important was
her role as global ambassador for CARE, an organization that helps empower women to
fight poverty.
Dale Mott, then with CARE and now director of development at the Phillips Collection,
got Johnson involved in CARE in 2004; he estimates her total investment in the organization
at nearly $7 million. But to Johnson the return was invaluable.
"It was part of my therapy—to see women who were suffering way beyond what I had gone
through: gender-based violence, AIDS, rape, living on less than a dollar day, lack
of education," says Johnson, who sat in the women's huts, listening to them tell stories
while they nursed their babies. "I was crying all the time, letting out so much pain."
Their stories inspired
A Powerful Noise, a documentary about three women who turned their lives around; it premiered at the
Tribeca Film Festival in 2008. Over the years, Johnson has backed several films, starting
with
Kicking It, about a soccer league for homeless people.
"She learned everything on the front lines of the issues," says Susan Koch, the director
of
Kicking It, who is working on another Johnson-instigated project,
Music Lessons, about a music-therapy school run by former Hill School teacher Tom Sweitzer. "She
didn't just do the film; she sponsored the first women's street-soccer league." (Proceeds
from the sale of Sheila Johnson Collection scarves, priced at $375, benefit the league,
called the Lady Salamanders.)
Johnson was brought to
Kicking It by coproducer Ted Leonsis, CEO of Monumental Sports, which owns the Mystics, the
Capitals, the Wizards, and the Verizon Center. Johnson became managing partner of
the Mystics in 2005. "She was passionate about sports, a woman, and African-American,
the perfect blend," says Leonsis, formerly president of AOL.
In 2006, she bought the Woodlands Inn, an 18-room plantation-style property in South
Carolina, for $2 million. Just over $1 million later, it earned
Forbes five-star and AAA five-diamond ratings in the accommodations and dining categories.
Last year, Johnson sold it, thinking it too small for a portfolio that had expanded
to include Innisbrook Resort, Hammock Beach Resort, and Reunion Resort, three Florida
properties marketed under the Salamander Hotels & Resorts umbrella as the Grand Golf
Resorts of Florida.
Golf came to the fore as well. Introduced to the game by friend Condoleezza Rice,
the former Secretary of State, Johnson is now on the executive committee of the United
States Golf Association.
In 2011, Salamander ventured off-shore to manage Sanctuary Cap Cana, in the Dominican
Republic, for absentee owners. "What a mistake," says Johnson.
There are some business lessons she has learned the hard way. She no longer relies
on headhunters but does her own recon. "There are people out there who are frauds,
and they will spend your money."
In 2002, she finalized her divorce from Bob Johnson in the Arlington courtroom of
Chief Judge William Newman. After the 20-minute proceeding, she asked to approach
the bench.
"Do you remember me?" she said. He did. The two had acted together in
Ceremonies in Dark Old Men with Washington's Negro Ensemble Company more than 30 years earlier. Johnson played
a prostitute and he a rogue bootlegging son. They got to know each other during the
play's run, then fell out of touch.
Soon after her divorce, she sent him an invitation to the Washington International
Horse Show gala. He accepted—and thought about bringing a date, until his mother told
him that might not be a great idea.
"I slowly began to understand some of the things she had been through," says Newman,
who had never married. "Then one day the light went on, and I thought, 'Wow—I really
like this woman.'"
In 2005, they married in a celebration at Salamander Farm costing nearly $1 million.
Elite wedding planner Preston Bailey turned riding arenas into a fairyland with 60,000
flowers and a 400-pound cake. The bride wore an ivory confection by designer Bob Mackie.
"I don't know why I got so carried away," Johnson giggles. "I was so in love and so
happy, and I felt safe for the first time in my life—like a lot of the cobwebs had
been cleared out."
The Judge, as she calls Newman, still acts and is active in Arlington—he founded and
now is president emeritus of the Arlington Community Foundation. He keeps a home in
Arlington and presides over courtroom 10A, where Johnson surprised him with a 20th-anniversary
celebration this past spring. Johnson comes in for games and events during the week;
they weekend at Salamander and travel as their schedules allow.
Last summer, they were together on the Louisiana set of
The Butler, starring Forest Whittaker and Oprah Winfrey, where Newman—who has an acting degree
and played in TV soaps before law school—stretched his chops as a preacher in scenes
with Lenny Kravitz and Cuba Gooding Jr.
Directed by Lee Daniels—who produced
Monster's Ball and
Precious—and strewn with star power including Robin Williams, Mariah Carey, and Jane Fonda,
The Butler project was brought to Johnson by the late Laura Ziskin, who produced the 2002 movie
Spider-Man.
"I looked at Laura and I could tell she didn't have much time," Johnson says. (Ziskin
died of breast cancer in 2011.) "She said, 'This is a movie that has got to be made.'
"
Johnson became executive producer, investing $2.5 million and raising more than $27
million to fund the film. Ziskin's partner, Pam Williams, says the movie wouldn't
have been made without Johnson; the Weinstein Company has picked it up for distribution.
Also on the set last summer was son Brett, now 23, whose eponymous shoe-and-outerwear
collection launches this fall. Daughter Paige, a professional equestrian, was married
in May at the Ocean Club resort in the Bahamas to longtime beau Dudley Payne, a Warrenton
native and scratch golfer who is a partner in an insurance company.
Johnson's Middleburg resort wasn't ready for Paige's wedding, but in 2012 Junius Real
Estate Partners became Johnson's equity partner in Salamander Resort & Spa, and building
started up again with new deadlines, schedules, and budgets, culminating in this month's
opening.
• • •
Curiosity over the resort's opening this month seems to be overtaking controversy
at this point. "The town will change fundamentally and forever in less than half a
year," a local newspaper, the
Middleburg Eccentric, predictsof Salamander's opening. It remains to be seen whether the resort will generate the
kind of business it promises—or threatens, depending on whom you talk to. But many
former detractors now hope for the best.
"People have accepted that it's there and don't think too much about it, but it's
a hell of a complex," says Michael Morency, a former Piedmont Environmental Council
board member who owns property in town. "I think when it opens, a lot of the old feelings
will resurface. But it's there, and I hope it succeeds."
Murdock hopes Salamander Resort, now that it's inextricably tied up with the future
of Middleburg, will succeed as well. Traffic is already unsettling the pedestrian-friendly
atmosphere and many locals no longer frequent town on the weekend, leaving it to tourists.
The town itself is investing in a larger police force, and some economic development
consulting.
"Its been voted on, it's been built, if it is unsuccessful and sits in that field
like a white elephant that doesn't make sense," says Murdock, though she says her
friends—many from neighboring Fauquier County, where she is field secretary of the
Orange County Hunt—mostly remain anti-Salamander. "The real story is two years from
now."
There are challenges ahead: The property's $150 million price tag— this cost, Devadas
estimates, includes the building of future homes and retail —is significantly higher
than the per key cost ( industry slang for per room) of other luxury brands. The area's
employment scene doesn't immediately provide the depth of talent needed for an enterprise
of this level. And the question remains whether the resort, which capitalizes on Middleburg's
outdoor sporting life and will try to reflect local color by offering tailgates at
the races and free breakfast to foxhunters, can remain full year-round.
Johnson is well aware that local coffee shop banter has her selling off quickly to
the highest bidder, but says she has a lot of personal skin in this game. She declines
to discuss numbers when it comes to her fortune, but does say she has much of it working
for her.
"Sheila is more protective of Middleburg than anyone can imagine," says lawyer Sandy
Ain, whose law firm provides Johnson both corporate and personal counsel. "It's cost
her considerably more to do this right and ultimately be a good investment—this isn't
a flipper."
It may be a few years before the true impact on Middleburg is known, but as opening
day nears, Newman says they're starting to feel a thaw in social relationships—and
a recent announcement made even skeptical locals soften: The Middleburg Film Festival,
a mini-Sundance, debuts in October with 15 movies to be screened at venues from the
Hill School to the resort, along with parties at nearby Boxwood Estate Winery. Johnson's
filmmaker pal Susan Koch is executive director.
"Robert Redford was here, and I walked him up onto the property and he loved it,"
said Johnson—who has been on the board of the Sundance Film Festival for five years—at
a press conference announcing Middleburg's festival last April. "We're bringing sexy
back to Middleburg."
And that might be just the issue. Middleburg may not be quite ready for sexy.