If Seth Godin or any other motivational speaker of the tech age
were to craft a mission statement for the ambitious indie restaurant, it
would probably go something like this: Don't try too hard to impress us.
The appearance of effort is a drag on our overburdened souls. Give us the
sort of dishes we might cook at home for a simple weeknight
dinner.
Why would people abandon their kitchens several times a week to
eat food they might be able to whip up themselves?
It sounds like a head-scratcher only if you haven't been
spending a lot of time in restaurants lately. The truth—and the savviest
restaurateurs know it—is that even with a Viking range, an armada of
cookbooks, and every finishing salt known to man, most people still
wouldn't be able to produce a dish like the Red Hen's fried artichokes
with anchovy aïoli.
To get that perfect color of burnished brass. To attain that
surprising crunch without sacrificing any sweet, meaty succulence. To
scatter the grains of salt in such a way that they set off a succession of
bright bursts in your mouth. To produce a rich sauce that might look like
mayo but tastes like Sicily's funky answer to hollandaise.
No restaurant in recent memory has a better understanding of
the gap between what we say we want and what we truly want than the Red
Hen, which is why a quiet, leafy block of DC's Bloomingdale has been
transformed six nights a week into a small traffic jam.
If you've never heard of this neighborhood, don't worry—many of
its residents under 35 (which is to say many of its residents) hadn't
heard of it either before flocking there in the past couple of years.
Their fiercely proprietary stance toward this developing stretch east of
the former no man's land of Shaw is reminiscent of the self-styled urban
pioneers who turned Brooklyn's Williamsburg into a destination a decade
ago.
The scene in Bloomingdale is, alas, a work in progress. Eating
and drinking options consist of the sort of places you'd never go out of
your way for but look at with fond appreciation on a cold, rainy night
when you don't feel like cooking. The Red Hen looks to be right at home
among them.
Your first impression is that you've walked into an upscale
watering hole. You look around the open room, taking in the crowd: young
families with car seats, couples on dates, friends out in groups. Hardly
anyone's dressed up; most are decidedly dressed down. The smell of wood
smoke drifting in from the open kitchen sets a mood of homey warmth. You
revise your initial impression. Not a bar, a neighborhood restaurant—and a
promising one at that. By the time the night is through, you'll likely
have revised this impression, too.
What we have here isn't another low-key spot trying to be taken
seriously or another high-minded place trying to be playful. The Red Hen
doesn't appear to be trying at all. That's one of the things that make it
so irresistible. And one of the things that make it the best new
restaurant of the year.
The website claims Italy as the primary influence, but the real
inspiration can be found just a mile and a half south—Proof, the Penn
Quarter wine bar/bistro that's a model for many restaurants attempting a
marriage of the ambitious and the accessible. Red Hen sommelier/owner
Sebastian Zutant and chef/owner Michael Friedman were core components of
Mark Kuller's "dream team" at Proof, and clearly they were taking
notes.
I can't decide whether the space is loving homage or sly
rip-off, but I like it. The atmosphere is dark and cozy, the din is
sustained throughout the night, and the dominant motif is wood. The wine
list revels in obscurities (try the orange wine—yes, orange wine, and from
Slovenia—which looks like a summer sipper but tastes as barnyardy as some
racy young Rhône reds).
The menu is Italian in the same way Proof's is
Mediterranean—Italy is both a destination and a starting point here—and
many of the biggest rewards come early and in the smallest of
packages.
The four crostini are as satisfying as any richly sauced pasta
(including a fabulous toast slathered with chicken liver and dressed up
with shavings of Parmesan), and I love the mercifully unironic take on
clams casino, which proves the enduring wisdom of pairing sweet clams with
salty, crunchy bread crumbs. The lone soup is a knockout—a soothing broth
of asparagus and Parmesan that's so pure in its distillation that you
might think you were sipping a liqueur.
The pastas are all produced on the premises, and for the most
part Friedman understands that you dress a pasta the way you dress for
dinner in the summer: lightly and with minimal embellishment. His version
of the Roman classic cacio e pepe is made not with the usual
spaghetti but with fusilli, and the sauce—a blend of pecorino Romano and
black pepper—appears to have been glazed onto the pasta. "Looks like
something I could whip up at home some busy weeknight," you think when it
hits the table. Then you dig in and realize that while you might reproduce
the richness, you'd be hard put to match the delicacy. The Roman-style
gnocchi are a couple of notches up on the difficulty scale but have the
same effortlessness about them. This is another dish that goes down
easy—the gnocchi are only slightly thicker than the vivid hazelnut pesto
they come with.
It's a measure of the tapas-ization of restaurant menus that
there are only five entrées and one of them is a sandwich (an excellent
leg-of-lamb, fragrant with wood smoke, mint, and thyme). The best is a
dish of pan-seared sweetbreads accented with soft polenta, bacon, and a
fried egg—it tastes like either the most sophisticated breakfast you've
ever had or the most comforting dinner. I also liked a take on Sicilian
fisherman's stew, which came with halibut as its centerpiece. The appeal,
however, is in the accompaniments: sweet mussels, a smoky swirl of
romesco, a tangy drizzle of salsa verde. The big disappointment is,
ironically, the wood-grilled hen, which—despite a marinade that includes
lemon and rosemary—tasted unseasoned; it could stand a crisper skin,
too.
The final act is fittingly modest, but here again the results
are more rewarding than they read. A pine-nut tart that conjures the
stickiness of pecan pie, along with a scoop of crème fraîche gelato. A
soft disc of buttermilk panna cotta done up with toasted hazelnuts and
candied orange peel. Even simpler: a dish of strawberries straight from
the farm. The chef will even swing by your table and drizzle them with
aged balsamic.
That's it—just fruit and vinegar. The ultimate DIY dessert.
Except, trust me, yours wouldn't taste nearly as sweet.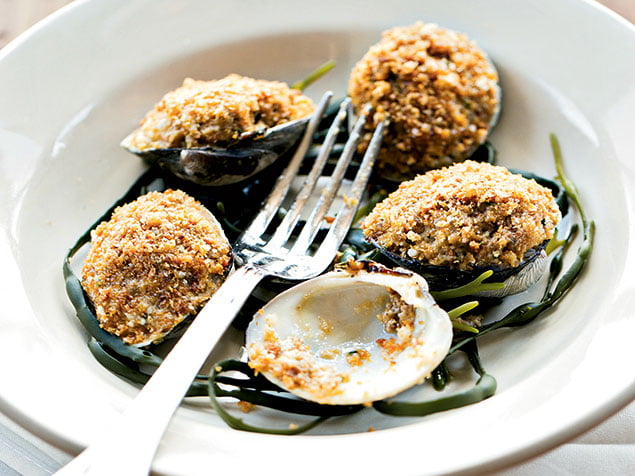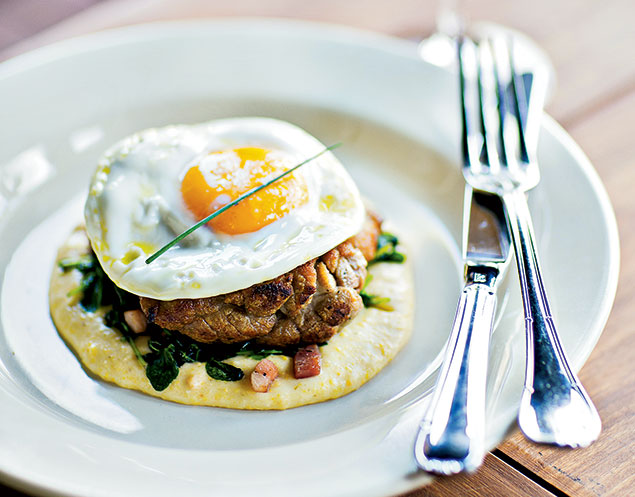 This article appears in the September 2013 issue of The Washingtonian.
---