On a summer night, there aren't many dining rooms more inviting
than the one at Ayse. The open, high-ceilinged room is done up in cooling
shades of white and blue, the floor is laid with marble tile, and the
padded booths strewn with embroidered pillows summon a taverna overlooking
the Aegean. This isn't a family business, but the young staff exudes a
small-town sincerity and graciousness. Fortunately, Ayse (pronounced
"eye-shay") is as much of a draw where it matters most: on the
plate.
Make that plates. Your table is likely to be covered with them
during this culinary tour of Greece, Lebanon, and Turkey. The format is
mezze—small dishes that seem to span every conceivable kitchen
preparation. There are 87 items in all, and for the most part they're made
with imagination and care.
The dozen daily specials are further enticement. Of recent
note: a bowl of sugar-snap peas garnished with almonds and black sesame, a
whole dorade roasted to a perfect underdoneness, and fat grilled
sardines.
When it comes to the printed menu, look to the more robust
preparations. The dried beef known as pastirma arrives with
pistachios, apricots, and feta, and the jerky-like meat has the depth of
well-made charcuterie. The best of the kebabs is made with chicken
thighs—the lightly charred meat is great on its own, even better after a
swipe through the whipped garlic spread on the side. "LFC," or Lebanese
fried chicken, isn't likely to spawn a multinational chain, but it's hard
not to like these bite-size hunks topped with pomegranate seeds and
yogurt.
The chef's ambition to expose diners to the mezze repertoire is
admirable, but some dishes need fine-tuning. One night's pide—a
Turkish flatbread—arrived underbaked. Turkish "cigars" filled with feta
weren't crispy enough. Crabcakes tasted as if they existed only to appeal
to timid souls unwilling to explore the deep end of the menu.
The cooking won't make you long for the load-lightening
properties of a digestif, but it's worth sampling the anise-flavored
rakis. There are also good wines from Greece, Lebanon, and Israel
(from the last come a versatile Moscato and a crisp rosé).
Try to pace yourself before dessert. The walnut cake is
remarkably light for being so rich, and the fig-and-apricot newtons are
like nothing you remember as a kid.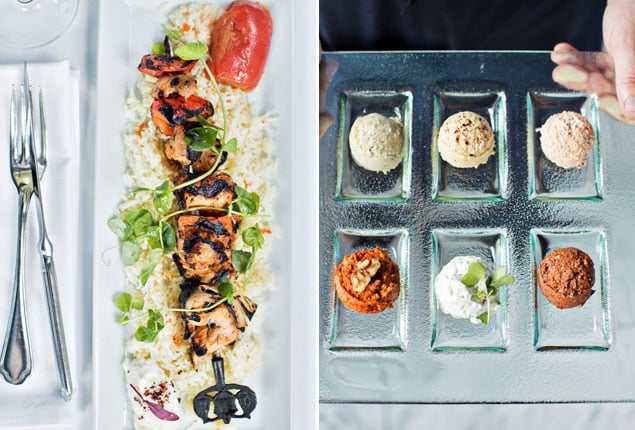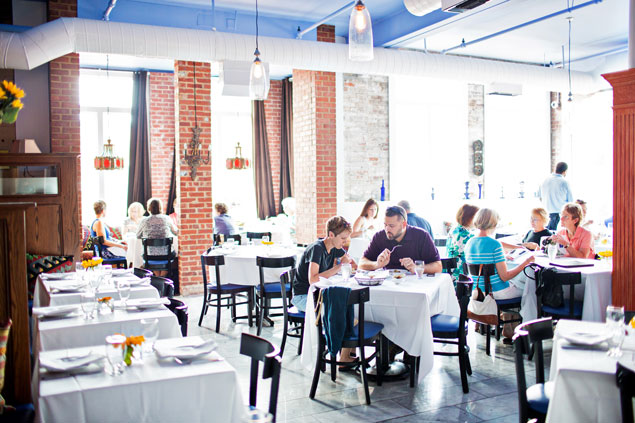 This article appears in the September 2013 issue of The Washingtonian.
---