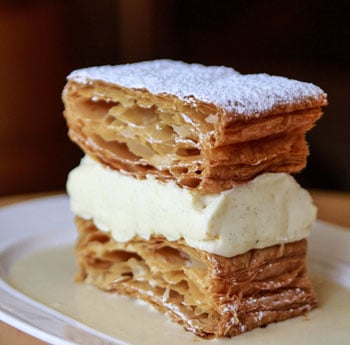 Todd Kliman
Michel's napoleon at Central Michel Richard
Take your standard napoleon.
Now quadruple it.
And lighten it by half.
And make it, oh, about ten times more delicious.
That's the rough blueprint for the napoleon at Central, the most memorable dessert
on a menu full of knockouts.
As with so many of the master chef's sweets, diners aren't immediately certain what
to do with the thing when it hits the table. They point and gawk and laugh and reach
for their phones to snap a picture—in other words, everything but grab a fork and
begin eating. Richard frowns at such stand-backishness. In the dining room at the
late Citronelle, I once saw him pick up a stunned customer's fork and, with one swift,
dramatic downward swoop, demolish one of his own exquisitely stacked pastries.
Leave it to Richard, I remember thinking, to present you with a dessert that fills
you with awe and wonder, then leave you no other option but to smash it to smithereens
like a little boy destroying his sandcastle in a gleeful assertion of toddler power.
Swift demolition is the only option here. Bring the fork downward suddenly and with
almost violent force, breaking through the bubbled layers of pastry that have no comparison
in the dessert world—a dozen crunchy, tissue-thin flatbreads? Underneath those shattered,
now scattered layers you'll find a rich fluff of pastry cream, so good that many lesser
restaurants would be content to serve it alone, adorned, perhaps, with macerated fruit.
The dish hardly needs a sauce, but Richard gives it one anyway, a crème anglaise whose
multitude of black flecks points to the presence of vanilla beans—not that an intense
and sustained vanilla flavor is something you need to see seeds in order to identify.
Ann Limpert
Spaghetti with cherry tomatoes and Thai basil at Graffiato
Last week, I went on a bender. Not on a Kate Moss-inspired 72 hours of Champagne and
Marlboro Lights, or the entire season of
Orange Is the New Black (I knocked that out a long time ago), but on all things Mike Isabella.
It spiraled unintentionally, like most benders do. First was a weeknight dinner at
a table crammed with
taramasalata, Flintstone-size gigante beans, fantastic spit-roasted lamb, and rum and gin lemonades
at Kapnos. Then, over the weekend, a spur-of-the-moment craving while walking the
dog led me to G, where I alternated bites of the vinegar-soaked Italian hero, the
chicken Parm sub, and more of that lamb stuffed into a pita with
tzatziki. Somehow that night, after a movie (In a World. . . . Go see it.), Graffiato happened. I'd probably never have ordered the spaghetti
with cherry tomatoes and basil on my own—it sounded so plain next to the prospects
of Jersey Mike's fried-calamari pizza and buttery corn agnolotti. Luckily, I snagged
a bite off a vegetarian friend's plate. The strands of spaghetti were just firm enough,
and the sauce had the deep sweetness that happens when peak tomatoes meet slow-and-low
cooking. The next night, I spotted Isabella's cookbook on the shelf and decided to
make it myself with Sungold tomatoes (thanks for the tip, Anna). It was not a quick dish—about an hour and a half from
start to finish—and it didn't have nearly the flavor the restaurant version did. A
bummer—but it was finally time to step away from the Isabella.
Jessica Voelker
Various vegetables at Table
At a recent dinner at Table, it wasn't one single dish that impressed more than the
others—from veal sweetbreads to ginger flan, they were all fantastic—but rather the
vegetable sides that decorated each of the plates. There were crunchy-sweet zucchini
blossoms complementing chubby escargot ravioli, the brightest sorrel "salsa verde"
perking up a perfect filet of Arctic char. Chef
Frederik de Pue's stuffed squid first course is an inspired dish, but the earthy piperade—a Basque
stew with peppers, tomatoes, and onion—was, for me, the star component.
And here's the thing: I eat so many dishes heavy on meat and cream that somehow don't
add up to something delicious. Take away technique, presentation, and trendy ingredients,
and often little remains. Not at Table, a neighborhood restaurant that is killing
it right now.
Anna Spiegel
Wood-grilled calf's heart salad at Mintwood Place
Eating heart isn't for everyone. And the hearts of baby animals? For even fewer. Still,
it's worth overcoming any biases to try Cedric Maupillier's unusual appetizer. Think
of everything that makes a classic frisée bistro salad addictive: the tangle of crunchy
lettuce and tangy vinaigrette, contrasted with meaty hunks of bacon and a creamy poached
egg. Now amp those flavors and textures way up. Like most offal dishes, the hearts
need some coaxing into deliciousness. First Maupillier brines them in salt, garlic,
lemon, and bay leaves for 48 hours, then gently cooks them in butter for another 24.
Once ordered, the tender muscles are given a light char over the wood grill alongside
cauliflower florets and chopped onions, and then tossed with baby kale, Dijon vinaigrette,
and shards of thin-sliced garlic toast that best any blocky crouton. The salad is
crowned with a perfectly poached egg, which you should mix in immediately for the
full effect: bright and earthy, crunchy and creamy, absent of any gaminess. Maupillier
first experimented with the dish during winter Restaurant Week, worried it wouldn't
appeal to first-time customers and infrequent restaurant patrons. A surprising 250
orders rolled in during the promotion, and it's been a menu staple since. Having done
it, I don't recommend chasing the local Roseda Farm hearts with a dry-aged burger
from the same beeves; unless you have a carnivorous appetite, it's best not to keep
it in the family for sake of richness. Though should you crave both, as I almost always
do, try to convince your dining partners to split the appetizer. They won't regret
it.