Prolific restaurateur
Richard Sandoval—who's behind Masa 14,
Zengo,
Ambar,
and more—just debuted his first sister eatery in the area: a sibling for 14th Street
Mexican spot El Centro D.F. It's spread out over two floors in the former Third Edition space and has a spacious
patio for savoring the last days of summery weather over margaritas. While the two
restaurants share many similarities, there are a number of new elements at the Georgetown
spot.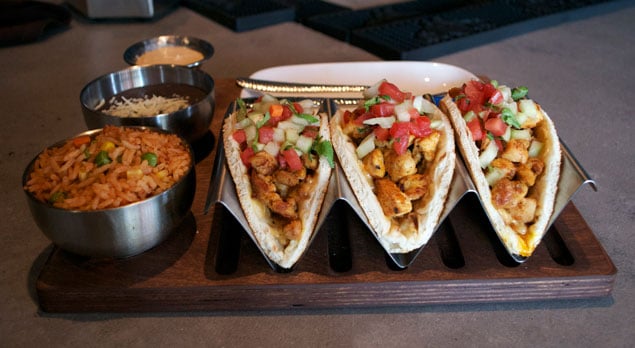 Different dishes
Though much of Sandoval's menu remains the same, around 30 percent of the dishes are
new. Pick from a variety of guacamoles to start, such as avocado mixed with
chicharrón and pickled chilies or tuna tartare. You'll also find more tacos, such as roasted
octopus and Korean-style
kalbi (short ribs). Heartier eaters can go for fajitas served in an iron skillet, centered
on marinated meats and seafood wrapped in warm tortillas and topped with house-made
salsas.
More tequila
While the 14th Street location boasts the largest variety of tequilas on the strip,
the new Georgetown spot tops its sibling's number with 200 varieties. A star of the
bar: infused tequilas in flavors like strawberry-basil, grilled pineapple, and cilantro,
which can be sampled in a tasting or made into a specialty margarita. Partying with
a group? All of the margaritas (frozen and not) can arrive by the half and full pitcher,
as can carafes of red and white sangria.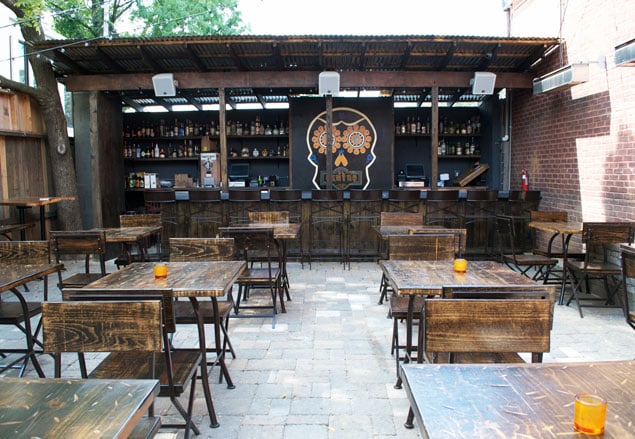 Outdoor margarita-sipping
Remember Third Edition's backyard tiki hut (or, more likely, barely remember it from
college)? The space has been transformed into a roomy outdoor patio equipped with
a full bar. Drinkers are welcome to linger over frozen margaritas and Mexican beers
or grab a table for an al fresco meal. A smaller outdoor deck looks out on the scene
below.
Weekly specials
You'll find a special offer almost every day of the week, including popular carryovers
from 14th Street—like the all-you-can-eat-and-drink brunch for $35. Also look for
"nacho Mondays" with $6 nachos from 5 onward, and $5 margaritas on Wednesday. A booth
is set up on the second floor for deejays to spin on certain weekend nights, which
could coincide nicely with late-night menus that run until 3 AM on Friday and Saturday.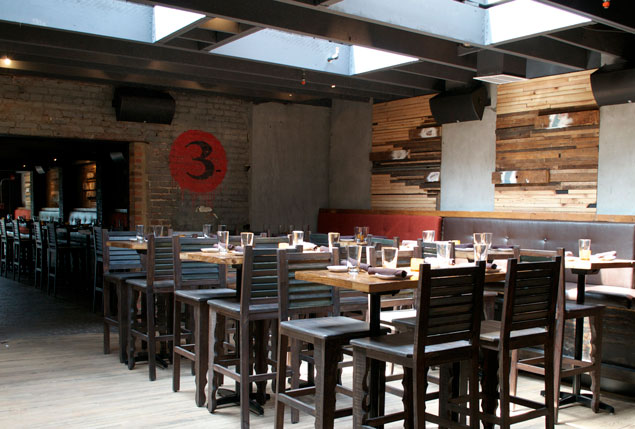 A touch of history
The design team uncovered an old mural in the ground-floor tequileria during the full
makeover of the Third Edition space. While the rest of the interior is themed around
the Mexican concept—plenty of dark wood, Day of the Dead skulls—the team has kept
the quaint wall painting depicting what looks like an 18th- or 19th-century town.
Consider that your fun fact/conversation piece when heading into the tequileria with
your date.
El Centro. 1218 Wisconsin Ave., NW;
202-333-4100. Lunch Monday through Friday 11 to 4; dinner nightly 4 to 11; brunch
Saturday and Sunday 10:30 to 4.