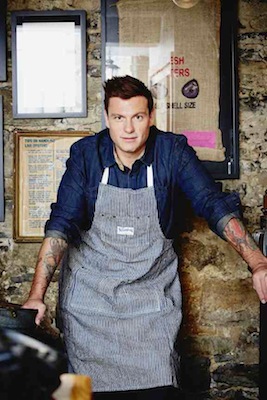 Chuck Hughes has a pretty sweet gig. As the star of the Cooking Channel show
Chuck's Eat the Street, the Montreal-based chef and restaurateur tasked with traveling around the US and
Canada to explore the culinary scenes of various cities. For the current season of
the show, its second, Hughes made his way to DC—for the first time—and ate his way
down the 14th Street strip, on the way getting a lesson in tortilla española from
Estadio's
Haidar Karoum and sampling the "world's saltiest oysters" with Pearl Dive Oyster Bar's
Jeff Black.
We got in touch with Hughes on a rare day at home to talk about the rigors of shooting
a cooking show, the Washington eateries he loved, and his advice for DC tourists.
Where am I catching you today?
I'm at home eating gluten-free Chex. The gluten-free thing I never even really noticed
or talked about it, but I guess my girlfriend has another agenda, so we have gluten-free
cereal. It's in restaurants also. As a restaurant owner the gluten-free thing is .
. . a bit of a pain in the ass, but you need to be aware of and work with it. A lot
of people who are gluten-free are not educated on what gluten is and what is and isn't
gluten-free.
Your home is in Montreal, right?
Yes, I'm in Montreal, but I've been traveling quite a bit all summer for the show.
It's our second season, and there are 13 episodes, so I've traveled all over the country
all summer. We wrapped a couple of weeks ago, and now I'm back home, but I don't really
stay put that long; even though the show's over, I have a lot of traveling to do.
It's a little more settled-down; as much as I love traveling and discovering people
and places, I have two restaurants [in Montreal], so I still have a lot of work to
do here.
Where were you especially excited to visit during this season?
Washington, for one—I'd never been. I'm lucky I get to go a lot of places; Alaska
was first season, but it was a place I really wanted to go. I went to Puerto Rico,
Detroit—I really wanted to go and went there a month ago, and it was pretty amazing.
Then in Washington, I had a couple of friends there, so I got to really discover the
city. You see the statues and these beautiful buildings on TV, but being there is
a totally different experience. I went to visit the memorials during the day and went
back at night, and that's what people in DC should do. The Lincoln Memorial at night
is just insane, even more grandiose than usual. The actual physical buildings and
the beauty of that city—it's such a beautiful place. I hung out with guys from Rappahannock
Oysters, and I was with Jeff Black—we featured Pearl Dive, which has a specific oyster
called Black Salt that is supposed to be the saltiest, briniest oyster in the world.
So we went in a boat, out in the water, and ate oysters—we pulled them right out of
the water and ate them right there. As much as I love to do the show and I hope people
enjoy it, ultimately on the selfish side I get to live these great experiences, and
when cameras go off I'm still there, in the bay, eating fresh oysters. So on a personal
note it's just awesome, and gives me a really in-depth look at these cities. For the
show hopefully it'll translate so people can watch the show and be able to see a bit
of every city through my eyes.
What trends are you finding in the dining scene during your travels?
I'm finding more and more—not in a bad way—but I think across the board in the US,
and Canada is the same way, that there's this real trend to go back to roots, to try
to do things in the old-fashioned way. I feel like you're getting that in high-end,
good restaurants that use quality products. They try to make a difference. When you
go to all the great restaurants, everybody is trying to use the best product possible
and do what's good for the environment, whether it's composting or choosing to use
certain ingredients. What I noticed in DC is there's a lot of—because of the waters,
the Chesapeake Bay being close by—there's this movement of creating great food and
consciousness. People in DC come from such a wide range of cultures, there are people
from so many different places, and you get that sense of influence through the food
and nightlife of the city. It reminds me a bit of Montreal in that it's very multicultural
and there's a lot of international influence, but the big focus is on local and doing
the right things, making the right decisions.
Do you find things you bring back to your own restaurants?
I discover so many tips and tricks and techniques. Mostly what I bring back are little
things people do differently; in terms of recipes, sometimes I'll get something, but
most of the time it's more about technique and how people do things. In terms of ingredients,
unless I can find that same kind of ingredient and quality in Montreal I kind of stay
away from it, but I always learn something new. It's been a great part of the show.
Walk me through a typical day of shooting.
We wake up pretty early, and we're set to go by 7:30. The show is divided into two
parts—there's the part in restaurants, where I cook and make recipes, and there's
a little adventure part. Typically we'll start in the restaurant, talking to the chef.
Obviously I know what the dish is, so I try to connect with the chef on a personal
level, get to know about his food. Sometimes I try some of his food, but I try to
not try too much before I get on camera so it's more real. And what ends up being
a three-minute segment takes five hours to shoot, but that's the nature of TV—everything
needs to be lit up, wired, perfect. When we work on the street there's constant noise,
so filming is always kind of rough. A lot of times I will be walking on street, so
we'll shoot me walking, doing intros and what I like to call facts about the city:
During show I'll give people a history of city, of the guy we're going to meet. If
we do two demos in a day that'll be it. They take five or six hours each, so it's
a minimum of a 12-hour day. We go and shoot visuals and landmarks and places we need
to put in the show, so all the memorials and the amazing buildings were a day of shooting,
walking around, learning, being a tourist, and discovering the city like anyone else
would. We're done at 8, 9 at night, and we have some restaurants that are in the show
and so many more we'd love to include but don't have time. If we're lucky and not
too tired, we end up going to restaurant for a meal, so I get to go to all these great
places and then off-camera I also get to try other restaurants.
Did you go anywhere in DC that didn't make it into the episode?
I was on this show
The Next Iron Chef, and
Spike Mendelsohn was on the show with me. We became friends; he's from Montreal, so we have a lot in
common, and we hit it off. It was hockey season so we watched a couple hockey games.
I had a burger at Good Stuff Eatery and one of his custard milkshakes, a lemon meringue
custard milkshake. I know it's stupid, but oh my god, it was so good. The little things
make it so good. Beside Pearl Dive there's this really good coffee shop [Peregrine
Espresso], and kind of like any other TV crew we run on coffee. We'll drink bad coffee,
good coffee; when we roll up into a city we try to find the best espresso or best
local coffee shop.
Another place I went—I need to get you all these names—it was this ramen place with
skateboards on the wall . . .
Toki Underground?
Yes! That was awesome. We went there one night. If I had to go back I'd hang out with
Spike and the guys and get them to take me to all these places they wanted to take
me. I'd hang out with Rappahannock boys. Oysters are one of my favorite things—I have
two oyster bars back home—so just to be out there in the water . . . the beauty of
Washington is it's surrounded by amazing water, and if I had the chance I'd eat a
bit more, but I'd try to hang out with the guys and go in oyster beds a bit more.
I'm looking forward to going back. I really enjoyed the beautiful city and all those
landmarks; I know it's cheesy, but it's almost unbelievable how big and grandiose
it is.
What goals or projects do you have coming up?
I'm hoping we'll get another season, but it's a bit up in the air. Every episode takes
five or six days to shoot, so it's quite a bit of work. But once again it's adventurous
and lots of fun, and I enjoy doing it. My first show was called
Chuck's Day Off, and it was a cooking show in my kitchen. Now it's shown in about 50 countries, so
I'm doing some promotion for that. My book just came out, a book of recipes that have
been on the show and originals; it's a cookbook and a biography on me. I'm doing a
lot of promoting and traveling for the book and the show. My first restaurant is almost
eight years old, and I'm always trying to get better, so I'm focusing on that. Having
people come from all over the world [to the restaurant] is great but stressful; I
want to be able to give people the best experience possible. So I'm focusing on my
restaurants—and playing a lot of hockey.
The Washington episode of Chuck's Eat the Street
airs on the Cooking Channel Thursday, September 12, at 10 PM. For more information,
visit the website.