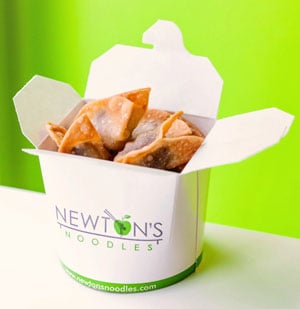 Given the casual state of dining, plenty of restaurateurs opt for low-key accompaniments
to their finer-dining establishments—think
Mike Isabella's Kapnos and adjoining sandwich shop G and
Victor Albisu's (Del Campo)
Taco Bamba.
Chef
Dennis Friedman is getting into a similar game with Newton's Noodles, a 70-seat, fast-casual spinoff
of his Bethesda restaurant, Newton's Table.
While you could mistake the place for an Asian-style Chipotle (like, um, Chipotle's
Asian-style spinoff, Shophouse),
Friedman has taken several different approaches to stand out. Here's what to look
for when the spot opens this week.
Restaurant favorites made to order
Newton's Table regulars might recognize the lineup at the noodle shop. Friedman says
the menu is made up of customer favorites from the dressier restaurant. The focus
is "fuzu," a noodle dish (with a made-up name) that Friedman says he's tweaked for
years. Guests still customize their bowls by picking between buckwheat soba noodles
or gluten-free rice noodles and adding various veggies, proteins, and toppings. The
overall flavor of the dish is similar to Friedman's original concept, whether you
choose the original soy-based sauce or a newer coconut-curry creation. Ingredients
such as shrimp, scallops, chicken, and vegetables are cooked to order for your bowl.
Appetizers that can grow into entrées
Starters include duck confit spring rolls, crispy soy-glazed chicken, and sesame-crusted
ahi tuna lightly fried and served rare with soy-mustard dipping sauce. Any starter
item can be enlarged to a main course portion, or served family-style for three or
four people. Dishes such as the aforementioned tuna and chicken are rounded out with
either white or brown rice.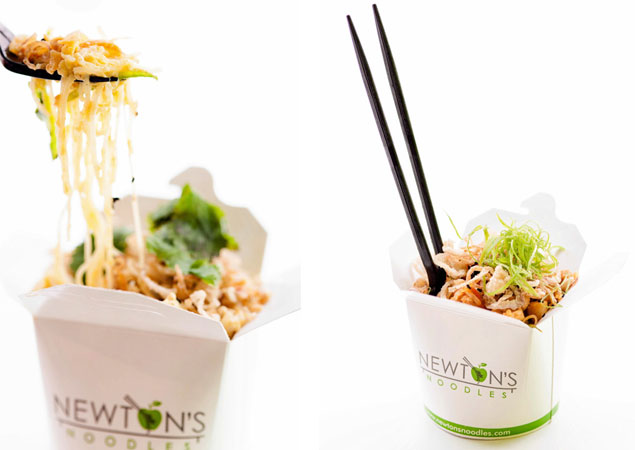 Chorks
Move over, sporks. The signature utensil at Newton's Noodles is the chork, a hybrid
fork-chopstick combination that can be used three ways. The chopstick-challenged can
use the fork end to twirl noodles or try their hand at the Asian utensil by keeping
the chork intact (which feels kind of like eating with long tweezers). If chopsticks
are your go-to, just break the whole thing in half and use them the regular way.
Boozy sweets
A liquor license is in the works for Newton's, and Friedman expects to roll out beer,
wine, and sparkling sake in about three months. In the meantime, pick up a Pattycake
for dessert. The rum cake is from a recipe by Friedman's wife, Patty. (See what he
did there?)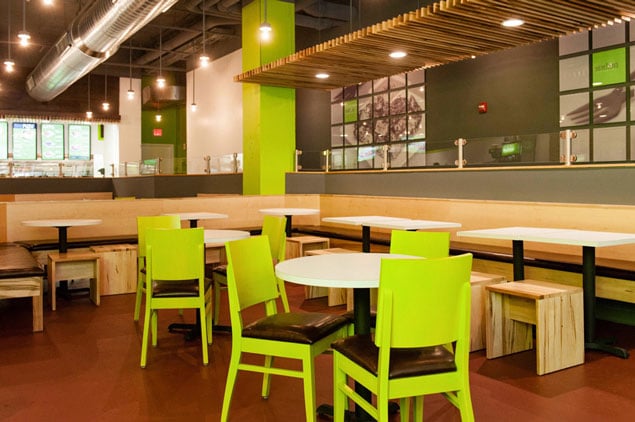 Delivery to go, patio to stay
Down the road, a delivery option will accommodate the neighborhood's main denizens:
college students and office workers. (Diners in a hurry are welcome to call in orders
when the restaurant opens.) Come spring, look for a 40-seat patio to debut. Another
new feature you eventually may see: numerous Newton's Noodles. Friedman says he plans
to open a branch at the University of Maryland and two in Virginia in 2015, after
which he hopes to expand the concept beyond the local market.
Newton's Noodles. 1129 20th St., NW; 202-827-3907. Open Monday to Friday 10 to 9 and
Saturday 11 to 4. Closed Sunday.