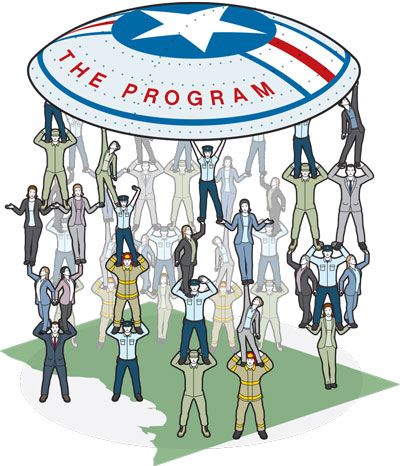 If an unauthorized plane or a cruise missile sneaked into
Washington airspace, the last line of defense would fall to soldiers under
the 263rd Army Air and Missile Defense Command, headquartered at an armory
at 3111 Martin Luther King Jr. Boulevard. The large windowless building
has a sign that says AMERICA'S SHIELD, but there's no perimeter fence and
only waist-high Jersey barriers stand at three of its four entrances. The
fourth is open to traffic, without even a gate arm to regulate
entry.
The reason for the lax security may be that Martin Luther King
Jr. Boulevard isn't in DC. It's in Anderson, South Carolina.
Arrangements for Washington's air defenses are classified, of
course, but according to both published plans and documents I've obtained,
our protection against rogue attacks has long depended on a shadow world
of overlapping commands and jurisdictions that overlay the capital region
and extend far beyond it. In the 12 years since American Airlines Flight
77 hit the Pentagon, the top-level organization responsible for
super-emergencies has become more complicated as our national-security
apparatus has exploded in size. The Program, as this group is known (short
for Program Coordination Division, its name before responsibility shifted
from FEMA to the White House), is now a broad interagency network
comprising military and civilian functions. One fact about the Program,
however, has not changed: There's no single person who understands it, no
one really controls it, and no one is really in charge.
No territory has as many watchers as the area called the
National Capital Region (NCR)—originally consisting of the District and
the surrounding counties but repeatedly enlarged to cover sensitive sites
as far away as Pennsylvania. Fighter jets, on alert 24-7, scramble on the
orders of a command center at Joint Base Anacostia-Bolling, on the Potomac
River opposite Reagan National Airport. Bolling reports to Tyndall Air
Force Base in Florida, which in turn answers to the main command in
Colorado. Coast Guard, Customs and Border Protection, and Park Police
helicopters stand ready to intercept "low and slow" movers. Faster-moving
threats are the concern of that armory in South Carolina, which oversees
antimissile batteries around DC, manned by personnel from North Dakota,
Ohio, Florida, and Mississippi who take rotating stints in the
NCR.
These lines of command merge at the Joint Force Headquarters
National Capital Region at Fort Mc-Nair, near the Jefferson Memorial, and
ultimately report to the Secretary of Defense. On paper, it all seems
perfectly prudent and redundant. In an actual attack, though, the various
security forces would implement their contingency plans while officials in
the Program's org chart consulted code-red envelopes and attempted to
assert control.
In the case of a terrorist act involving, say, weapons of mass
destruction, the Program would go into action, directing the FBI, the
Federal Aviation Administration, the Energy Department, and a host of
others, even as the DC government executed its own "homeland security"
plan involving hundreds of federal agencies and police
departments.
The best analogy for the Program is Wall Street: a collection
of institutions whose common interests supposedly allocate resources
efficiently. Five years ago, we got to see how Wall Street handled a
crisis. How did that work for you?
William Arkin is a national-security expert, a former Army
intelligence officer, and the author of more than a dozen books, including
his latest, American Coup: How a Terrified Government Is Destroying the
Constitution.
This article appears in the October 2013 issue of The Washingtonian.