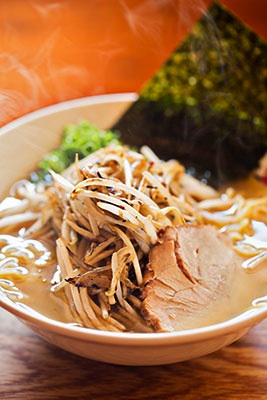 Todd Kliman
Trotter tots at 8407 Kitchen + Bar
At first glance, the menu at 8407 Kitchen + Bar in Silver Spring doesn't look to be substantially different since Justin Bittner replaced Ed Witt in the kitchen in early August. The format remains much the same as it did under founding chef Pedro Matamoros—a charcuterie board, a selection of cheeses, a handful of small plates, and some sandwiches and salads, along with a separate card of entrées to reflect what's new and in the markets.
But the chef, who built a following at Bar Pilar with his playful, lusty cooking, has nonetheless asserted his presence in the early going—and memorably in this minor masterpiece of designer junk food.
Imagine biting into a tater tot and unearthing a rich deposit of pork belly.
The outside is as golden brown and crunchy as the fried food of your dreams; inside is the essence of porky lusciousness­—a ball of meat from the flavorful foot of the pig that is as rich and smoky and salty as first-rate barbecue.
Like all chefs who are drawn to working with fatty, funky foods, Bittner attempts to leaven the heartiness by dolloping his tots with a preserved lemon relish. A fine condiment, nicely tangy—though it lightens the effect about as much as a witty riposte in the midst of Macbeth.
Jessica Voelker
Beurre blanc escargots at Le Zinc Restaurant & Bar
No, I'm not talking about the shuttered bistro across from 2 Amy's—RIP—I'm talking about a Seattle restaurant where I met friends for happy hour on Wednesday after a 10-hour tour through our nation's airports.
This was not a creative take on beurre blanc. It actually reminded me a bit of the unfussy but admirably well-rendered sauces of institutional dining spots in France. That sounds like an insult but it's not; even the food at school cafeterias in France is delicious, or at least at the cafeteria of the Catholic School I attended there about a million years ago.
Digressing. The sauce was classic—wine, shallots, cream, lots of butter, and poured generously over chubby snails served in one of those plates that look like a painter's palette, each little slug snuggled into its own wee bowl. But what made the dish was a heap of fried leeks on top; those compulsively consummable sticks of allium goodness gave the rich starter great bite and crunch. At happy hour, which is when I consumed it, this delightful dish cost—wait for it—$5. Five dollars!
PS: Don't even get me started on the coffee I'm drinking even as I type this.
Anna Spiegel
Vegetable ramen at Daikaya
Ramen is typically a pork lover's affair. There're plenty of meaty options at this Penn Quarter spot: Bowls topped with ground and roast pork are the norm, with extra toppings of the latter should you feel particularly carnivorous. But the vegan version is what keeps me coming back to Daisuke Ututgawa's ramen shop. The delicate vegetable shiso broth is swirled in a wok to give it a roasted, lightly smoky flavor. Steaming bowls arrive heaped with noodles, charred brussels sprouts, bean sprouts, snow peas, and marinated shiitake mushrooms. If, like me, you're just taking a brief foray into veganism, order an extra topping of nitamago, a soy-marinated soft-boiled egg. I also have friends who swear by outfitting their vegetable bowl with a topping of roast pork.
See Also: