Rice isn't one of those sexy grains, like quinoa or farro, and
even the ethnic restaurants that feature it don't often grant it a proper
showcase. How many times have you skipped the Spanish rice at a Mexican
restaurant? Or done more than pick at the grains that prop up the fish in
a bowl of Japanese chirashi? Now dig into the lemon rice at Curry
Leaf, which opened in May. Steamed to a light fluffiness, the rice is
tossed with cashews and cilantro, sprinkled with turmeric, then given a
spritz of lemon that brings out the bass notes in the nuts and lends each
grain an addictive kick. Or try the almost-as-good tamarind rice, sweet
from the molasses-like fruit. And if too many second-rate curry houses
have left you thinking that biryani is an unruly mound of greasy
rice and repurposed meat, then you need to spend time with the version
here, which puts the meat in service of the grains.
It takes talent to turn a humble starch into a sustaining
memory. The good news is that chef Saravan Krishnan excels at more than
just rice. Krishnan commanded the kitchen at the late Udupi Palace in
Langley Park, which in its heyday was one of the area's best and least
expensive restaurants, a feast of the bright and colorful dishes of the
Indian south.
He has reprised a good bit of that repertoire here. Breads are
a point of emphasis, and not just disks of naan. More savory than
sweet and more crunchy than soft, the doughnuts called vada are
delicate with cilantro and ginger and demand to be dunked in
sweet-and-sour sambar or coconut chutney. The crepes called
dosas are pried from a ghee-laden griddle, and the
pleasantly fermented taste in the rice batter comes through even after
you've eaten your way to the center, which bulges with potatoes and
onions.
Southern Indian cooking isn't exclusively vegetarian, but many
of Krishnan's best dishes are meatless. If not handled properly, okra is
slimy; here the spears are slit, dipped in hot oil until they crunch, and
tossed with tomato chutney. Krishnan uses the same technique for his baby
eggplants, sizzling them in oil along with curls of coconut, peanuts, and
chilies. Chana masala, a chickpea curry, is as satisfying as a
great bowl of chili.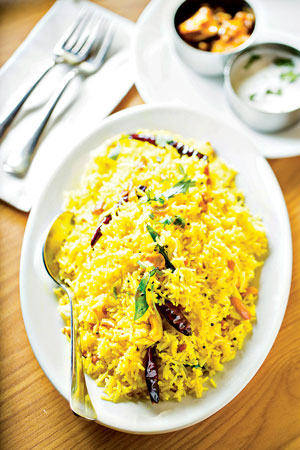 Meat was off-limits at his old perch, but not here, and
Krishnan is capable of reaching across the aisle. Many of the meat curries
have the intensity of an all-day braise, though you may look elsewhere
after a few bites. Not because they're not good—the gravy in the
Hyderabadi-style goat curry lingers on the tongue like a demi-glace—but
because the meat is seldom as tender as it should be and it's not uncommon
to find fat or gristle.
Another Hyderabadi dish, a shrimp masala, is lighter
and displays Krishnan's gift for spicing; think of a heat that comes at
you in waves of competing flavors—in this case with curry leaves, mustard
seeds, and cilantro.
If you're inclined to stick with familiar tastes such as
palak paneer, you won't have a bad meal. But the menu is studded
with dishes you won't find in other Indian restaurants. There's
uppama, a soothing cream of wheat with tomatoes. Or
haleem, a rich lentil dish. The best of this bunch is a thick,
cinnamony egg curry. Tear off a piece of paratha, the coiled fry
bread, and dip it in, pinching pieces from the hard-boiled eggs.
Bliss.
Bread, eggs, pepper, rice. So often we're made to think a great
restaurant meal depends on the sourcing of expensive ingredients. It's
heartening to taste the work of a chef who can do so much with so
little.
This article appears in the October 2013 issue of The Washingtonian.
---