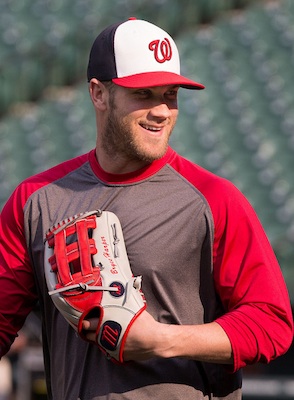 Wednesday is Bryce Harper's 21st birthday. He may celebrate at home in Las Vegas, or somewhere near Ohio State University*, where girlfriend Kayla Varner is a student and soccer player. But if he's celebrating in DC, we've got some gift ideas:
A nonalcoholic West Indian limeade at the bar at Bourbon Steak, which we named one of the area's best mocktails. Yeah, we know he's turning 21, but Harper is Mormon.
Sliding lessons with RG3.
To help him add the 15 pounds he told Adam Kilgore of the Washington Post he wanted to gain in the offseason, a gift certificate to his favorite DC restaurant, Guapo's, for a fat- and protein-laden fajita party.
A pedicure, to prevent ingrown toenails. Our beauty department recommends Sesen spa in Vienna, Virginia.
More calories via a cake from Buzz Bakery, in Alexandria.
Meanwhile, let's recall the treats Harper has given us Washington baseball fans since being called up last April, when he he was just 19.
One of only two players in MLB history to post a pair of 20-homer seasons before turning 21.
42 MLB homers overall since coming to the Nats mid-season in 2012.
104 extra base hits.
29 career stolen bases.
At the MLB Home Run Derby in July, Harper came in second in a field of eight.
Two All-Star games.
National League Rookie of the Year in 2012.
Two Sports Illustrated covers, the first while still in high school.
Happy Birthday, Bryce.
*This post has been updated from a previous version.