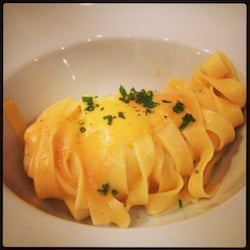 Todd Kliman
Frisée with duck gizzards at Bastille
Christophe Poteaux has come up with a sly twist on the classic frisée and lardons, a salad you'll see on many traditional bistro menus. The frisée is tossed with a shallot vinaigrette that delivers a perfect mix of sweetness and tang. Nothing unusual there.
The first slight tweak comes with the egg. Cooked to 60 degrees, it sits
on top, the yolk held in a kind of strange suspension—not runny,
exactly, but not intact either. The part typically played by the rendered bacon is here assigned to duck gizzards.
Gizzards
remain in the shadows for most chefs, even in these offal-mad days when
hearts and kidneys are enjoying a triumphal coming out. It's hard to
understand. They can be fantastic in soups, as the Peruvians know—an
aguadita is immeasurably better with gizzards, rather than diced
chicken, floating in the fragrant, cilantro-thickened soup. The Japanese
like them salted assertively and threaded on a skewer, to cook slowly
over a charcoal fire: an irresistible izakaya snack.
Poteaux makes the case for them in a featured role by treating them the same way he might a duck leg: He confits them in duck fat.
What this ingenious decision does is to slightly denature the gizzards—that is, to make them less gizzardy—while making an already rich thing that much richer. But isn't that why we go out to eat, those of us who live for our next meal? For these intensifications that push our palates and make us taste something as if for the first time?
This is what I want French bistro cooking to taste like. This meaty, mineral, almost funky richness that lingers on the tongue and won't leave, so that you need a slow sip of wine to move on.
If you want to move on.
Ann Limpert
Ray's to the Third-ish cheesesteak
Last night, a friend and I hit Etto and made our way through a meandering feast of sparkling rosé and small plates—meaty sardines with onions and raisins, lemon-doused celery salad, fantastic rabbit-liver spread on brittle crackers, lobster and chickpea salad. Instead of dessert, we folded blistered slices of cotechino pizza and dipped them into the runny yolk of the egg it was topped with. This is all to say, when I walked onto 14th Street—armed with a massive prosciutto bone for the dog (it was on the specials board)—I was beyond stuffed.
But when I opened the door to my apartment, the air was heavy with the primally delicious scent of onions and peppers slowly cooking down. On the counter lay the takeout boxes from a recent (predictably delicious) dinner at Ray's the Steaks, and my husband was chopping up the remnants of his bacon-wrapped filet mignon and my cowboy cut. Into the pan they went, and when the meat was warm but still plenty rare, he loaded the whole mess onto a baguette, blanketed it with provolone, and toasted it under the broiler. The crowning touch: the magical special-sauce combo of ketchup and mayo. Who knows what Michael Landrum would have thought of the riff on his famed Ray's to the Third cheesesteak, but I can't think of a better excuse for a post-dinner dinner.
Jessica Voelker
Uni pasta at Seasonal Pantry
This would be a toughy—I had some very good food this week, including a lovely butternut squash salad at J&G and a velvety celery root soup with lobster stock at Baby Wale. But the uni pasta I had at Seasonal Pantry was not just the best thing I ate this week; it's one of the best things I've eaten ever.
A lot of people lucky enough to experience the current menu at Dan O'Brien's one-table restaurant might say the Pork Four Ways dish—with its sweet sorghum sauce and perfect Brussels sprouts—was the highlight, and I'll admit it was pretty fantastic. But the tagliatelle in this rich, simple dish constitute the best noodles I've had in Washington. Meanwhile, the creamy, sea-urchin-flavored sauce was both complex and comforting. How could something be at once so simple and so special? Totally clean, yet also a little like licking the bottom of the ocean? It's rare, these days, that I get completely lost in a dish the way I did this one. And I haven't stopped thinking about it since.
Anna Spiegel
Fancy sandwiches (Daffy sliders and croque monsieur & madame) at 2941
The fancification of sandwiches usually doesn't go well. I'm thinking mainly of higher-end restaurants, where the kitchen decides to put a cheffy touch on a PB&J and creates some monstrosity with house-made hazelnut butter, mostarda, and bacon that leaves you craving the crustless triangles Mom packed for lunch. Thus I was skeptical ordering two seeming riffs for the start of dinner at 2941: Daffy sliders, a miniature version of the popular lunchtime burger, and the "croque madame & monsieur," a Lilliputian spin on the classic French sandwiches. Both surprised me. The little Daffys are just like their full-grown siblings: a juicy ground duck breast and foie gras patty, topped with more foie and tangy onion agrodolce to cut the richness. Sliders often arrive with a puck-like texture, but here the meat is given a smoky char and kept tender-pink in the center. The croques—essentially a toasted ham and cheese with béchamel sauce, plus an egg pour madame—involve far less play. The four buttery, lightly crunchy squares reminded me of those lunchtime treats I fell in love with while growing up in Switzerland. I could have snacked on a whole tray, especially the croque madame crowned with a runny quail egg. Still, the most impressive part was that the taste of both was wholly satisfying, while their size left room for craving more.