Early in Peter Warner's crafty post-World War II spy novel,
The Mole: The Cold War Memoir of Winston Bates, Central
Intelligence Agency director Allen Dulles shows Bates a surveillance photo
of the prison where a KGB agent turned CIA operative was likely tortured
and killed. Bates, a Canadian spy working in DC, is the one who pegged the
poor devil as a Western sympathizer.
"I stared at the picture," Bates says. "I tried to imagine him
in the dark, conspiratorial corners of the Kremlin, risking everything for
a ranch house in Scottsdale." The moment perfectly captures espionage's
high stakes and dubious rewards. This is no game for amateurs. At least no
game for most amateurs.
A hapless poet recruited in 1948 Paris during the "happy
interlude between university and serious life," Bates is armed with little
more than a photographic memory, a taste for high society, and a knack for
finding himself in the right place at the right time. When the novel
opens, it's 1953 and Bates has maneuvered his way onto Senator Richard
Russell's staff. Over the next two decades, he'll rub elbows with the
power elite while intervening in many of the era's extraordinary events,
from the Suez crisis to Watergate.
Bates emerges as an observant, ruminant agitator. He wonders,
for example, if his Georgetown neighbor, a starry-eyed Pentagon staffer he
finesses, hides "in the past to protect himself from an ever more
demanding present." Here a young Bates despairs of his literary dreams
after falling victim to a Paris publishing scam: "As my train rattled
across Europe, I mentally cast my poems away, phrase after phrase, leaves
fluttering away into the night that swept past me like a black wind
outside my window."
Warner, who last published a novel in 1985, knows Washington
intimately, and he particularly nails the way that the right social access
can lead to professional success. But perhaps most impressive is his
informed rendering of the capital's evolution.
When the novel opens, for example, Bates takes a trolley to
Dupont Circle, and the Georgetown pool is segregated. But by the end, DC
looks entirely familiar to us: "Though expensive, it wasn't hard to get an
apartment, and a number of the residents seemed to have temporary or
unexpected reasons for living in Washington—foreign businessmen looking
for contacts; journalists on special assignments; diplomatic families
awaiting more permanent housing; and probably the occasional
spy."
This article appears in the October 2013 issue of The Washingtonian.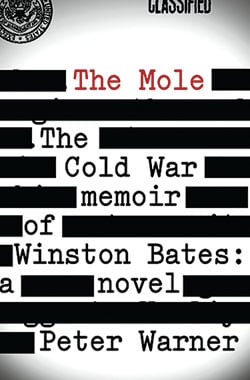 Publisher:
Thomas Dunne Books
Price:
$17.07