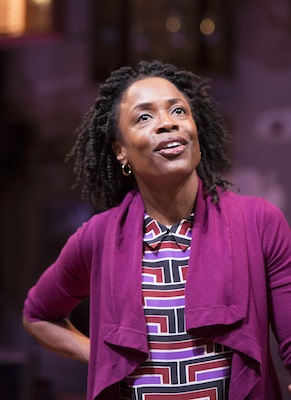 As soon as Charlayne Woodard strides, beaming, onto the stage at Studio Theatre, you know she's someone you'd watch, even if all she did was read aloud from Wikipedia.
No fear. She does much more than that in The Night Watcher, a wholly absorbing solo piece about the children in her life. Any Washington theatergoer lucky enough to have seen the Tony nominee in 2007 as a brainy, tempestuous Kate in Shakespeare Theatre's terrific The Taming of the Shrew will be delighted to know she's back in town.
When Woodard isn't acting in the classics, or in plays by modern groundbreakers such as Suzan-Lori Parks, or on television, she composes pieces taken from her own life— Pretty Fire being the best known. In The Night Watcher, she traces in several heartrending and occasionally hilarious vignettes her connections with young people, as their godparent, auntie, and friend. Woodard and her husband, Harris, a couple since senior prom, are childless by choice, she explains, but ready to help family and friends with their kids—enriched by it, in fact.
Woodard describes herself as a "blue-collar actor." This provides big laughs when one of "her kids," a cranky 11-year-old girl visiting them in Los Angeles, expresses horror that Woodard and Harris live in an apartment, with a landlord, and drive a Volvo. She thought Woodard was a star! A child of mixed race, the girl also balks at going camping with kids who are black. Auntie Charlayne finally puts her foot down.
A performer of athletic grace and guided with, one guesses, a lot of leeway by director Bart DeLorenzo, Woodard becomes every character, even singing now and then in a husky alto. Clad in dark slacks, a maroon-and-black blouse, and a maroon sweater, her hair in a chic fountain of twists, she fills the stage with an array of kids, parents, and her past self. The floor is bare save for a chair, but the rear wall (the handsome set is by Luciana Stecconi) is crowded with picture frames filled with objects signifying the children in her life, each frame glowing (the mood-perfect lighting is by Michael Lincoln) as the narrative turns to that child.
Woodard begins by recalling a phone call from fellow actress Alfre Woodard (apparently no relation) soon after Charlayne and Harris were married. Alfre worked for an organization that placed mixed-race babies in adoptive homes and knew of a perfect child for them, just about to be born. Thrilled at first, the couple soon rejected the idea, knowing they were the kind of do-it-right-or-not-at-all people who would put the rest of their lives on hold to raise a child.
But they don't cut themselves off from children. Merging her highly physical acting style with her poetic narrative, Woodard launches into an episodic account of some of the kids she knows and how she has been a friend, mentor, and occasional rescuer to them.
In the case of one goddaughter, the 14-year-old child of a wealthy friend, Woodard puts her foot in it. The girl confides that she's pregnant. Woodard advises the girl to have the child and let friends of Woodard's adopt it. When the girl's mother returns from a business trip, she rips into Woodard for interfering­—"Get your own kid!"—and doesn't speak to her for a long time.
Other chapters go more happily. An older woman whom Woodard meets at the hair salon has a grandson who's a borderline thug. He and a woman of even worse attitude have a baby. When the woman nearly kills the infant in front of him, the grandson rescues it and gives the baby to his grandmother, and Charlayne becomes the child's lifelong friend and mentor. Then there's the teenage daughter of a deceased friend. Woodard discovers that the 15-year-old can't read and risks the wrath of the girl's dad to convince him his daughter needs tutoring. Even more serious issues arise—molestation, dangerous choices—and Woodard intervenes with, she tells us, nearly all hopeful results.
She salutes the beloved aunts who enriched her own life—took her to plays, introduced her to literature. Yet she feels she must justify her childlessness in conversation with an African man on the New York subway. She tells him of all the children she has helped, and he gives his blessing.
The Night Watcher isn't an apologia for childlessness. It is instead a blazing ode to the boon of being a nonparent—an aunt, uncle, godparent, mentor—free and able to offer a hand to children and parents in a complex world.
The Night Watcher is at Studio Theatre through November 17. Running time is about two hours, including one intermission. Tickets ($39 to $59) are available via Studio's website.