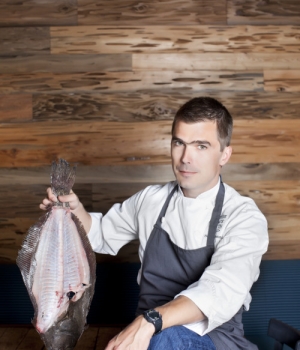 Metro Cooking DC returns to the Convention Center this weekend with plenty of culinary star power. One of our favorites: Hugh Acheson, author of the James Beard Award-winning cookbook A New Turn in the South, and a recurring Top Chef judge. We talked with the Georgia-based restaurateur about his favorite cookbooks, the essence of Southern cuisine, and what the heck to do with kohlrabi.
Do you have any plans for dining while you're in Washington?
I'm there so briefly. I do love the city, though. My sister lives in Alexandria. People like José Andrés and Eric Ziebold are just amazingly important to the food scene. Restaurant Eve, Zaytinya, and CityZen—all those places are usually high on the list.
You're focusing on A New Turn in the South at the Metro Cooking show. What other cookbook projects are you working on right now?
I have one coming out in March, which is more of a gift book on pickles called Pick a Pickle. It's 50 fermentation and pickling recipes. I'm working on another called Eat Well, which is a look at how you use everything in your CSA box. It kind of evolved from people asking me things like, "What the heck do you do with kohlrabi?," and me having to answer. So I'm going to answer in book form.
So what the heck do you do with kohlrabi?
I like making kohlrabi slaws. You know that simple, mayonnaise-less chopped slaw with lots of lime, some roasted chilies, and really finely cut kohlrabi. Just let that sit at room temperature and macerate. You can also make purées with it, or roast the batons.
What's the most challenging thing to find in your CSA?
Eight weeks of lettuce is always a little challenging. People wane toward the end of it. I like lettuce and salad, but it's hard to make sure you're using it all. I love grilling firmer lettuces like romaine. Sautéed lettuces are really good, almost like you're cooking in a wok. There's a lot of versatility in them.
What's your favorite brand of commercial pickle when you run out of your own?
There's a guy in New York named Rick who does Rick's Picks. Those are awesome, especially the smoked okra ones. [Washingtonians can find them at Whole Foods.]
Going back to cookbooks, what are some of your favorites?
The original Chez Panisse cookbook is a seminal cookbook. There're a lot of old Southern cookbooks, like those by a woman named Edna Lewis, who passed away several years ago. She wrote The Gift of Southern Cooking, which is just an amazing book. To me it defines Southern food properly. It's not just biscuits and fried chicken, but also the advent of blackberries: when they come into season and how we celebrate it.
What are keys to a good cookbook in your mind?
Recipes need to tell a story. I want to tell a story and make people yearn for the food we do. But at the end of the day, I want to do a cookbook that has a narrative in it but is easy. I don't want to be the guy who has a beautiful cookbook on a coffee table.
We've seen a revival of Southern cooking across the nation. What do you think contributes to the trend?
It's like getting into pickling: a quest for more knowledge and exploration. When you explore food in the United States, you're naturally going to look at Southern food. It's really the only food way that has a deep sense of history, and is really well documented and storied. You could write a couple of pages on the evolution of California cuisine, but it's nascent and young. Southern food is the old topic. It's not a lovely topic. To me it has a lot of beauty in it, but it also has a lot of strife with slavery. But we need to make sure we realize that—where our Southern food comes from.
You were born in Canada. Do people second guess you and say, "What does a Canadian know about shrimp and grits?"
Yes and no. I think it gives me a unique perspective to look at it from the outside. To me it's a pleasure not to be jaded by my grandmother's collard greens. Your grandmother's recipe is always the best, and it doesn't matter how bad it is. Sometimes you can't look with a critical eye and say, "How can we make this better?" Sometimes that takes an outsider's perspective.
Is there a quintessential Southern dish in your mind?
It's a celebration of seasons. Right now it's fall, so it's going to be a roasted squash dish, and an apple slaw, braised greens, and maybe a little pork and fried chicken. But it's a bounty of table.
What's next for Southern cuisine, and what direction do you think it's moving in?
I'm always hopeful that we glean the good from all cooking and advance it. But I don't want to forget about things that are important. A classic chicken and dumplings is a really important idea. So before chefs aerate chicken broth and pour it over a little gnocchi with black truffle essence, make the original, and make sure it's really good. I think there's a big movement to make sure we're preserving the originals, preserving the food ways people struggled to create centuries ago.
You started cooking at 15 and climbed the ranks. What advice would you give to young chefs now who eventually want to write cookbooks and be on TV in today's food culture?
You have to pay your dues. You have to be in your kitchen, making a difference, cooking good food, and investing in the people in your community. The greatest satisfaction you can get from being a chef is to make it that way. Make it in your community first, and then maybe there's a chance for other stuff to happen.