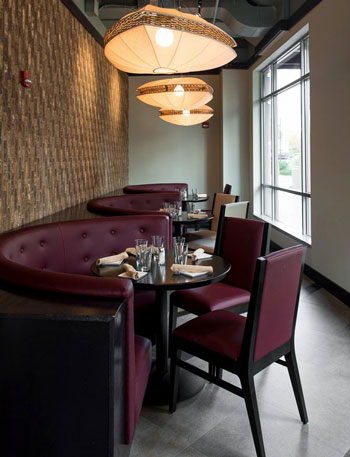 Washington is getting its fare share of New York imports, from an outpost of Daniel Boulud's DBGB to a Southeast Asian spot from the Fatty Crew Hospitality Group. And now there's Water & Wall, chef Tim Ma's newly opened restaurant that mixes Big Apple inspirations with a homegrown neighborhood vibe.
The Arlington eatery's name nods to the intersection of Water and Wall streets in the Financial District, where Ma and wife/business partner Joey Hernandez lived while he attended the French Culinary Institute. Ma, then an engineer, didn't aspire to the work-hard, play-hard lifestyle of twentysomething New York City line cooks, and the couple spent time in the apartment planning their Washington venture. Both seem to have a touch of the New York. Maple Ave Restaurant, their first, seems more Brooklyn than Vienna, with fewer than 30 seats and a diverse menu that lists roasted bone marrow alongside Burmese chicken salad. The new spot is a considerable expansion, with 40-odd tables, plus what Ma describes as a few "New York Mafia-style" booths. The design from Studio Ideya also reflects the couple's former Manhattan home; designer Sucha Khamsuwan even visited the eponymous intersection for inspiration.
Influence for the menu ventures far beyond the mid-Atlantic. Southern-style shrimp and grits with venison sausage share space with classic French duck confit and, again, that Burmese chicken salad. The last is less random than it sounds; executive chef Nyi Nyi Myint is Burmese, and mixes Asian influences into a number of dishes, including a lemongrass-scented bouillabaisse and crispy pork belly with green-papaya-and-mango salad.
For all the ambitious cooking, the restaurant's roll-out is fairly restrained. The focus now remains on dinner service, particularly the savory side. Dessert arrive in the form of specials (there's no official menu), like a pecan pie bar with vanilla-Jack Daniels pudding and chocolate sauce. A cocktail program is also in the works, with an emphasis on house-made bitters, juices, et al. Once the essential elements are running smoothly, Ma says they'll open for a Maple Ave-esque Saturday and Sunday brunch, and then lunch. Call it a New York state of mind with Beltway pacing.