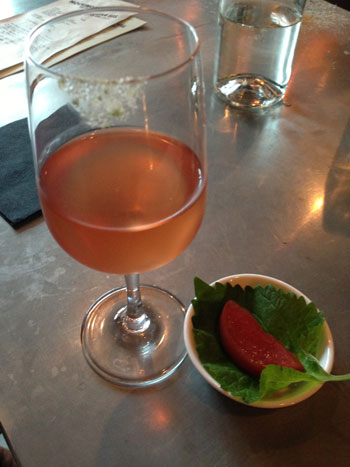 Todd Kliman
Barbecue at Kogiya, Annandale
A good friend and I have this ongoing conversation about the cuisines we like best when they're not their best.
I like mediocre Mexican, he likes mediocre Italian, and we both have a fondness for mediocre Ethiopian. For some reason we have never discussed mediocre Korean barbecue, which certainly belongs in the conversation. There's nothing bad about not-great Korean barbecue—the DIY aspect of it, the glut of panchan at the table, drinking Cass beer while the meats cook.
Why bring up mediocrity in the context of the new king of Korean barbecue?
Merely to frame its greatness. This is Korean barbecue to travel for. Korean barbecue to build a night around. If you think you've had good Korean barbecue before, when you eat at Kogiya you will realize you have had merely good Korean barbecue, or passable Korean barbecue. The marinades have more flavor and depth than the competition, the cuts of meat are superior, and the tableside grills are hotter. Be sure to get the marinated pork ribs and any of several iterations of pork belly.
The panchan are generous, and the portions of meat are gargassive, but make room anyway for the steamed mandu, which are uncommonly delicate, and a very good seafood pancake.
Ann Limpert
Foie gras French toast with cinnamon-toast ice cream at Rose's Luxury
Foie gras is one of the most beleaguered ingredients out there. Not only does it have a terrible reputation (the poor geese, the nasty force-feeding) but it's nearly impossible to get the good stuff anymore. And when you wind up with flavorless—or worse, bile-tinged—liver that probably has run you $20-plus and half a day's Weight Watcher's points, well, it sucks. I love the stuff, but I've had one too many cola glazes and huckleberry jams that are there to mask the main event's middling quality.
So a foie dessert? No, thank you . . . or so I thought. But Rose's is deservedly the buzziest—and surprisingly the friendliest—restaurant in town right now, and after a knockout dinner at the chef's counter (which was nearly empty when I arrived at 6 PM), I didn't really want to leave. I'm glad I stuck around, because not only was this the best foie gras preparation I've had in a long time, it was also the best-tasting liver—slightly sweet, custardy, exactly how it should be. The generous seared slice melted into lightly toasted bread, and a small scoop of ice cream, which tasted like the glorious dregs of a bowl of Cinnamon Toast Crunch, served as an enhancement rather than a distraction. It's just one of many reasons Rose's is worthy of all the hype.
Anna Spiegel
Oddjob Goes to Spain at Mockingbird Hill
I'm cheating on this series today, because the Oddjob is a) a cocktail, and b) one I had a few weeks ago. Given how often the menu changes at Derek Brown and Chantal Tseng's Shaw sherry bar, Oddjob may have moved on. Still the drink has stuck in my mind, and on a somewhat dreary day, I'm craving a sip.
Creative cocktails rarely woo me. I'm a classic gin martini and Manhattan girl, and have tasted so many overly sweet creations that I rarely deviate from the two if not exploring for work. Mockingbird Hill is an exception: The mixtures are expertly balanced, even when incorporating sweeter styles of sherry (if you're a Manhattan-lover, try the Adonis). The Oddjob is a perfect example, with Gonzalez-Byass Amontillado, navy-strength gin, and orange bitters, served alongside a slice of sherry-poached plum. The fruit arrives atop a shiso leaf, and the cocktail glass has a dab of shiso sugar along the rim. "You kind of drink it like a tequila shot," instructed the bartender: Lick the citrusy sugar, then take a sip (not the whole drink, mind you) and a bite of the leaf-wrapped plum. The flavor is lightly fruity and herbaceous, with a richness from the sherry and a kick from the gin. I'm sure the knowledgeable bartenders could describe it much better than someone just starting to delve into the sherry world. I'll be happy sipping my drink.
See Also:
Previous Best Things I Ate