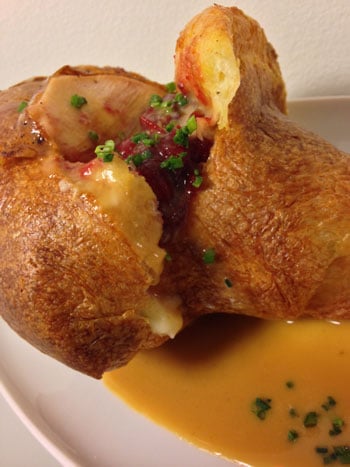 Love it or hate it, Black Friday is coming up. For the fans, several restaurants close to hot shopping areas including Georgetown and Tysons Corner offer dining specials (and in one case, free gift-wrapping). Those looking to avoid the commercial hordes entirely can also find brunchtime respite, preferably over bottomless drinks.
1625 I St., NW; 202-689-8999
The draw: Stuffed popovers.
Holiday crowds driving you to drink? Belly up to this steakhouse bar for $10 "leftover" poppers stuffed with cranberry chutney, turkey, and potato purée and topped with rosemary gravy.
1837 M St., NW; 202-558-9545
The draw: Unlimited tapas and drinks.
Tackle a second feast of endless tapas from 11:30 to 2:30—think tortilla Española and Nutella-stuffed churros paired with bottomless mimosas, sangria, and more at this Dupont Spanish spot ($35 per person).
414 H St., NE; 202 450 3265
The draw: Everything has an egg on it.
If you consumed too many spiked ciders this Thanksgiving, this neighborhood bistro offers a "Frankenbrunch" from 11:30 to 3. Basically it's the regular lunch menu, with eggs on everything—great on a BLT, maybe not so great on quiche.
2800 Pennsylvania Ave., NW; 202-944-2026
The draw: Turducken.
Take a break from Georgetown shopping for a sandwich based on the cultish dish: a seared roulade of turkey, duck, and chicken that's served on a bun with gravy mayonnaise, arugula, and craisins ($24 per sandwich).
1310 New Hampshire Ave., NW; 202-861-1310
The draw: Cheap brunch cocktails.
Unwind from 9 to 2 over $3 mimosas and $4 Bloodys, plus dishes like lemon-ricotta pancakes from the regular brunch menu.
1050 31st St., NW; 202-617-2400
The draw: Free gift-wrapping and light-ish fare.
You'll find waistline-friendly dishes such as lobster salad and cured-salmon-avocado toasts, and seasonal drinks like a cranberry-mint mojito—just don't drink too many and forget your newly wrapped presents.
480 King St., Alexandria; 703-842-2790
The draw: Early-bird brunch.
Up at dawn to capitalize on Old Town sales? You'll find the regular brunch menu (French toast! Eggs Chesapeake!) offered between 7 and 2:30.
147 Maple Ave. W., Vienna; 703-319-2177
The draw: Brunch near (but not in) Tysons Corner.
Head in pre- or post-mall blitz for creative plates like eggs and kimchee, pumpkin-buttermilk pancakes, and shrimp and grits. There's also a six-course tasting menu for two ($38) if you're in an indulgent mood.
1905 Ninth St., NW; 202-332-1905
The draw: Bottomless brunch drinks.
You may need them with family in town. Sip unending mimosas and Bloodys while digging into the regular brunch menu (plus a few specials).
6361 Walker La., Alexandria; 703-313-9700
The draw: Free dessert pizza.
Stop in for dinner on Friday and with the purchase of an entrée receive a free dessert pizza topped with Nutella, whipped mascarpone, marshmallows, and sea salt.