Deborah Kalkstein isn't one to hold back an aesthetic opinion. A prime example: the day 15 years ago when she first set eyes on what would soon become her family abode.
"It was horrible!" she says of the Potomac split-level. "Dark and dingy, with avocado-and-gold wallpaper, brown paneling everywhere, orange shag carpeting, televisions in place of windows, and hanging light fixtures that looked like turtles."
But where others might have seen only obstacles, Kalkstein saw opportunity. As an architect, designer, and owner of the home-furnishings store Contemporaria, she was able to see past the dated decor, recognize the good bones beneath, and envision what the house could become.
After a complete cosmetic overhaul, what seemed stuck in the 1970s was transformed into a modern masterpiece. And such it has served as the perfect home for Kalkstein, her economist husband, Carlos Bachrach, and their two children, Camille, 20, and Kevin, 18, plus Hilton, their salt-and-pepper Schnauzer.
It also reflects what the Peruvian-born Kalkstein says is happening within the confines of Washington, a city that has become decidedly more hip over the past decade. "Good design is making a strong appearance here in all forms: architecture, furniture, food, fashion, music…. It's finally around us like in every major city in the world."
Inside, walls were either slathered with cement and left unfinished or painted in Benjamin Moore's Super White. Wide-plank white oak with a custom dark stain replaced the orange shag. Adding windows introduced a brightness that marries well with the dark tones and severe angles.
In the living room, that natural light pours through entire walls of windows, underscoring the room's open feel. The floors have been left bare, whitewashed ceiling beams remain exposed, and a fireplace wall is covered in cement. A pair of chairs made of hide leather sit beside a creamy white daybed. Provocative, large-scale art hangs on the walls. Kalkstein gave a nondescript wet bar new life using pieces of rolled steel, custom cut and fastened onto every surface, the hardware purposely left on display.
"I love exposed materials," she says. "I love the raw and the rustic." (This comes as no surprise to patrons of her Contemporaria showroom, which moved from Bethesda to Georgetown's Cady's Alley in 2004, and also features unfinished cement floors and walls, exposed pipes and beams, and an interior cement ramp, designed with her son's love of skateboarding in mind.)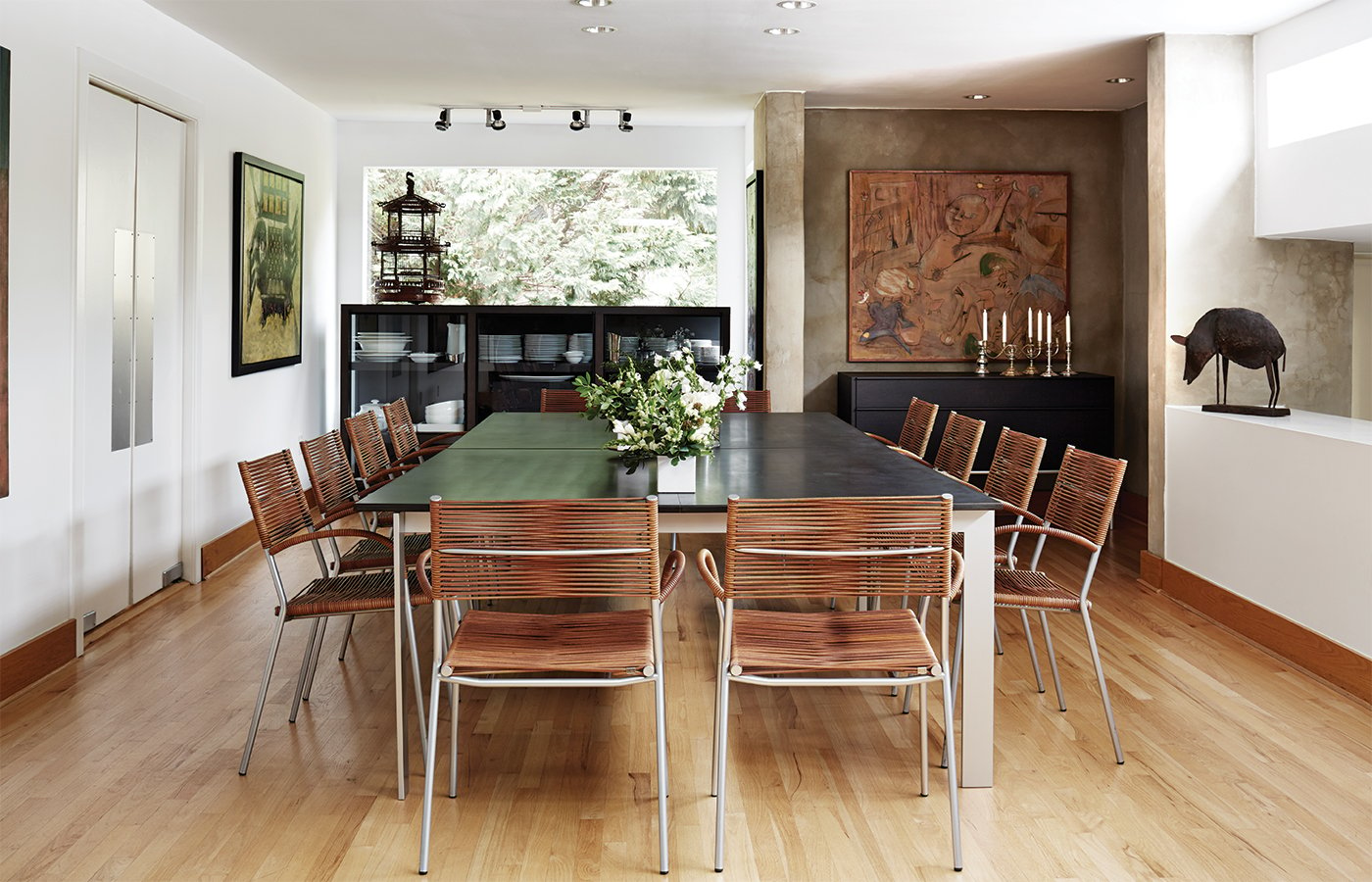 In the dining room, two glass-topped tables, which Kalkstein recently also had resurfaced in steel, sit side by side, paired with a set of 12 Pierantonio Bonacina Italian chairs made of stain- less steel and leather cord. Peruvian art enlivens the walls.
Still, beyond the hard edges and neutral palette, it is clearly evident that Kalkstein's home is above all an expression of her love for, and devotion to, her family.
"Our home is our common ground, our safe haven, our fort," she says. "It's a place we can always come back to and it will be familiar and welcoming. Whoever says that great design and contemporary interiors cannot offer that is very wrong." In fact, ask Kalkstein about her prized possessions and she doesn't rattle off the Mies or Minotti furnishings; she simply says, "all my family photographs. Everything else is replaceable."
On a recent rainy morning, Kalkstein, 50, is curled up on a sleek Italian sofa in her living room. Casually dressed in head-to-toe black (in- cluding her eyeglasses and mani-pedi), the busi- nesswoman, who works with commercial and residential clients both here and abroad, looks as chic as one of her design projects.
When told it appears she has the work-life balance equation all figured out, she laughs out loud. "That's a mistake!" she says. "Live my life for eight hours and see me running around like crazy, pulled in all directions, always late. I don't have it all together, I just work really hard." As for the secret to managing home, family, and career, she offers this:
"It's a combination of hard work, a supportive husband, and keeping my priorities in check. I've always made my kids priority number one. Always. I never let my job take me away enough to damage the connection I have [with them]," she says. "If you ask them what comes first in Mom's life, they would never say, 'Her job.'"
So it's natural that Kalkstein infused the house with her children's tastes and lifestyles, drawing on them for input and feedback, and reconciling her own preferences with those of her tightly knit brood.
For their bedrooms, each child picked a signature paint color. Kevin went with Duron's Orange Fiesta; Camille opted for Precious Rose.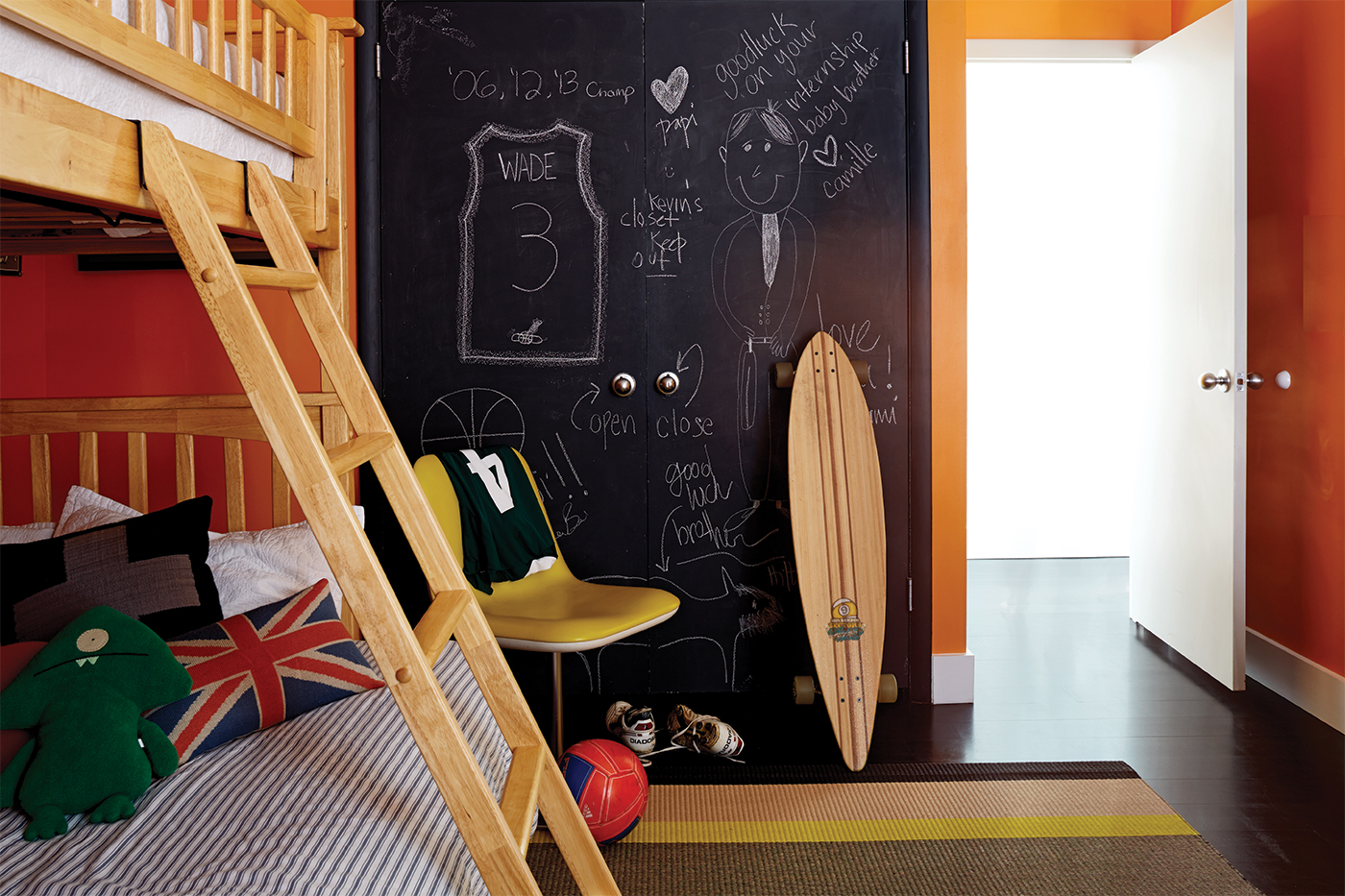 "A house has to reflect who we are," says Kalkstein, "and our kids are part of who we are." A spare bedroom became a hangout/homework space; Kalkstein removed the door and widened the threshold to allow her to monitor from else- where in the house. An extra-deep orange sofa, which pops against the white walls and dark floors, encourages lounging, reading, or even overnighting for the occasional houseguest. A custom white laminate desk, built to accom- modate two computers, runs the length of one wall with the children's framed achievements hanging, salon-style, above.
The above-ground basement, furnished with a ping-pong table, a ten-foot pull-down, projection screen, and a bar with orange Philippe Starck stools (Kalkstein cites Starck as a designer she admires), leads directly into the back yard, where a covered patio and lounge area overlook a 40-foot pool with a row of chaises. An outdoor space that Kalkstein says was designed to be a family oasis certainly hits that mark. "When the kids come home, this house is their headquarters," she says. "That's our mentality."
This fall, Camille and Kevin leave for college and the house officially becomes an empty nest. After years of tending to others, Kalkstein will have more time to focus on herself. Her plans include staying at work longer in the evenings, doing more yoga, taking a few classes, and finally redoing the master bathroom and the kitchen–the last two rooms in the house that need refreshing and, ironically, the spaces where Kalkstein tends to spend the most time. When asked if she's looking forward to more space for herself as well, Kalkstein's response is honest; her children, after all, have been top of mind for the last two decades.
"No," she says, laughing. "Not really."
Kalkstein says she has no regrets about the way in which she chose to tackle motherhood. "None at all," she says definitively. "I never wanted to [look back and] say, 'Why didn't I go to a rehearsal, or soccer, or be a room parent,' so I did all those things, and they in turn gave me the most satisfaction–more satisfaction than the best design project I've ever done. I'm very happy with the decisions I've made."