Restaurant-market hybrids are a trend on the rise, and one we'd like to see even more of. Just think of BlackSalt, Red Apron, Society Fair, Union Market, and the upcoming Menu; places that bring together marketing and dining, and enrich the overall eating experience. Welcome the newest concept: Urban Butcher, a butchery, restaurant, and coffee shop opening Thursday (note that the market and dinner launch first, with lunch, brunch, and daytime coffee service to follow in 2014). Here's what to expect from chef-owner Raynold Mendizabal.
Fresh and cured meats
There's no disguising it: this is a meat-lover's paradise. Mendizabal trained as a butcher and formerly operated Rogue States, and is putting his knives to use. A glass display case brims with fresh cuts, house-made sausages, pates, and terrines. Unusual finds include heritage pigs, like Ossabaw from Virginia's Autumn Olive Farms and Old Spot Gloucester from Whistle Pig Hollow near Baltimore. House-made charcuterie is currently curing in the glass-enclosed meat cellar, and true to stereotype, good things like hams and salamis take time. Come late winter you'll find more house-made charcuterie like bresaola and porcini salami, and hams from the likes of Berkshire and Tamworth pigs by summer.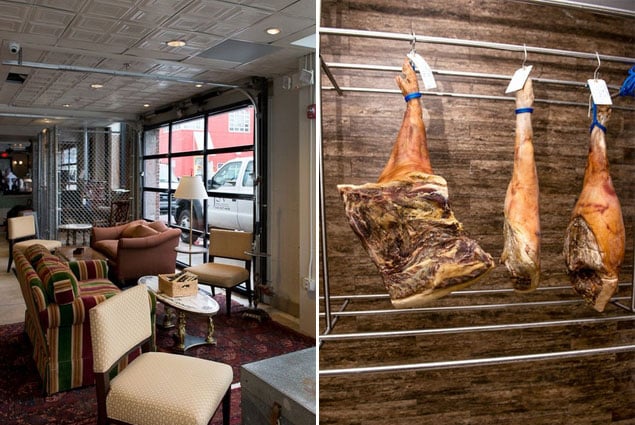 Shared plates
The restaurant is currently only open for dinner in the 50-seat dining room and bar, but you'll find plenty of options. The entire menu was designed with sharing in mind. You might snack on house ham and salami croquettes, Chinese barbecue pork ribs, and lamb-hummus flat bread, or go in for larger plates such hanger steak frites with fried garlic and smoked butter, or 48-hour ox brisket. Those in need of a meat-break can opt for dishes like ahi tuna ceviche and grilled calamari, or a selection of American-made cheeses.
Market-to-table steaks and nightly pig
Ever wanted to eat a hefty steak directly from the butcher case? Now you can. All the beefy cuts can be ordered for the table, and rounded out with sides like mascarpone polenta or Brussels sprouts with garlic and soy butter. If you're more of a pork fan, show up for the suckling pig served nightly at 8 pm.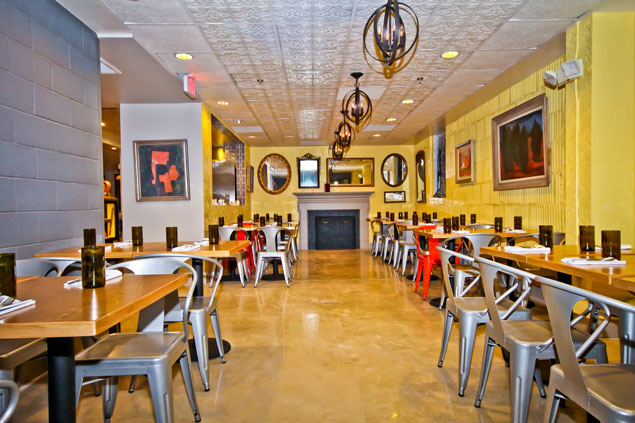 Drinks!
A 20-seat bar fashioned from old doors is the spot for drinkers. You'll find a rotating selection of beers, both local and international, and about 15 wines by the glass from the 100 bottle-deep list (see the drink menu). Cocktails riff on the classics, such as a lavender margarita and rum-based "Butcher's Negroni." You won't find a happy hour, per se, but that isn't a bad thing necessarily. Mendizabal marked certain permanent items at happy hour-esque prices like $5 glasses of wine, house beer, and $6 grilled sausages.
A funky coffee shop
Come 2014 you'll find a 30-seat coffee shop operating during the daytime (it'll turn into a lounge area at night). The space's funky decor fits. A mix of vintage pieces, colorful overstuffed armchairs, and metallic seats fill the rooms. Garage door-windows open onto the street, and in warmer weather, enjoy a 50-seat patio.
The Urban Butcher. 8226 Georgia Ave., Silver Spring; 301-585-5800. Monday through Thursday, 5 to midnight; Friday and Saturday, 5 to 2; Sunday TBD (call ahead for specifics).