I love going to restaurants for meals that are hard to recreate at home, and if there's any such one, it's the "Feast of the Seven Fishes." The Italian-American Christmas Eve tradition was borne out of Catholic principles, which call for abstaining from meat on certain holy days. Regardless of religion, feste dei sette pesci is a custom worth adopting. Unless you're equipped with a fabulous fishmonger and/or Italian grandmother, it's best to leave the seafood-filled spread to the professionals. When done well, you're in for an early Christmas present; a parade of aquatic delicacies that involves seven (or more) fish and shellfish dishes over multiple courses. Here are seven options around Washington, including a few that are available over multiple days.
3201 New Mexico Ave., NW; 202-244-2223
Chef Roberto Donna prepares a traditional seven-course feast with dishes like clam stew with spicy sausage and pasta tossed with shrimp and mussels. [Menu]
Details: Served now through December 24th at dinner; $45 per person.
1100 New York Ave., NW; 202-216-9550
Chef Nick Stefanelli whips up a modern Italian feast that includes plates more adventurous (grilled eel with onion compote) and familiar, like seared cod with tomatoes, capers, pine nuts, and olive oil-crushed potatoes. [Menu]
Details: Tuesday, December 24th; $65 per person.
3251 Prospect St. NW; 202-333-6183
This sceney Georgetown spot is decked out for the holidays and serves a traditional feast over seven courses, bookended by gratis bubbly to start and traditional Christmas Eve treats at the end. [Menu]
Details: Tuesday, December 24th; $95 per person.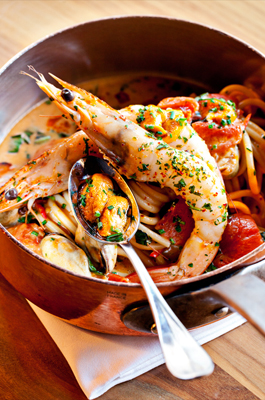 601 Pennsylvania Ave., NW; 202-628-2888
The Feast of the Seven Fishes isn't the only Christmas Eve tasting menu offered at this swanky Italian spot, but it sounds wonderfully indulgent. Think oysters with Osetra caviar, ahi tuna and foie gras, and wild cod with black truffles. [Menu]
Details: Tuesday, December 24th; $145 per person (a children's menu is available for $25).
116 S. Alfred St., Alexandria; 703-838-8000
Chef Brian McPherson takes a modern American approach to the meal in Old Town, serving courses like red prawn thermidor over Anson Mills polenta and potato-crusted sea bass with caviar and a wine-poached egg. [Menu]
Details: Tuesday, December 24th; $85 per person.
3435 Connecticut Ave., NW; 202-686-2966
If you hadn't heard, this Cleveland Park neighborhood spot closes soon and serves its last feast of nearly nine years. Owner Dean Gold promises no less than nine fish. [Menu]
Details: Served Thursday, December 19th through Tuesday, December 24; $59 per person/$30 for kids (a children's menu is also available).
3195 Wilson Blvd., Arlington; 703-465-9360
The restaurant's name doesn't scream Italian, but we're big fans of chef Liam LaCivita's pastas and pizzas (he's half-Italian, after all). You'll find a mussel-topped wood-oven pie, spaghetti with clams, and more, all served family-style. [Menu]
Details: Available through December; $55 per person (with a two person minimum for the family-style format).