When considering where to settle after her 2010 retirement, 74-year-old Gail Ridley decided to stay exactly where she was—in a townhouse along DC's Southwest waterfront. With a grocery store, Arena Stage, and a Metro stop within walking distance, her neighborhood had all the amenities she wanted. The problem: She needed a home with a master suite on the first floor. So Ridley bought the townhouse next door and hired architect and builder Bruce Wentworth to combine and transform the spaces into a home where she could comfortably age in place.
The two houses were mirror images of each other, each with a kitchen, living room and dining room on the first floor. Wentworth tore down the wall separating the two and remodeled the house on the right, replacing the kitchen with a master bath, the dining room with a spacious dressing room, and the living room with a master bedroom.
The dressing room includes nearly 12 feet of closet space and a built-in dresser. A focal point is the custom-painted sliding closet doors. The new closets were remodeled to include plumbing and electricity for a washer and dryer—looking ahead to a time when Ridley might not be able to go down to the basement to do laundry, as she does now.
Another key area was the new master bathroom. The Kohler soaking tub came with two built-in grab bars; another pair of bars was installed on the walls for safety.
Upstairs, there were now four bedrooms. Wentworth created an eight-foot-wide opening in the shared wall between the two rear bedrooms upstairs and transformed them into a hobby room and library. The two front upstairs bedrooms were also joined to create either a guest suite or accommodations for live-in assistance if Ridley should require it.
Finally, the doors throughout the home were replaced by ones compliant with the Americans With Disabilities Act, meaning a minimum of 32 inches wide and 80 inches high.
Tips for Creating a Safe and Convenient Home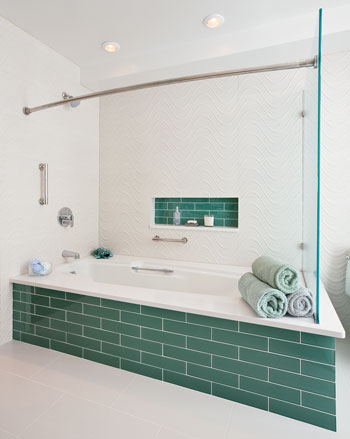 1. Safety first
"Bathtubs are a threat even to perfectly healthy people," says architect Bruce Wentworth. Railing and grab bars should be installed in all showers and tubs, as well as nonslip ceramic or porcelain tile, Wentworth says. Homeowners should also install a fold-down seat and hand-held shower head in the shower. AARP recommends consolidating hot and cold shower knobs into one handle that adjusts both water pressure and temperature with a simple turn.
2. Comfort and accessibility
Softer kitchen floors made of cork or wood—rather than hard tile—are easier on knees or hips. Seated workspaces, such as a lowered counter with a pull-up stool, can help cooks avoid the joint pain that can come with long periods of standing. Counter space next to appliances should be wide enough to limit moving back and forth between prep and cooking areas, and upper cabinetry should be lowered so you don't have to reach for dishes and utensils.
3. Easy access
Russ Glickman, owner of Glickman Design Build, suggests making the walkway from the driveway to the front door as direct as possible and replacing stairs with paved ramps. A short walk from the car decreases the potential for falls, especially on icy surfaces, and a no-step threshold accommodates wheelchairs and walkers. Another good idea: a motion-activated light aimed at the front door.
4. Light it up
As you get older and your vision deteriorates, lighting becomes more important; adding additional and brighter lights throughout the home can help prevent accidents. Arthritic fingers might have trouble working traditional light switches, so consider rocker switches, which you can turn on and off with one touch.
5. Stay connected
According to the Centers for Disease Control and Prevention, one in every three adults age 65 and older falls each year. A response system that connects seniors directly with emergency personnel is a smart idea. Verizon Wireless and the home-security company ADT both make a mobile emergency-response system with a waterproof button that automatically connects the person wearing it to people who can help.
6. Think ahead
Designers say that it's wise for homeowners to take the long view when undergoing a renovation—thinking not only about their evolving needs but also those of aging parents and other family members with disabilities. "It saves time and money to think ahead," says design consultant Mindy Mitchell, who adds that a home's resale value increases with aging-in-place accommodations. For example, Wentworth says owners might consider adding an elevator shaft and wires during remodeling—when the walls are already open—because it can save thousands of dollars in future wiring and demolition costs. If you don't need the elevator yet, the shaft can be used as a closet.
7. Community ties
It's important to look for communities willing to adapt to the needs of an older population. The DC co-op where Gail Ridley lives added ramps to outside staircases and is considering making the pool more accessible to those in need. Also keep an eye out for community resources that may become more important to you as you get older, such as senior centers that organize services and activities, from nutrition counseling to quilting. The National Council on Aging has a list of accredited senior centers throughout the country; the National Aging in Place Council and AARP are also good resources.
This article appears in the December 2013 issue of Washingtonian.