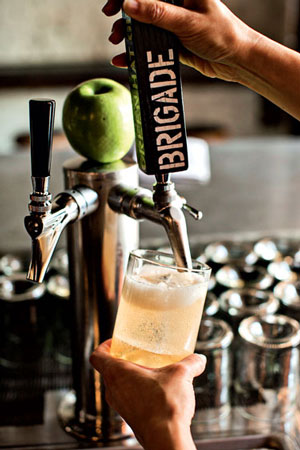 One of the more famous quotes ascribed to John F. Kennedy—"Washington is a city of Southern efficiency and Northern charm"—didn't commend the District's political climate. But when it comes to eating and drinking, "Southern efficiency" isn't a negative reference. In the literal sense it's the name of the newest Shaw bar from Derek Brown and Rappahannock Oyster Co.'s Travis Croxton, who also recently opened the oyster-cocktail den Eat the Rich next door to sherry-heavy Mockingbird Hill. More figuratively, the pullquote name means a down home vibe for Brown's third venture in the burgeoning neighborhood.
Once the spot at 1841 Seventh Street, Northwest soft-opens on Friday, you'll be able to sip over 30 Southern whiskies, jarred and on-tap cocktails (think a mix of smoked cola and white whiskey), house-made apple-celery soda, and brews from below the Mason-Dixon line. Columbia Room vet J.P. Fetherston helms the bar, while Eat the Rich's Julien Shapiro dishes up plates inspired by Southern diners and lunch counters like deviled eggs, fried catfish, and peanut soup.
According to a release from the restaurant, you'll be able to get a sneak-peek of the concept during a "Southern Whiskey 101" class, held on Wednesday and Thursday evening. Each of two nightly sessions will cover the history and production of one of the South's greatest exports, as well as tastings of "classic and unusual whiskies" from Kentucky to the Carolinas.
Southern Efficiency. 1841 Seventh St., NW. Open Tuesday through Thursday, 5 to 12:30; Friday and Saturday, 5 to 1:30; Sunday 5 to 11:30.