In a wave of Italian newcomers, Roberto Donna is among the old guard. The veteran toque pioneered Italian fine dining in Washington with Galileo and has cooked all over the spectrum, from elaborate tasting menus in Galileo's Laboratorio to wood-fired pizzas at his current post at Al Dente. You'll find a mix of both at the latter's sister restaurant, Alba Osteria, opening December 30. Located in an area of Mt. Vernon Triangle more densely populated with apartment and office buildings than restaurants, the eatery was planned with neighborhood needs in mind; think anything from a quick pizza to a decadent dinner, and of course, an extensive happy hour. Here are five things to expect from owner Hakan Ilhan's latest.
Piedmontese cooking
The name Alba refers to a town in Donna's native Piedmont, and you'll find dishes prepared in the hearty style of the region; it's well known for truffles, egg-rich pastas, and Barolo wine. Chef Amy Brandwein, most recently of the shuttered Casa Nonna, was chosen as chef de cuisine and reunited with Donna after acting as his executive chef at Galileo. The two concocted lunch and dinner menus full of robust dishes. You might start with a variety of meats and cheeses accompanied by hazelnut honey and fry bread, snack on small plates, or go in for decadent-sounding pastas like braised beef agnolotti with bone marrow and spinach gnocchi with sausage ragu. Meat and fish entrees make up the smallest portion of the menu to leave room for specials, such as swordfish with parsley and capers or roasted lamb.
Pizza or foie gras (or foie gras-topped pizza)
A trait of neighborhood restaurants is their versatility, and you can find multiple dining experiences under Alba's roof. You could drop by during lunch for a quick salad or pork shoulder panini, or take home one of the many wood-fired pizzas for dinner. On the other side of the spectrum, linger over wine and a fontina pie topped with chestnuts and truffles, or really go overboard by adding seared foie gras. Yes, goose liver lovers can add the luxurious offal to any dish (within reason). A good candidate: beef tenderloin with porcinis and marsala.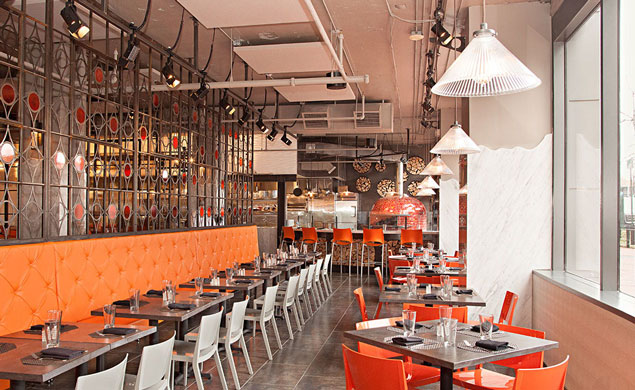 A space divided
With 226 seats (including 63 on an outdoor patio come spring), the modern-industrial eatery isn't your average corner nook. Helping the atmosphere feel more intimate are sectioned spaces throughout, like a pizza bar, an off-set dining room enclosed in a wine cage, and a 12-person communal table for upcoming chef dinners. Fun fact: the window-like partitions dividing the dining room are actually early 20th century windows taken from the American Crayon Factory in Sandusky, Ohio.
Happy hour
You can belly up to the square-shaped bar for 20 beers and four wines on tap, plus plenty more by the glass and bottle. The details are still being finalized on the happy hour items, but look for specials on drinks and eats alike. You may even snag free mortadella sausage.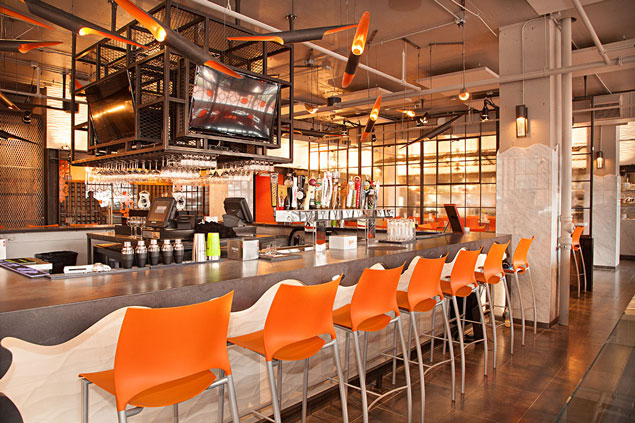 French-press soup
A number of unusual dishes dot the menu, such as capunet (cabbage-wrapped braised duck) and batsoa (braised pig's feet fried until crisp). Possibly the most fun: zuppa alla cavanesana. The bowl arrives with a round of fontina bread pudding, plus a French press filled with beef consommé and vegetables alongside. Press the soup, release some of the vegetable flavor, pour, and you're ready to eat.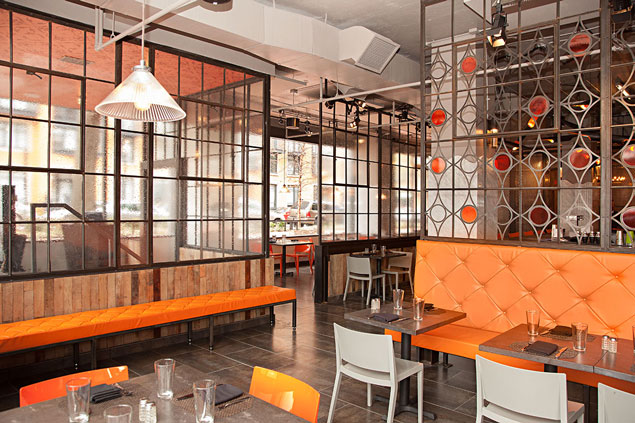 Alba Osteria. 425 Eye St., NW; 202-733-4454. Open Monday through Friday, 11 to 4; dinner Sunday through Thursday, 4 to midnight; Friday and Saturday 4 to 1.