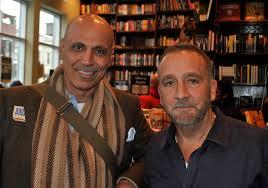 Days after locking down the Lethal Weapon fan vote with Danny Glover's endorsement, restaurateur-turned-mayoral candidate Andy Shallal is going after devotees of gritty crime novels and HBO series with the backing of author George Pelecanos.
Pelecanos read excerpts from his 2011 novel The Cut at a campaign fundraiser last night for the Busboys and Poets owner. The book's protagonist, an ex-Marine-turned-private investigator named Spero Lucas, travels principally by bicycle—is Shallal trying to bite off some of Council member Tommy Wells's two-wheeled base?
Pelecanos, who lives in Silver Spring, can't vote for Shallal, but he lends plently of street cred from his stints on the writing staffs of The Wire and Treme. Last night was not the first time he joined Shallal on the campaign trail, though. The two spent the day together on December 1 for Small Business Saturday.