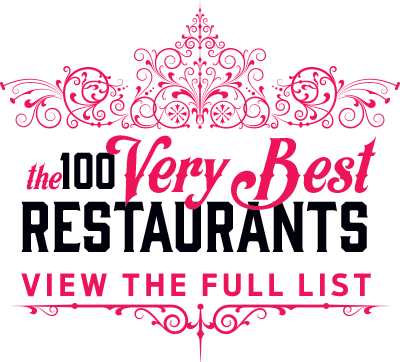 This chill bistro has tried to make the case that downtown sophistication need not be limited to downtown DC. The recent hire of chef Justin Bittner, however, tacks on an important brief to that argument. Bittner turned Bar Pilar into a food lover's destination with dishes that looked straightforward yet flooded the mouth with waves of flavor.
Here he's brought a new playfulness to the menu—his trotter tots are a minor masterpiece of richness and crunch—and tweaked perennials like the house-made tagliatelle (oxtail ragu has replaced Bolognese) to keep diners guessing. Butchering and charcuterie have long been an interest of Bittner's, and you could make a simple, rewarding meal of his robustly spiced terrines and pâtés, along with a good cocktail and one of pastry chef Rita Garruba's soul-satisfying desserts.
Open: Monday through Friday for lunch and dinner, Saturday for dinner, Sunday for brunch and dinner.
Don't Miss: House-smoked salmon; buttermilk fried calamari; cast-iron-seared shrimp with romesco; rabbit rillettes; heirloom-tomato BLT; cheeseburger.
---