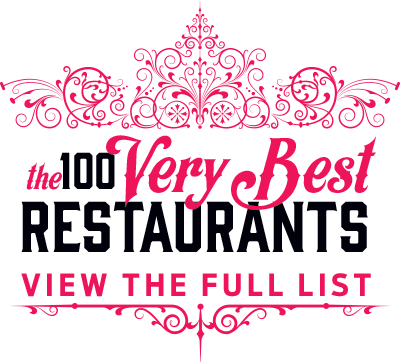 The billable-hours crowd adores this downtown steakhouse, where tables of six and eight dominate the room and there's plenty of backslapping. Although you'll likely blow plenty of cash, this is more than an expense-accounter's paradise. There are few better welcomes in town than the one here, in the form of silky chicken-liver mousse, crusty bread, and massive popovers served with butter and an oversize shaker of salt. Those could double as starters, but then you'd miss out on the raw bar, an icy bed that showcases shrimp, littleneck clams, and stone crab claws. Steaks—especially a luscious Wagyu skirt steak and a dry-aged New York strip—are the obvious highlights of the main courses, but an herb-crusted veal chop is a sleeper hit.
Open: Monday through Friday for lunch and dinner, Saturday for dinner.
Don't Miss: Crabcake with radish salad; Caesar salad; tuna tartare; Brussels sprouts; stuffed mushrooms; crepe soufflé with passionfruit; carrot cake.
---