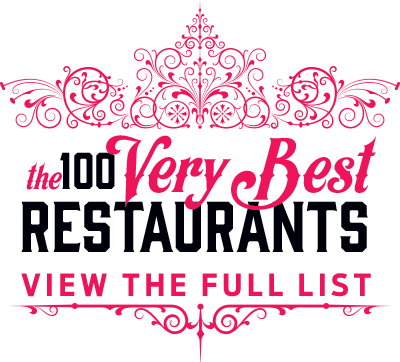 Downtown DC isn't known for enticements to linger, but this Spanish-by-way-of-New York tapas house (there are two locations in Manhattan) is trying to bring a little of the Barcelona way of life to town. There's a lot that will likely woo you into forgetting about the office, starting with the white and rosé sangrías, which are refreshing and not cloyingly sweet. The menu might not win points for innovation—no surprise, you'll find tomato bread, garlicky shrimp in olive oil, and bacon-wrapped dates—but the kitchen deserves praise for its careful execution and a resistance to messing with tradition. And it does go beyond these usual suspects, in the form of an excellent seared-squid salad with romesco vinaigrette and a grilled-lamb sandwich enlivened with salsa verde. For dessert, stick to the classics and dig into the crema catalana, a crock of eggy custard under a pane of brûléed sugar.
Open: Monday through Friday for lunch and dinner, Saturday and Sunday for brunch and dinner.
Don't Miss: Sautéed spinach with raisins; grilled hanger steak with shishito peppers and mojo verde; kale salad with carrots and labneh; fennel-and-grapefruit salad with grilled shrimp.
---