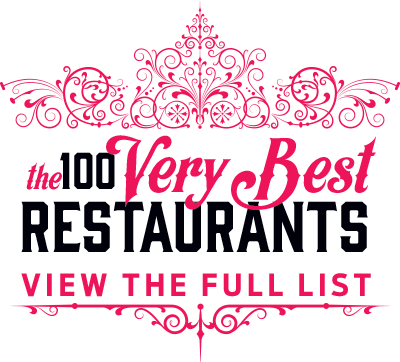 The latest restaurant from Fabio Trabocchi is not the jam-the-flag-in-the-ground declaration that the late Tysons restaurant Maestro was, or even the bid to marry rusticity and elegance that Fiola, his Penn Quarter place, is. This is a minor statement, and a personal one. Casa Luca is named for Trabocchi's son, there are dishes on the menu that honor his wife (the gazpacho) and his departed father (a majestic smoked pork chop), and the check comes with an old black-and-white family photo. The ideal of low-key casualness eludes it—expect to drop about $120 for two—but Trabocchi is a chef of rare generosity and spirit. Even the most straightforward compositions—an heirloom-tomato salad, a dish of prosciutto and corn—are imbued with exuberance. Splitting dessert may be de rigueur, but every one of Tom Wellings's finishes is worth the extra money and calories.
Open: Monday through Friday for breakfast, lunch, and dinner, Saturday for dinner, Sunday for brunch and dinner.
Don't Miss: 'Nduja-sausage spread; crescia flatbread; jamón Ibérico with figs; porchetta tonnato; ravioli with ricotta and greens; baby monkfish with artichokes; semifreddo with pistachios and orange; brioche-and-gelato sandwich; hazelnut coffeecake.
---