The collapse of the wall separating fine dining from casual
dining has been hailed as a welcome development, the dawn of a new, more
democratic age of restaurants. Egalitarianism in action! Accessibility for
all! What could be more American than the smudging of lines between the
elite and the masses?
But one consequence of this coup has been the abduction of the
hitherto innocuous word "casual," smuggled off amid the smoking rubble and
returned to us in an altered and unrecognizable state.
I knew something was amiss when I overheard a manager at
Bourbon Steak urging a diner to "think of us as a neighborhood
restaurant," as if we all could just pop by the Four Seasons for a $68
lobster pot pie after a five-mile run.
Bourbon Steak wasn't alone in its need to reboot and rebrand.
Tablecloths and tastevins, those uppity appurtenances of the old guard,
are nowhere in evidence at Central Michel Richard, but a couple of diners
can still drop $140 for a meal built on burgers and banana splits. Three
years ago, chef Frank Ruta divided his restaurant kingdom, moving Palena
Cafe into a more spacious home apart from his tasting-menu destination,
Palena. Now, instead of the value-menu pop-up experience the cafe once
was, diners can enjoy his subtle soups and pastas on hard chairs in a
poorly lit room.
The latest expression of the new casual is Casa Luca, an
Italian restaurant from chef Fabio Trabocchi, where dishes are garnished
with flower petals and a pork chop goes for $30.
Trabocchi is chef and proprietor of Fiola, which, when it
opened in 2011, was pitched as a rusticated version of the cuisine he had
put out at the now-shuttered Maestro, the four-star Tysons restaurant he
left in 2007 to go to New York. Pull chains on the toilets
notwithstanding, Fiola's prices escalated steadily, and some main courses
have crept into the $50 range.
Trabocchi insists that his regulars have been clamoring for
more of the grace notes of his glory days in Tysons—evidently, the cost of
a few grace notes is a few C-notes —and that he opened Casa Luca to give
us the more casual restaurant we thought we were getting when he opened
his previous more casual restaurant.
"If this is casual," my friend said one night, taking in the
polished room, the crisp-outfitted servers, and the not-cheap prices, "I
hate to think what's fancy."
Of course, a chef can get away with being semantically
incorrect if he's also sumptuously persuasive. And Trabocchi is, for the
most part.
Doing away with the traditional Italian restaurant's forced
march from antipasti to first course to pasta course to entrée, he has
formatted his menu like a newspaper broadsheet, with so many boxes and
sidebars that you'll need a few minutes of reading just to make sense of
it all. Let me save you the time.
Think meats to start, including a spicy spreadable sausage
called 'nduja that looks to have been dreamed up by some Kraft
executive to get kids to eat more processed meat but tastes like an
exciting new direction in charcuterie; spring for the crescia, a
round flatbread that tastes like a cross between an Indian
paratha and a lard-baked biscuit, and lay it on thick.
Porchetta tonnato, a sometime special, showcases a roast
pork as tender and pink as a Rubens cherub, with (hidden among more
flowers) a lip-licking emulsion of tuna, olive oil, and capers. The great
jamón Ibérico typically flies solo, without enhancement; here
Trabocchi stages a duet with figs, and the salty, nutty meat turns out to
be even better in the company of the fruit.
What's billed as a corn salad is really just an excuse to show
off some high-quality prosciutto, with fresh kernels, sautéed to a buttery
gloss, nestled among tulip-like folds of meat.
If you want a salad, it should be the heirloom tomatoes and
burrata. Given the ubiquity of that combination around town,
you're right to be skeptical, but I haven't tasted anything recently that
approaches the candy-like sweetness of these tomatoes, whose juices bathe
the mousse-soft cheese like a kind of raw marinara.
Pass on the chicken-liver-stuffed olives (breading and frying
them negates the umami oomph of the filling) and skip the
gazpacho—the chef's homage to his Spanish wife, Maria—which, though good,
looks and tastes just like everyone else's.
Trabocchi built his name, in part, on his pastas, which at
Maestro were so refined that they seemed to transcend the idiom. Fiola's
have gradually become heartier, more sauced, and the trend toward Little
Italy excess continues at Casa Luca. The carbonara was so larded down that
it was difficult to appreciate the hand-rolled noodles, while the gnocchi
were oversauced with a duck ragu to the point of clotting. The one you
want is the ravioli San Leo, stuffed with a ricotta sharpened with wild
greens and slicked with a butter sauce fragrant with fried almonds, lemon,
and mint.
Think meats, again, when it's time for mains—though I loved the
lusty simplicity of a whole baby monkfish smothered in artichokes, butter,
and lemon. The smoky, porterhouse-thick pork chop sets the mouth to
watering as quickly as does a pile of Texas brisket. Even better is the
side of sausages that spill their juices the moment your teeth puncture
the casing. A porchetta took up an entire plate, ringed with skin
that I wished were more crisp, though the sausage-stuffed, dill-flecked
meat was like a more flavorful ham steak.
Olive Garden has nothing on Casa Luca when it comes to
abbondanza. Portions are as generous as a restaurant calling
itself casual should be. But accessibility is more than a matter of piling
it on. It's a mood, an attitude—a sense that you've settled in someplace
that exudes the same relaxed and happy air it hopes to sweep you up
in.
What does Casa Luca exude? The air of a guy who comes home from
a long day at the office and keeps his tie on.
The dining room, with its orange leather booths and lantern
lights, is a glossy page out of a high-end home-design catalog, and it
distances the restaurant from the industrial spaces that most chefs favor
these days. But it also lacks the looseness that the restaurants we return
to most often—actual casual restaurants, not the false-casual restaurants
seeking to redefine the scene—all possess.
What would it be like if the kitchen ditched the flower petals?
And the staff traded its tailored vests and ties for T-shirts and jeans?
And the music went up a couple of notches? And everyone smiled
more?
There's an Italian word, sprezzatura—it means an
effortless grace, and Tom Wellings's desserts, including a semifreddo
studded with pistachios and orange and a sweet brioche stuffed with
gelato, all have it. Precisely imagined, painstakingly rendered, they give
the impression that they've been whipped up in the back the moment you
ordered them.
Just the sort of false casual, in other words, I can get
excited about.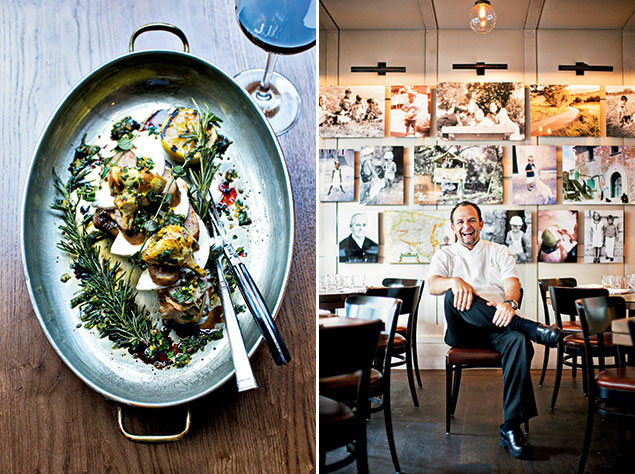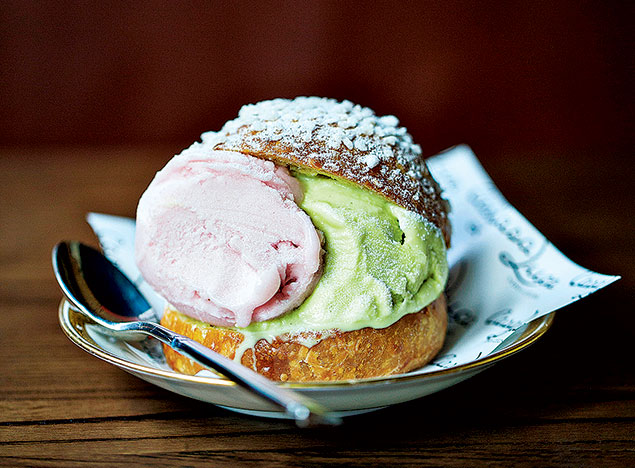 This article appears in the October 2013 issue of The Washingtonian.
---