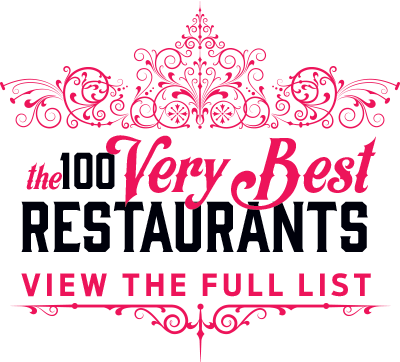 Leather-bound wine lists on the tables, cowhides on the wall, grill smoke in the air—the siren songs for meat lovers are loud and clear at Victor Albisu's Latin steakhouse. And that's before you even look at a menu. Steaks, from a hefty, full-of-flavor Piedmont Ridge rib eye to an easier-on-the-wallet hanger steak, are presented in a wonderfully rustic manner, on platters strewn with burnished heads of garlic and crowned with a long, marrow-filled bone. What's surprising is that vegetarians can eat just as well on the lineup of well-balanced salads and brightly flavored sides. The earth-toned dining room glitters with heavy chandeliers and is often filled with an expense-account crowd, but we like to eat at the bar, where towering chivito sandwiches are served along with marvelous Pisco sours and pumpkin old fashioneds.
Open: Monday through Friday for lunch and dinner, Saturday and Sunday for dinner.
Don't Miss: Octopus causa with grilled avocado; Wagyu-beef empanadas; burnt-vegetable salad with burrata, butternut squash, carrots, and sunchokes; bone-in short ribs; Peruvian chicken; canary beans with rice; Brussels sprouts with bacon and honey; tres leches "twinkies"; Limonada Sucia, with vodka and smoked simple syrup.
---