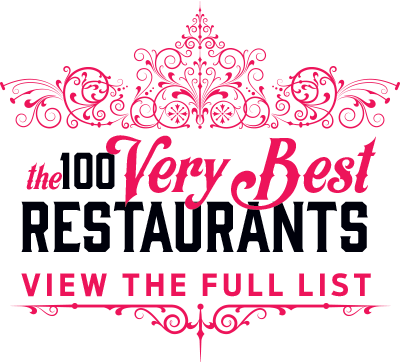 A sandwich shop? On this list? Yes, but Mike Isabella's bold new joint, which blares with Poison and Nirvana, isn't just any sandwich shop. During the day, it's an order-at-the-counter operation where decisions tend to be difficult. Should you go for the meatball sub, which is elevated above the competition with lemon zest and both marinara and a rich pork ragu? Or the smoky wood-grilled lamb coddled in yogurt-slathered pita? At night, the choices become easier: The wooden-boothed space transitions to a table-service restaurant showcasing a single $40-per-person, four-course tasting menu, with two pastas and two main courses to pick from each week. The dinner begins with a big square slate bearing little bites meant for sharing—including delicate folds of cured ham, decadent burrata, and brightly flavored marinated vegetables—then ends with sweets such as ricotta cheesecake and fabulous gelato sundaes. In between are generously portioned dishes including fettuccine with suckling pig or pancetta-wrapped rabbit loin. (On "Sunday gravy" night, the menu takes on a homier, more Italian-American feel.) The place has its own short cocktail menu, but the better choices are delivered from sister restaurant Kapnos.
Sandwich shop open: Daily for lunch and dinner. Set menu available: Wednesday through Sunday for dinner.
Don't miss: Goat sandwich with lemon potatoes; Italian sub; chicken-Parmesan sub; Nutella cookies.
---