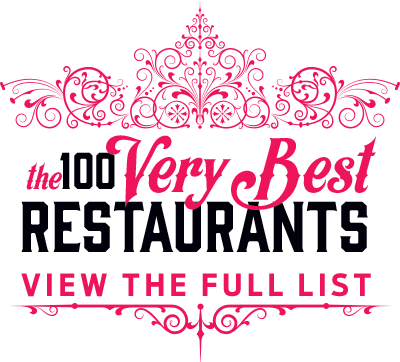 At this cozy restaurant—inside the wine-country getaway L'Auberge Provençale—chef Scott Myers serves cuisine a touch more modern than the floral tablecloths and antique dining chairs would suggest. Sesame powder and yuzu gelée lend Eastern flair to a hearty spinach-and-Swiss-chard soup, and chorizo cream perks up tender pork belly. At a recent dinner, a thick slice of crisp-skinned snapper, cooked sous-vide and then seared, was the highlight of the evening. The low point: a sampling of bland, slushy sorbets. Look instead for desserts featuring seasonal fruits; the kitchen has a way with crisps and panna cotta, both of which taste great with a Virginia-made ice wine.
Open: Wednesday through Monday for dinner.
Don't Miss: Parmesan-truffle popcorn; caramelized-cauliflower soup; galantine-style turkey with eggplant, tomato cream, and buffalo mozzarella; Peach Explosion, with peach crisp, peach-pecan ice cream, and grilled peach with raspberry cream.
---