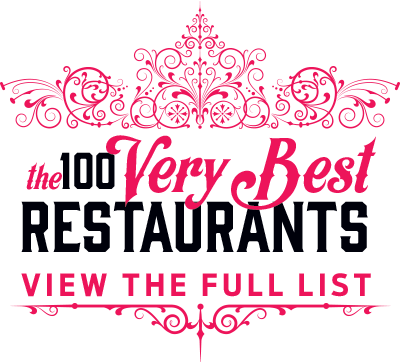 These days, thin-crusted, wood-oven-fired pizza is as common around Washington as the navy blazer. How does Peter Pastan's clattering, always-crowded shop separate itself from the competition? By paying attention to the little things, whether adhering to the strict Neapolitan standards of pie-making or offering not one but three kinds of anchovies to snack on (we like the Spanish Cantabrian variety with bread and butter). The pizza is quite good, but the small plates, salads, and specials tend to be the most memorable parts of a meal. Also praiseworthy: the charcuterie—you'll see it curing behind the bar—and rich cheeses, such as goat cheese with fig jam, olive-oily burrata, and ricotta with honey.
Open: Monday for dinner, Tuesday through Sunday for lunch and dinner.
Don't Miss: Deviled eggs with green sauce; orange-and-onion salad; Vongole pizza, with chilies and cockles; Norcia pizza, with salami and grilled peppers; Marsala-wine custard; vanilla ice cream; porchetta (Saturday only); doughnuts and croissants (weekend only).

---