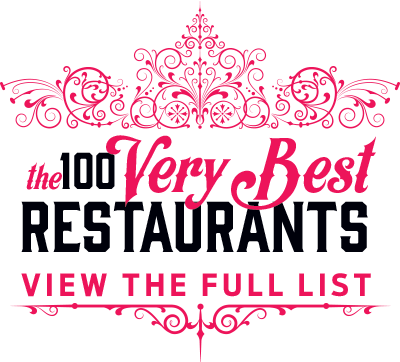 Chef and Charleston native Matt Kuhn excels at breathing new energy into dining-scene stalwarts. Downtown, he transformed a declining DC Coast into an inspired seafood option with a low-country bent. Then in 2013, Kuhn moved here to Ashok Bajaj's steady Cleveland Park bistro—and the food is tasting better than ever. Tender chorizo-crusted tilefish stole the show at one recent meal, though a side of fried Brussels sprouts—with peaches, peanuts, and honey crème fraîche—commanded almost as much attention. Whatever we're eating, we like to start things off at the bar with an A&B Gibson, with Plymouth gin, house-made vermouth, and a cocktail onion.
Open: Monday through Friday for dinner, Saturday and Sunday for brunch and dinner.
Don't Miss: Crispy chickpeas with garlic oil and fennel pollen; Southern-style deviled eggs; mozzarella-tomato-and-basil pizza; black spaghetti "carbonara"; apple savarin cake.
---