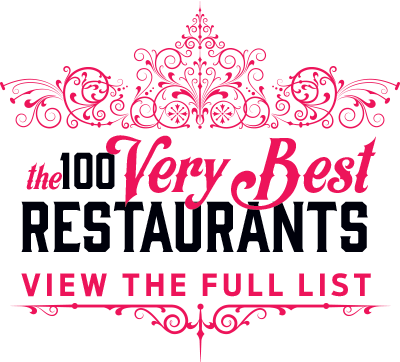 An expertly crafted sherry Manhattan and a plancha-seared crabcake are the first signs that you haven't fully escaped urban living at this Eastern Shore inn. Chef/co-owner Jordan Lloyd, an Easton native, has cooked in such revered kitchens as Per Se in New York, and his blend of local knowledge and four-star training shows. Names of nearby farms dot the menu, and Chesapeake dishes such as oyster stew are elevated without sacrificing deliciousness.
Bartender Justin Peregoy takes cues from the kitchen when it comes to cocktails—blending Scotch with carrot juice or spiking an old fashioned with pomegranate—and the results are dangerously drinkable.
Open: Wednesday through Sunday for dinner.
Don't miss: French fries; Yorkshire pudding with sweetbreads; pasta with mushroom fricassee; poached lobster and crispy lobster cake with soy-glazed eggplant; braised pork; pear tart.
---